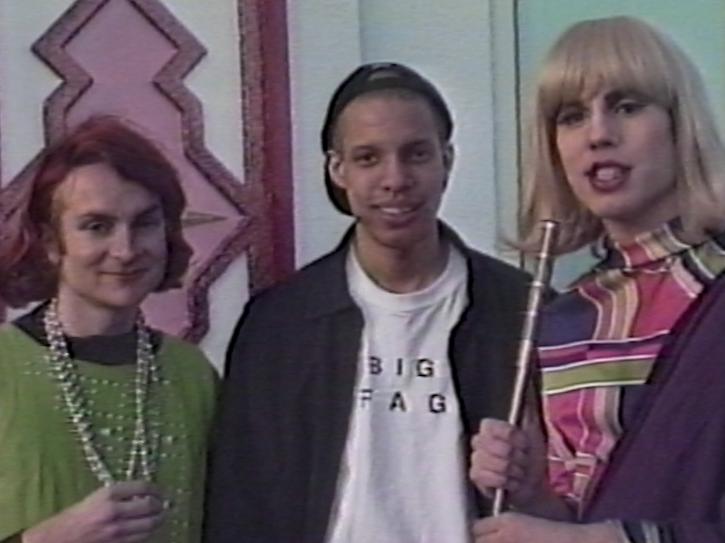 Dear Shaded Viewers,
I have exciting news from my distributor in Chicago, Video Data Bank:
VDB is pleased to announce the acquisition and preservation of the video archive of award-winning artist Glenn Belverio. Belverio began producing and co-hosting the popular Manhattan Cable series The Brenda and Glennda Show in 1990, a talk show that took the art of drag out of the nightclubs and into the streets, mixing politics with vox pop and humor.
In 1993 the series became Glennda and Friends, a post-queer talk show featuring provocative co-stars such as gay pornographer Bruce LaBruce and guerrilla scholar Camille Paglia. Belverio and Paglia's collaborative project Glennda and Camille Do Downtown later became a short film, and was well received at the 1994 Sundance Film Festival. Glenn's work has screened at venues such as the Institute of Contemporary Arts, London, and the New Museum, NY. Glennda and Camille Do Downtown won the Best Short Documentary prize at the 1994 Chicago Underground Film Festival.
To celebrate the launch of the Glenn Belverio archive at the VDB, two titles from The Brenda and Glennda Show and Glennda and Friends are available for streaming on VDB TV. In Bad Grrrls (1993), Glennda (Glenn Belverio) and Fonda LaBruce (Bruce LaBruce) interview attendees of a Riot Grrrl feminist conference in New York City. The video captures multiple perspectives of the feminist-punk movement, from women who have long identified with the Riot Grrrl community, to interested spectators newly learning about the group. Included are cameos by Penny Arcade and Sadie Benning.
In Two-Spirits Speak Out (1992) hosts Brenda Sexual (Duncan Elliot) and Glennda Orgasm interview members of We'Wah and Bar-Chee-Ampe, a Two-Spirit organization based in New York City — one of the first organizations of its kind in the United States. The interviewees discuss major aspects and histories of Two-Spirit culture, and also delve into the trickier topic of their place within queer culture as a whole, Native American representation in queer culture, and white appropriations of Two-Spirit culture.
"They have a mission. They want to increase 'Gay, Lesbian, and Drag Queen visibility.' In order to do this they appear in all sorts of very public spaces (the viewing deck of the Empire State Building, the Buffalo Metro Rail) in very flamboyant drag and talk to people on camera for their TV program. Brenda and Glennda don't seem to approve of gays and lesbians who assimilate. They believe that the primary way to fight homophobia is through visibility."
— CrossCurrents, a production of Crossroads Buffalo, December 1990
My artist's interview with VDB can be read here.
The full list of my videos can be explored here.
Watch my videos "Bad Grrrls" co-starring Bruce LaBruce and "Two-Spirits Speak Out" for free here.
Later,
Glenn Belverio