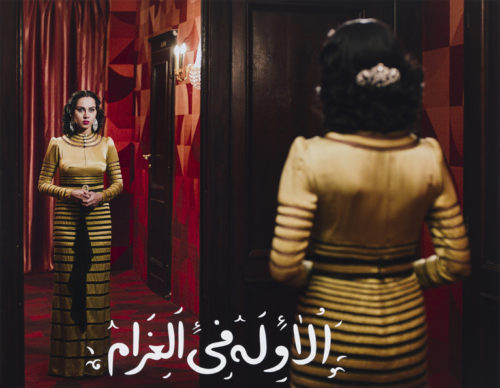 The First Thing About Love, 2018. Encre sur tirage couleur.
© Shirin Neshat. Courtesy Noirmontartproduction.
SHIRIN NESHAT – LOOKING FOR OUM KULTHUM
8 photographies & 2 vidéos
Exposition 6 novembre 2019 – 5 janvier 2020
Association Azzedine Alaïa, Paris
Dear Shaded Viewers,
The Association Azzedine Alaïa presents Looking for Oum Kulthum by the Iranian artist, Shirin Neshat. Her new work Looking for Oum Kulthum was first shown at the Film Festival of Venice 2017.
It is a film within a film which relates the story of Mitra, an Iranian director living in exile who dreams of making a film of the Egyptian legend Oum Kulthum.
Made to look like typical film posters from the 1950's in Egypt. Eight photographs show the film actress in portraits of Oum Kulthum at different periods of her life and career. The striking images try to capture the mythical personality of the famous Egyptian diva. Each of the large-format portraits bears the title of a Oum Kulthum song, written in ink on the print in Farsi or Arabic calligraphy.
The video Remembrance (00:08:33) in a dreamlike atmosphere a boy is immersed in a spatio-temporal labyrinth by the voice of the singer. The young man's changing perspective reveals Kulthum's many facets – his private and melancholy side, his strong presence and deep desire for freedom.
In the video Trance (00:09:43) the focus is on the mystical power of his music, which is still able to hypnotise listeners.
Oum Kulthum was a passion of Azzedine Alaia. Kulthum's voice was a constant presence in the Alaia workshop during many late nights at work and dinner with friends.Azzedine remembers growing up in Tunisia where every Thursday of the month they had to eat early and be quiet while his grandfather listened to Oum Kulthum on the radio.This was the first great voice he listened to as a child.
The exhibition is possible thanks to Noirmontartproduction.
Location: Azzedine Alaia Association
18 rue de la Verrerie, 75004