Dear Shaded Viewers,
I woke up this morning and read this on line and wanted to share it with you. I met Rivington and Cuba at a party for Jean Charles Castelbajac 3 or 4 years ago. It was an immediate connection so when I read this article about how Rivington Starchild went from music to fashion and how he got fed up with Rock-n-roll and stardom  and how he went to LA to record and met his soulmate Cuba Tornado Scott and never left well, read the full article it is quite fascinating.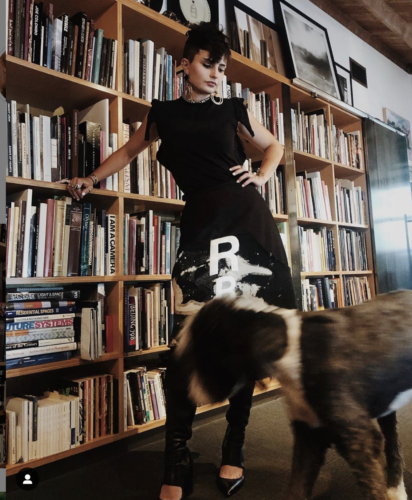 "Where does the name "RRR" come from?
My father was a dope dealer on Rivington Street in the Lower East Side of NYC. This was in the early 80's. He made so much money on the block that he thought he'd name his son Rivington. The Rebis is the outcome of the great work in Alchemy, the merging of opposites. For example, Cuba (1) + Rivington (2) = The Rebis (3), a third entity. RIVINGTON roi Rebis, Rivington the King of Opposites. 123 is the monad, split into a duality and the outcome of that duality makes the trinity. It's the way we make decisions, one situation, two ways we can judge or go about it, the third is the action we end up taking. RRR123 RIVINGTON roi Rebis."
http://unionlosangeles.com/2019/08/05/an-intro-to-rivington-roi-rebis/
The collection will be available at UNION Thursday and online.
Later,
Diane