Dear Shaded Readers,
This summer fashion travels to Ibiza, home to Jana Sascha and Laura Castro of De La Vali. No strangers to A Shaded View on Fashion, a conversation with the 'brand's co-founders and creative directors reveals how fashion is more than the exterior. If a print translates the language of fashion, De La Vali represents the bold, independent, and daring. The lime green tiger stripes, palm leaves, roses and silky emerald green that trademark the 'label's party dress to the industry is an expression of the electrifying spirit behind the evening attire designs.
Femme Fatal in its prime, there is a sense of girl power within the community of Vali Vixens, a term defining their clientele. Last month De La Vali, opened their Ledbury Road Pop Up retail shop that invited heartwarming memories along with their customers, including a mother-daughter shopping date, and at times, tears. An authentic brick and mortar experience to the fashion community of London and reassurance that fashion remains actively interested in its muse, customer, and contributor: the female's prerogative. With a global online presence, the dresses are shoppable on REVOLVE, Moda Operandi, and Net-a-Porter sites. De La Vali's next landing spot is their AW Collection, titled 'Absinthe,' at the Atzaro Hotel on Tuesday, July 30th. More than just a seasonal sensation, fashion has a new label on the pulse of feminism.
What is the translation behind De La Vali?
Jana Sascha and Laura Castro: The name 'De La Vali' is inspired by Vali Myers, a mysterious and deeply enchanted artist who worked in the late 60s and 70s. She was part of the Beat Scene. She spent her time between a cave in the hills of Positano with her many wild animals and walking barefoot on streets of New York with her beloved pet fox on her shoulder. There she would sell her paintings whilst living in the Chelsea hotel – hanging out with the visionaries of her time such as Patti Smith and Rolling Stones. 
How does the name empower your brand identity?
Jana Sascha and Laura Castro: Vali Myers had such a strong presence and sense of self; she was always true to herself. She was brave in the way she dressed, as she felt it was a way to express herself. Even though the people of Positano where often shocked by her appearance (calling her the 'witch of Positano'), she would not conform. This bold, self-expression is something so beautiful and rare. We felt we could relate to her magic and instill some of her ethos within our designs.
Can you elaborate on your printmaking technique – its storytelling –  and the narrative behind the Ludo Mini Dress Femme Fatale Silk ?
Jana Sascha and Laura Castro: We create all our prints in house and tend to enfold a message or tell a story that relates to the inspiration behind the collection, within the design. Our AW19 collection 'Absinthe', celebrates the power of the 1920s woman and is inspired by the iconic gangster 'moll' who slinked about and shaped the narratives of the early film noir genre.
Our favourite print of the season is our Femme Fatale print which features a dictionary page with the words 'woman' and "weapon' repeated over and over again. If you read further into the text, you'll see the definition reads a woman is 'a force of nature'. A revolver print was then overlaid. The print is about female empowerment and expressing that a woman is her own weapon: she is capable, strong and powerful.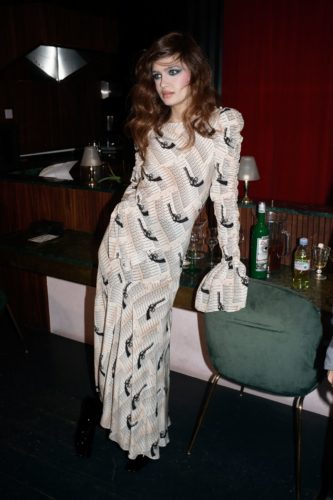 Is your brand an intentional platform for female empowerment?
Jana Sascha and Laura Castro: Yes. We believe in making women feel good. When a woman is wearing a dress in which she is feeling herself, she is unstoppable. It is not about being the most sexy girl in the room, it's about being the most interesting girl in the world. 
Who is the Vali Vixen ? 
Jana Sascha and Laura Castro: She is too hard to sum up in a few sentences but she is a woman with a thirst for adventure and a joy for life. So, essentially, even though she sometimes gets drowned out, there is a little Vali vixen to be found within every woman.