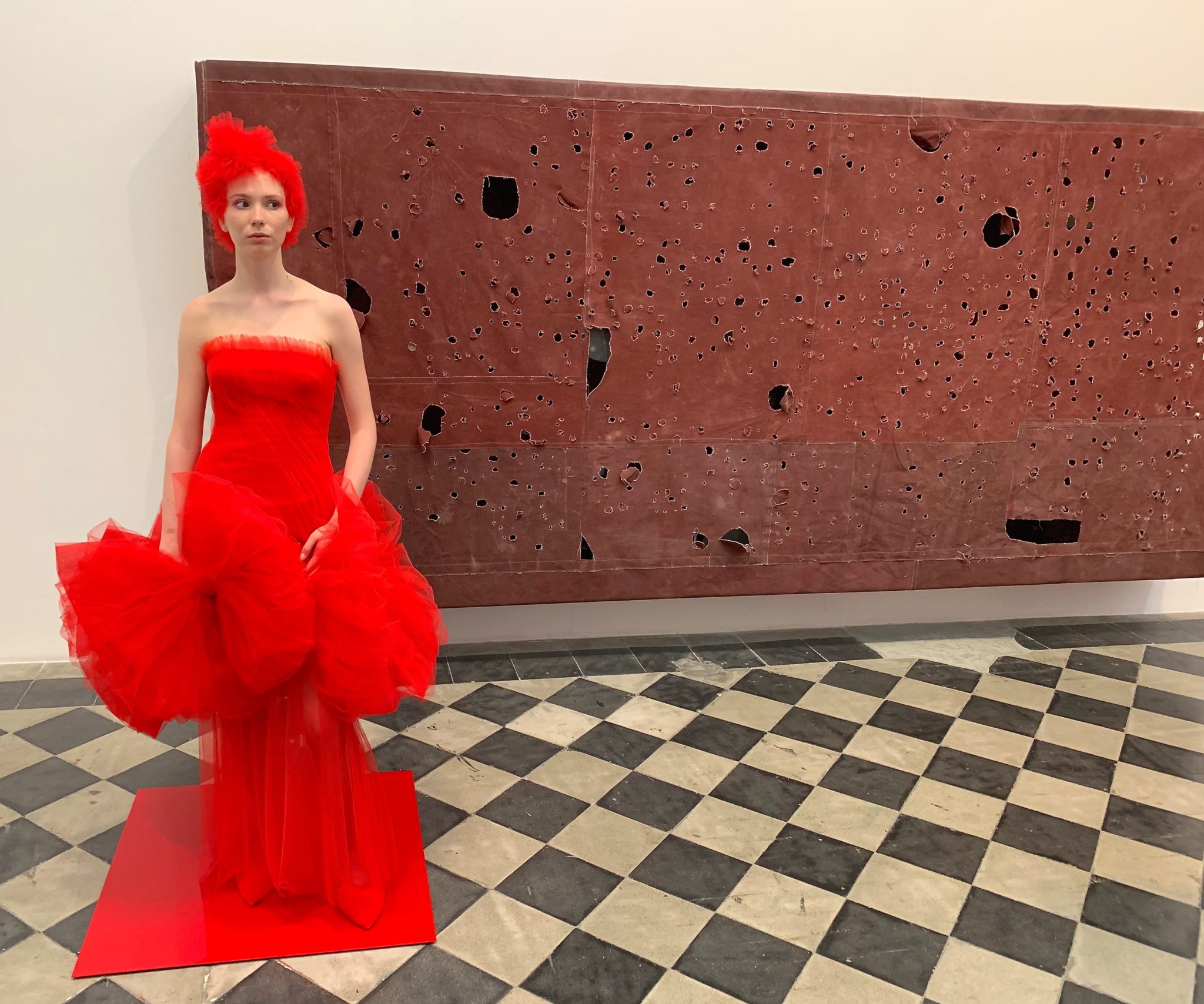 Dear Shaded Viewers,
"Red is the great clarifier—bright and revealing!" declared the color's fiercest advocate, Diana Vreeland. "I can't imagine becoming bored with red. It would be like becoming bored with the person you love."
Recently at AltaRoma, the twice-yearly event staged in Rome, designer Sylvio Giardina opened a new chapter on this passionate hue. "This collection's silhouettes are created like fires emerging from the earth, mysterious phenomena transmuting into superb feminine shapes," writes Giardina's colleague Clara Tosi Pamphili. "The collection, MONOCROMO, panders to nature and force alive within an absolute colour, able to symbolize danger as much as passion, a colour always in motion and hard to tame."
Methinks Mrs. Vreeland would appreciate this dramatic wordplay. One can imagine Pamphili's feathered quill slicing through the air before bursting into flames.
The collection, presented at Galleria 1/9unosunove arte contemporanea in the Palazzo Santacroce, continues Giardina's monochromatic narrative that began last season with his White collection.
"Shoes are flat and handmade with haute couture workmanship creating multiple pleats: they are the fairy-tale red shoes, belonging to a girl who never wants to stop dancing but which also represent a symbol of protest against violence towards women."
Such a statement brings to mind one of my favorite fashion films of all time, the rape-revenge drama Lipstick (1976), which starred the Hemingway sisters, Margaux and Mariel, legendary fashion photographer Francesco Scavullo and, in a scenery-chewing performance as a feminist lawyer, Anne Bancroft.
The collection also included some striking, minimalist jewelry pieces.
The designer and his scarlet bride. Giardina, who was born in Paris but has Sicilian origins, earned his couture chops by working side-by-side with the legendary Fernanda Gattinoni. (Audrey Hepburn was dressed by Gattinoni on numerous occasions, including the empire waist dress she wore for the 1956 film version of War and Peace.) Giardina is rightfully proud to have his work produced in Italy. "Made in Italy stands for a beautiful, well-done product, a kind of alchemy created by the flair of design and the excellence of craftsmanship," he says. "Which is often the result of artisanal skills only found in Italy."
Moi with AltaRoma press officer Lavinia Caldani and Paulo Mariotti of Vogue Brasil and Globo News.
Thank you for reading.
Love,
Glenn Belverio