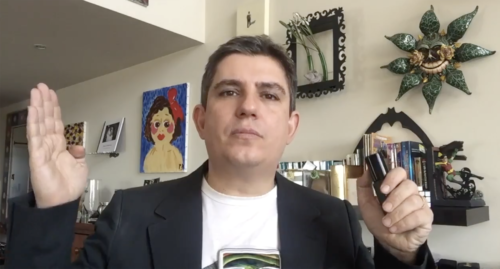 Dear Shaded Viewers,
What a lovely surprise on Sunday afternoon. I was on line searching for some archives which I never found..but what I did find was this lovely review of one of my 5 Diane Pernet Paris perfumes and to put it mildly, it made my day.
There are 4 other perfumes…
TO BE HONEST
To be honest captures the experience of stumbling upon an ancient church while walking through the woods. e green and woody fragrance follows you inside. Candles burn silently, their lights still ickering.
A waft of incense lingers high above the altar as if the congregation has just vanished. ere are notes of myrrh, black pepper, cedar wood, patchouli, vetiver and amber.
WANTED
Wanted is reminiscent of an oriental garden as the mist rolls in. Slightly dishevelled and overgrown, moss clings to stone statues obscured by twisting trees and shrubs. Bursts of exotic scents are elevated by a delicate cloud of steam. ere are notes of clove, juniper, nutmeg, leather with a little musk accord in the air.
IN PURSUIT OF MAGIC
In Pursuit of Magic makes you feel as if you've entered a familiar yet parallel world. Standing atop a hillside temple, time is lost in a moment of sensory overload. e refreshing citrus air simultaneously invigorates and puri es you. Tart, clean, intense, restored and protected.
SHADED
Shaded evokes a nocturnal bath in the sea. e salt on your skin, a subtle incense and new-found sensations await a secret lover's encounter. Lightly caressed in the ocean mist, every feeling is shaded by an intense plume of vetiver and surrounded by the deepest touch of
musk and Guaiac wood.
LOVE AFFAIR
Love Affair is a luscious plunge into the vortex of passion. The sensual heart of rose bewitches like a grand seductress. Heavy with emotion and secret passions that are intensified by the mossy vetiver. Its perfume evokes strange powers that speaks of the most intimate stories all the while insisting upon the truth.