Last Tuesday I had the great pleasure to meet Diego Moreno (@diiegotv), 26 years old, Mexican photographer from Chiapa, who was in Paris Photo 2018 for his book release 'Huésped', 'Guest'.
I discovered his work two years ago with his series 'Los Panzudos Mercedarios', 'In my mind there is never silence' and I have been really touched by his unique dreamlike vision of the human condition ever since.
For this series, Diego Moreno was inspired by a Mexican tradition which has people, once a year, wear grotesque costumes and horrendous masks meant to represent the extent of their sins.
Every 22nd of September, the people of San Cristóbal de las Casas, in Chiapa, celebrate the feast of the Virgin of Mercy and march as Panzudos, into the streets to purify themselves of their sins.
Talking with Diego, I came to realise he had been rejected by his family, his sensitivity being perceived as  potentially homosexual. He was raised by his maternal grandmother in an environment mixing catholicism with indigenous religious traditions.
His grandmother's sister moved in to live with both of them at the end of her life. Her autoimmune disease, a scleroderma, had changed her appearance, becoming more and more peculiar, unequivocally at odds with expectations.
Like Diego, albeit for a different reason, she suffered rejection, due to her transformed morphology.
His series is deeply rooted in his experience of being an outcast and his fascination for his great aunt.
In his pictures, no one ever seems to be afraid of the monsters. They even look lonely sometimes, interacting with kids as if they were their imaginary friends.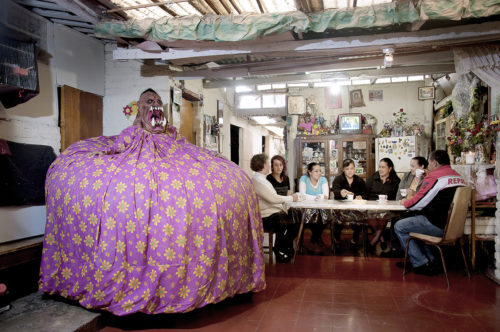 Diego does not have any pictures from his childhood.
'Huésped', 'Guest' is a 7 year long project, composed as a missing family album.
This series deals with his family and its violence, as an endless transgenerational loop.
To me, it was a way for him to bond with the idea of a united family: belonging, from behind his camera, sometimes in front of it, but still belonging.
Often naked as if they were preparing for the Last Judgment, his relatives are posing in a dramatic way high lighting the raw complexity of their ties.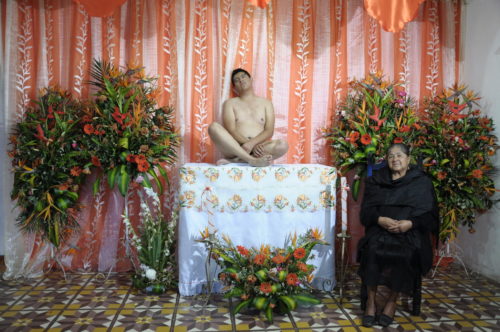 The work of Moreno is a sublimation of family paradoxes, from monster to wonder, together, however still feeling lonely.
As a catharsis, Diego uses the power of his flourishing imagination to rebuild a story : a beacon to break the law of familial loops, a quest to make peace with old demons.