Above: ISSI designer Frank Weeneggsin backstage
Dear Shaded Viewers,
Each year, MQ Vienna Fashion Week co-organizer Zigi Mueller-Matyas travels to Bangkok in search of new fashion talent for the Vienna catwalk, presented by the Office of Commercial Affairs, the Royal Thai Embassy and the Department of International Trade Promotion.
Glenn Belverio: Every year you present a showcase of Thai designers at MQ Vienna Fashion Week. What are some of the things that bring you back to Bangkok year after year to scout for talent?
Zigi Mueller-Matyas: I am always amazed by the creativity and the style of modern Thai design. Either the fabric is amazing—in prints and composition of the look of the fabric—or in the special style of design, graphic with traditional and ultra modern styles.
GB: You have forged relationships with certain Thai brands, like ISSI and Iconic. How did you discover these designers in Thailand? 
ZMM: I found both designers at the "Designers Room", a project of DITP, The Department of International Trade Promotion which is the Thai Ministry of Commerce's foremost agency dedicated to the rapid and sustained expansion of international trade for both domestic achievement and global benefit. Fashion and Design take a big part in the promotion of Thailand abroad.
GB: What are some of the things that make Thai designers stand out in the market place? What are they bringing to the table?
ZMM: Each designer has their own individual style and they are all recognizable with each of their collections.
GB: You love Thailand! What are some of the things that personally inspire you about Thai culture?
ZMM: I love the people, their approach to life and their kindness and hospitality. Over the years I have made so many friends in Thailand.
GB: What are some of your favorite attractions in Bangkok?
ZMM: I like the shopping attitude of Thai people and I really like the fashion malls, such as Siam Center, where young designers have amazing stores. Each space is a piece of art. [click to view.]
GB: And of course I have to ask, what are some of your favorite Thai dishes?
ZMM: Sticky rice with mango, coconut and spicy curries. I can eat more spicy than some Thai.
Nicha
Nicha's collection "Kindred Spirits" was inspired by the small town of Tiebele in Burkina Faso, in the heart of West Africa: zigzag lines, ornamental patterns, scenes from the local animal world and symbols of daily life.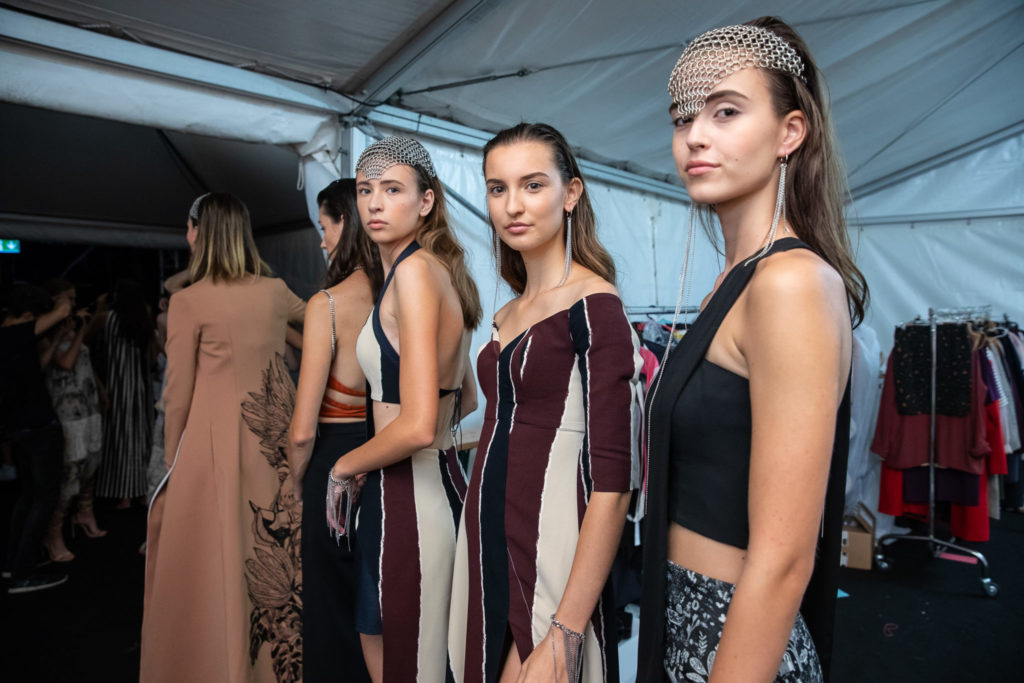 Designer Nicha Thanalongkorn, right.
Iconic
An anything-goes approach to color and patterns distinguishes Iconic's fresh approach.
Energetic and cute: Iconic designer Akaravuth Pantumwanich
Issi
Issi's collection this season is inspired by "the 1980s, when women gained greater social status."
Sculpture by Curated
"Our style has been reinterpreted by today's streets, influenced by many cultures and faiths, and the way we have created our silhouette. This means that we have developed experimental garments that reflect the current trend with interesting materials. We exaggerate shape recognition by offering a new way of wearing and combining street cultures with state-of-the-art production methods."
ISSI's Frank Weeneggsin, Chip Duckett and Zigi Mueller-Matyas
Chip, Mimi of Superfly Radio and moi in the VIP Room.
Later,
Glenn Belverio