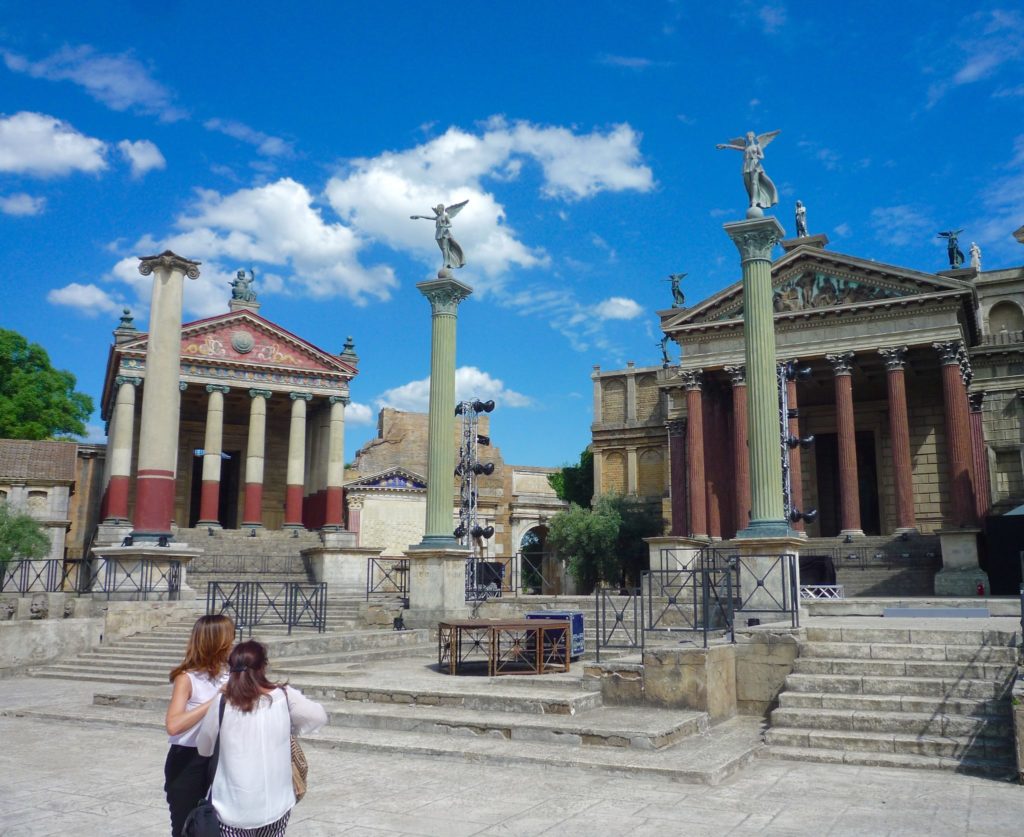 Dear Shaded Viewers,
The summer edition of AltaRoma was staged at the storied Cinecittà Studios, smack dab in the middle of "Ancient Rome"—a monumental set built in 2005 for the HBO series Rome (part of which mysteriously burned to the ground only one week ago). Touted as the most expensive set in TV history, it was also used as the backdrop for a 2007 episode of BBC's Doctor Who, "The Fires of Pompeii."
Well, I for one felt like the time-traveling Doctor, my Tardis teleporting from antiquity and depositing me in a foreboding future. This was the mood when entering the dimly lit exhibition curated by Clara Tosi Pamphili and Alessio de' Navasques, "A.I. Re-action." Tribes of mannequins draped in survivalist ensembles and end-of-the-world party looks were gathered around a tent that immediately brought to mind today's refugee crises.
"In this base camp, young designers experiment with a contemporary style that combines artisanal research with the image of sportswear, uniforms and outdoor apparel," explains Pamphili. "They feel the urgency of creating a kind of fashion that bridges the gap between those who are worried about their future, and those who live in a virtual dimension made of alienation and online shopping."
The Italian and foreign designers selected by the curators presented clothes motivated by the reinvention of tradition, based on the need for change.
Nicola Spinelli's paratroopers, for his Claustrum collection, are his way of "escaping from the maternal and urban protective obsessions that generate phobias." Maybe I need that padded number for my daily NYC subway commute!
Oh, but it gets worse. "The irrational fear that creates a sense of oppression is a problem experienced by many who live in urban areas and it leads them to refuse relationships with others." Methinks these outfits should each come with their own psychotherapist's couch. In the meantime, I'll just cling to this Woody Allen quote, for hope: "Bisexuality immediately doubles your chances for a date on a Saturday night."


Inside the exhibition's large army tent, a laboratory awaited us—and it wasn't Hawkeye and B.J.'s martini still from M*A*S*H either (which, by the way, is on display at the National Museum of American History in Washington, DC).
Instead of bootleg gin, the medical beakers lined up on a table were filled with bacterial cultures, and vegetable and protein substances, that young designer Erica Curci uses to generate new fabrics that are similar to skin tissues. I found that jacket, above, to be at once disturbing and strangely elegant…an alien garment from another galaxy.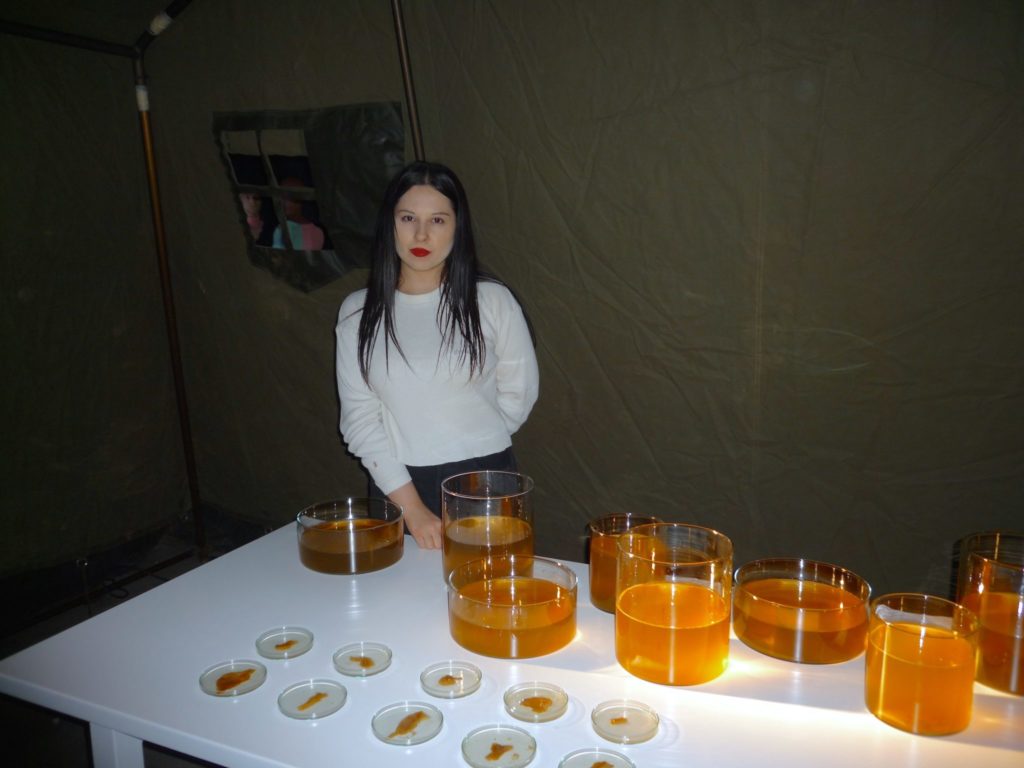 Erica Curci and pop-up laboratory for her biomaterial-based project EXUVIA.
Diane, journalist Rebecca Voight and the designer.
Another ensemble that comments on city dwellers' maternal protective obsessions—in my day we called it "the smothering mother syndrome"— from Nicola Spinelli.
Now let's talk about that tent. The symbol of the exhibition's "base camp," it was made for FieldCandy by Chiara Cola, an Italian fashion and textile designer based in London. "By changing its texture, Cola has transformed a military-style tent into an elegant piece of outdoor haute couture," explains co-curator de' Navasques.
Aigerim Kairat, who hails from Kazakhstan and was schooled at the Istituto Marangoni in Milan, was inspired by her father's service in the Soviet Air Force. (Most specifically, the story of her father bailing out of his aircraft after being hit, in 1984.) "Her work expresses the act of fleeing, the conquest of freedom from isolation through the courage of jumping out," observes Pamphili.
Kairat's layered looks play with Soviet military fabrics and motifs, punctuated by red, "to express protest."
Aigerim Kairat and one of her ensembles.
The northern Italian club scene of the 1980s was the inspiration for Vitelli's knitwear, most specifically the under-documented Cosmic movement, when "Spaghetti Disco" ruled the dance floor. The pacifist and anti-ideological Cosmic kids used music to dispel the dark atmosphere of Italy's Years of Lead—a period that lasted from the late '60s to the early '80s, which was marked by both left- and right-wing incidents of terrorism.
Vitelli designer Mauro Simionato, center, explains his collection to Jean-Paul from Flaunt magazine and Diane (in her showstopping Bernhard Willhelm skirt). Simionato launched Vitelli in 2016 with knitwear production based in Schio, where artisan knitters handcraft all of his pieces with high-quality yarns from Cariaggi, Loro Piana, Zegna Baruffa and Linea Più.
Clara Tosi Pamphili showed us some recreations of vintage Esso workwear.
With a military background in her family and a degree from Politecnico in Milan, Flavia Grazioli creates workwear as sportswear—gas pump jockey glamour that travels effortlessly from engine room to V.I.P. room. Bring on the martinis and make 'em extra dirty!
More military and work uniforms re-imagined as chic street wear, this time from the brand GR10K. Is your prison-ward uniform getting you down? Try adding a cape and turn those concrete corridors into your runway!
ALAMA is a jewelry brand that works with women of the Maasai tribe who live at the foot of Mount Kilimanjaro in Tanzania. The sustainably produced designs, made from natural materials and recycled plastic, are based on the memory of ancient signs and elements.
Another piece from ALAMA with info on the artisan who made it.
Giorgia Andreazza's designs are motivated by "the fear for a future made of uncertainties and distresses." Her pieces are constructed from hybrid materials from the military field: bulletproof and cut-proof fabrics, hoods and balaclavas that are "mutant and transferable…postmodern uniforms  to face the difficulties of the historical moment we are living in." Finally, we have something to wear to all those post-apocalyptic after parties!
Survivalist runway realness from Giorgia Andreazza. Just because the world is going to hell in a handbasket doesn't mean our utilitarian get-ups can't have panache.
"These creatives have overcome the aesthetic idea of useless beauty." —A.I. curators
Valentina Ortiz, who attended Polimoda fashion school in Florence, presented streetwear inspired by the "Sad Girl Theory" proposal of young feminist artist Audrey Wollen, from which the cringetastic term "selfie-feminism" is derived. "Selfie-feminists believe that by rejecting current norms, shyness, shame and exposing themselves, particularly via social media, such as Instagram, they can emancipate from the patriarchal culture and existing stereotypes," Wojtek Rozdzenski explained recently in the website Daily Art Magazine. Wollen, a disciple of gender theorist Judith Butler, believes that female sadness and self-loathing might include elements of empowerment.

Well, I like the clothes and of course I support self-awareness and self-acceptance among young women—but I would be remiss if I didn't cite a 2015 Hollywood Reporter article on #GirlSquad culture by feminist Camille Paglia, a close friend of mine.
Designer Binghua Mao was born in Zhoushan, an archipelago of islands in the China Sea, and studied at the Istituto Europeo di Design in Milan. This collection was inspired by the knowledge passed on from one generation to the next by the fishermen of her birthplace.
Binghua Mao's designs channel the "uninterrupted grey-blue of the sea and sky with the bright and artificial colors of fishing instruments," explain the curators. "Such tools become garments, in which nets and hooks serve a new purpose, in a romantic representation of the link between past and future."
Jean-Paul, Rebecca Voight, Diane and curator Alessio de' Navasques.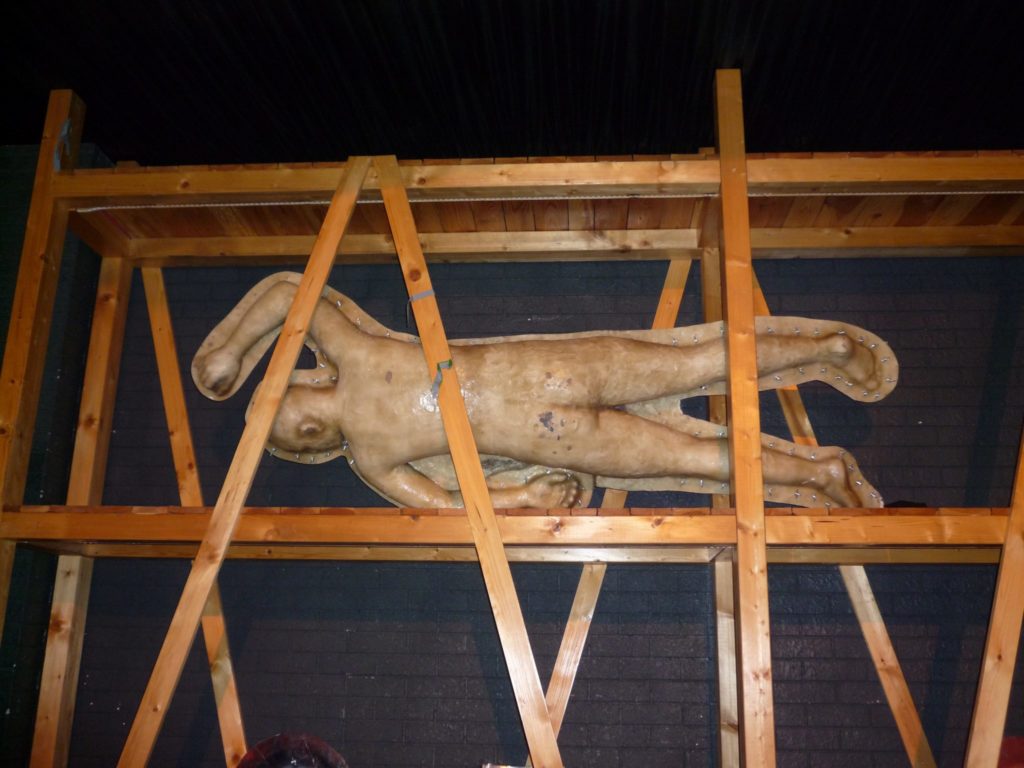 This mannequin and the busts on the far wall were created at Makinarium, a special visual effects workshop at Cinecittà. Look out for my future post on our visit there.
Thanks for reading.
Baci,
Glenn Belverio