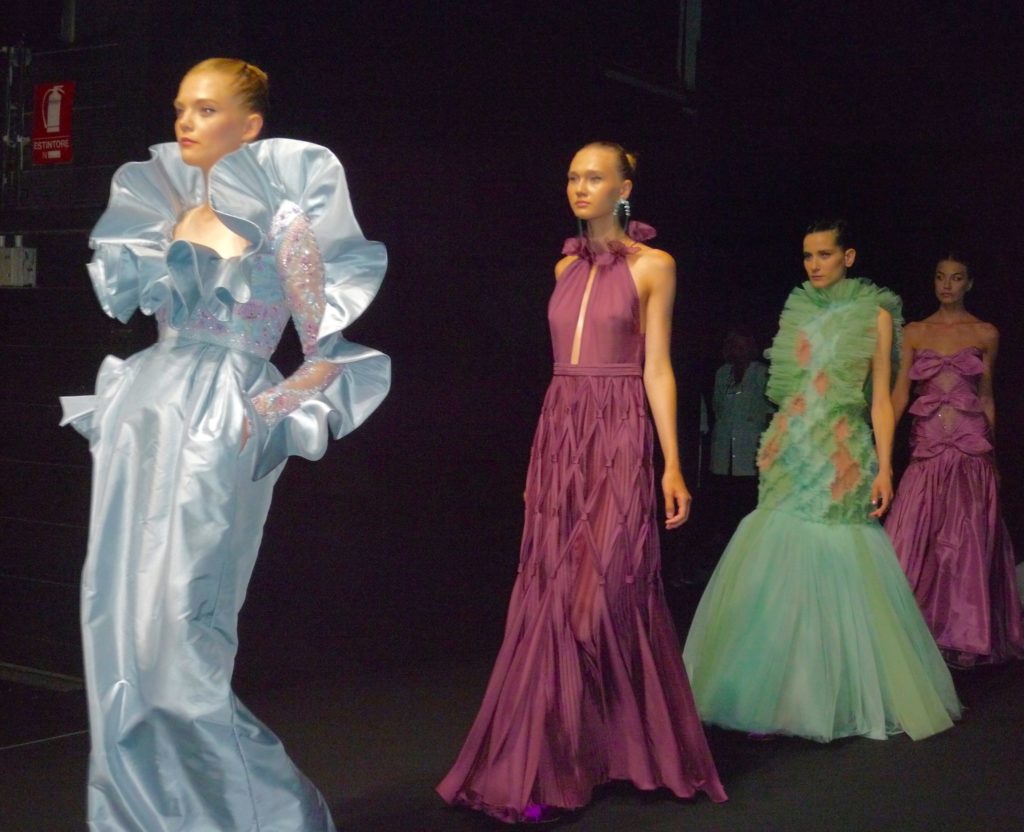 Dear Shaded Viewers,
Just steps away from Cinecittà's recreated Temple of Venus—part of the set of the HBO series Rome—Sylvio Giardina presented "Lovers" at the summer edition of AltaRoma. Giardina's return to couture (after several ready-to-wear collections) was inspired by various love affairs: Saint Laurent and Bergé, Picasso and Dora Maar, Pier Paolo Pasolini and Maria Callas ("the only woman I ever loved, besides my mother," confessed Pasolini).
After an intriguing tour of Cinecittà Studios in the hot sun, it was a pleasure to sit in the dark and give ourselves over to the chiffon and triple organza creations that floated past us, like glamorous ghosts from the last century. That's not to say you wouldn't want to wear these party-ready ensembles right this very second: Giardina has deftly reinterpreted such couture classics as the sac dress and the balloon jacket for the modern era. (And isn't a little couture escapism just what we need right now?)
Giardina, who was born in Paris but has Sicilian origins, earned his couture chops by working side-by-side with the legendary Fernanda Gattinoni. (Audrey Hepburn was dressed by Gattinoni on numerous occasions, including the empire waist dress she wore for the 1956 film version of War and Peace.) Giardina is rightfully proud to have his work produced in Italy. "Made in Italy stands for a beautiful, well-done product, a kind of alchemy created by the flair of design and the excellence of craftsmanship," he says. "Which is often the result of artisanal skills only found in Italy."
"In honor of the emblematic fashion shows of last century's grand haute couture, which often crowned precisely with the robe de mariée, a style narration built around the most authentic essence of femininity."
This lovely sentiment from the press release feels rather radical in these days of misguided gender theory.
Thanks for reading.
Baci, baci,
Glenn Belverio