Dear Shaded Viewers and Diane,
A few hours before The Hague's Royal Academy of Art's end-of-the-year fashion show on Saturday, we all were huddled around such works as Rembrand's The Anatomy Lesson of Dr. Nicolaes Tulp, or Girl with a Pearl Earring by Vermeer. The Mauritshuis museum hosts most masterpieces from the Dutch Golden Age, and our guide had spoken passionately about the droop or stiffness of lace or linen ruffs as the tell-tale of coolness for a portrait's subject in 17th century Holland. That night at the show, the influence of an elegance from the past, of those puffed-up volumes of yore, informed some of the most forward-thinking designs. It was most evident in an exercise by 2nd year students, 'The Historical Costumes', in which silhouettes walked along the catwalk in breeches and walking sticks, bodices and broadbrimmed hats, a plague doctor with his long beak – all in white as if they'd jumped right out of the paintings into a pool of bleach. But the theme carried through to many of the students more personal works too: 1st year Max Willebrand Westin crafted a fan-like man-skirt with bejewelled front that tightens as a corset at the rear, whereas graduate Timothy Scholte based his collection on the more recent, but still centuries-old voluminous shape of the crinoline, which he revised in metal, and dressed up in denim or sweatpants' grey fleece. Scholte, whose models wore stiletto-heeled Dr. Martens and sneakers, was inspired by the true story of Fanny & Stella, crossdressers in Victorian England. Both students showed their work on male models: gender disruption remains, as well it should, a favourite approach at graduation shows around the world. This year, however, in tune with the times and the #metoo wave, feminism resurfaces with renewed force – graduate Yasmin A. Boomsma's collection 'The Equal Rite' imagines a pagan ritual in a post-patriarchal society, featuring models with pierced cheeks and tightly wrapped bodies in sheer nude, black, and red nylons, the seams running through like swirling scars. 3rd year Angelica Danaka's 'I protest 'cause I am too sensitive' gathers instead a girl-scout parade of militant activists, wearing soft, foamy woollen armours and carrying placards.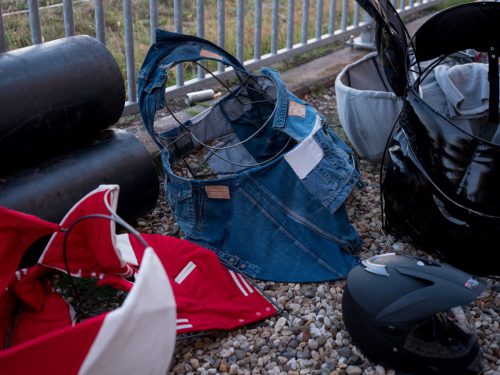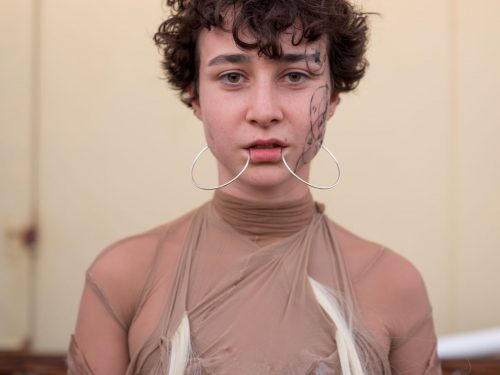 Also typical of students' imaginations and budgets, a DIY approach recurred throughout the show, which was taking place in the spacious turbine hall of the oldest electricity plant in the Netherlands, now a nightclub and art gallery. Plush toys, body paint, a generous use of foam, and in the work of 2nd year Leticia Gordon, plastic wrappings poignantly draped as clinging veils, and paired with ultralong transparent nails. Themes of deconstruction, reconstruction and repurposing are also at the forefront of many a student's method: unravelling knits, fabrics looking as if they'd been chewed on by moths, and stuffing as outerwear, which was most successful in the collection of 3rd year Vincent Wong, 'I'm Not A Ghost of Your Shadow', where padded suit jackets where stripped down to the fluff and spray-painted, then worn with vinyl trousers and pointy shoes. Graduate Yuki Ito's chimera-hybrids of formal- and workwear played upon notions of prejudice and stereotypes, a menswear metamorphosis per piece.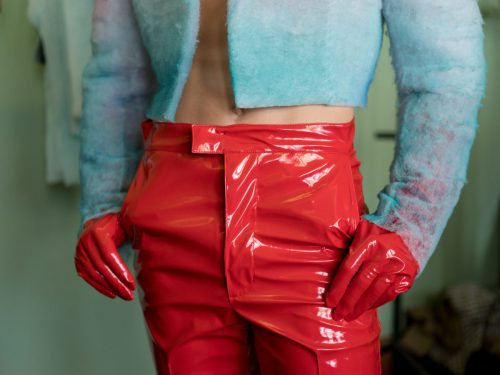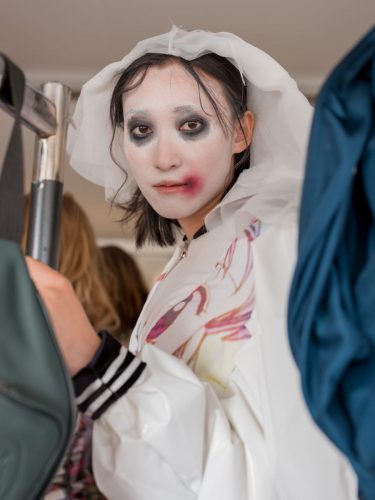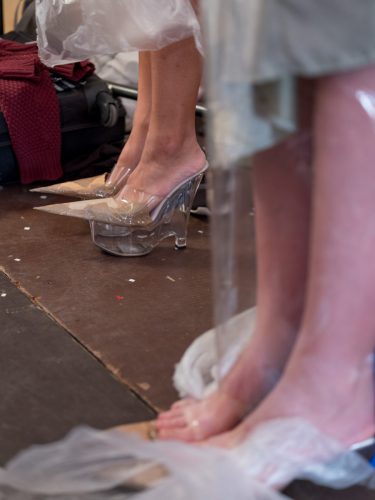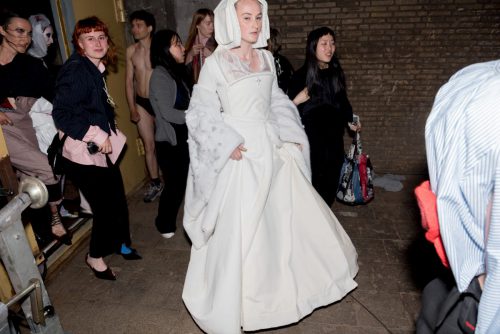 Finally, a preoccupation with spatiality, all the more evident in the nighttime, softly-lit and post-industrial surroundings of de Electriciteitsfabriek, prevailed especially in the installation of the Textile Design's course graduates, scaling up from Yani Chuang's domestic landscape of highly unusual chairs, to Marijn van der Eyden's 87,28 m3 fabric house, to Yuchen Jao's miniature post-crash Martian landscape, with edible plants growing among the woven pipes and ropes of her textile objects. Fashion graduate Laura Snijders, who was awarded the inaugural Keep an Eye Textile & Fashion Award, also had space on her mind – her 'That's not possible' collection hypnotises a fashion system based on change through place instead of time: a giant bag in a pattern of kittens, soccer scarves and a print of the black birds' stickers usually found on highways' noise barrier panels, would be the must-haves in her world.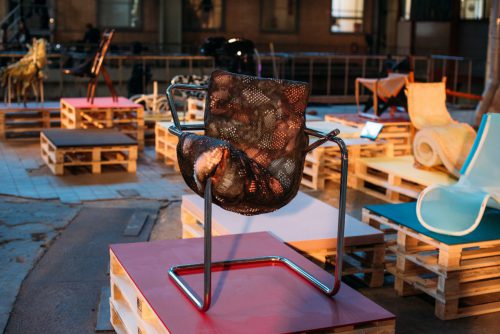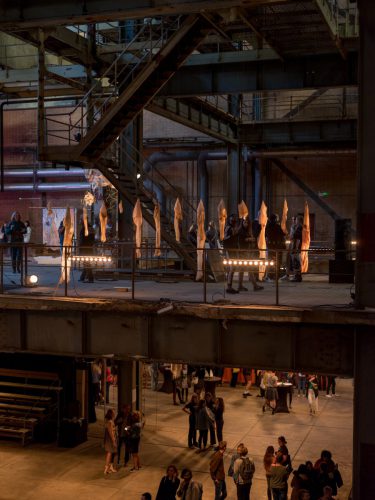 Later,
Silvia