Dear Shaded Viewers & Diane,
Lust couture hit Amsterdam Wednesday evening when designer Claes Iversen celebrated his aluminum jubilee at the city's Dutch National Opera and Ballet Hall. Ten professional years dedicated to a woman who's sublimated elegance stands as Iversen's creative axis.
In this first decade, the Danish born-Dutch educated handsome designer – a BA at The Hague's Royal Academy of Art was intelligently supplemented in 2006 with a two-year master at Arnhem's ArtEZ – documented a road full of experiments; though never losing his focus and fetishism on women and their major obligations. Since day one sophistication evaporates from underneath his delicate hands, supplying monarchies, actresses and slim celebrities (his main target). A man who can be described as: young-minded, seductive, and unable to create a moment women could not praise.
Iversen's ready-to-wear folded last year into his existing couture line, but there's nothing to regret about it today. Wearablity has reinforced most of the looks sent on the washed-liver carpet nailed by pointed toe pumps – except a few still influenced by his early trainee days at Viktor & Rolf I would have skipped. Without those, and with no doubts, the same show could have taken place at the French Communist Party Headquarters in Paris or on any architectural platform; its level transported us into the spectacular anyway.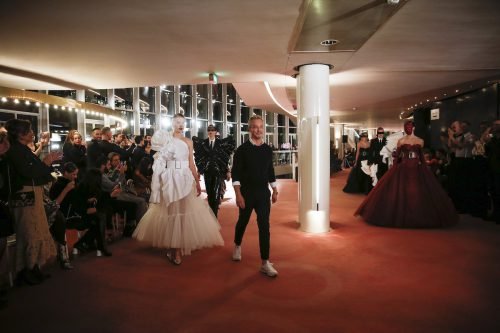 The love to the bare body doesn't overwhelm. Instead, it delivers freedom and joy to women who often struggle not to fall into national conventionalisms. Nude latex brings severity as compensation to the tulles and laces trapped under tight leather belts, but it surely illuminates those long legs!  Oversized buckles create tension on beautifully chaotic finishing, fastening fabrics that are the team's absolute workmanship (worth to mention his right hand and stylist Mark Lentelink, another prestigious ArtEZian). Tuxedo's satin collars are my favorites throughout all looks, looking haute-priced. But price is irrelevant in this tale; the time invested in this collection might be hard to calculate. It's a Claes anyway!
Do Fashion Week's calendars really have a purpose? Iversen manages to give Amsterdam what it deserves: a hot show with international pedigree when he decides it.
Best,
MHM.
CLAES IVERSEN – @claesiversen.
Photos: @teampeterstigter