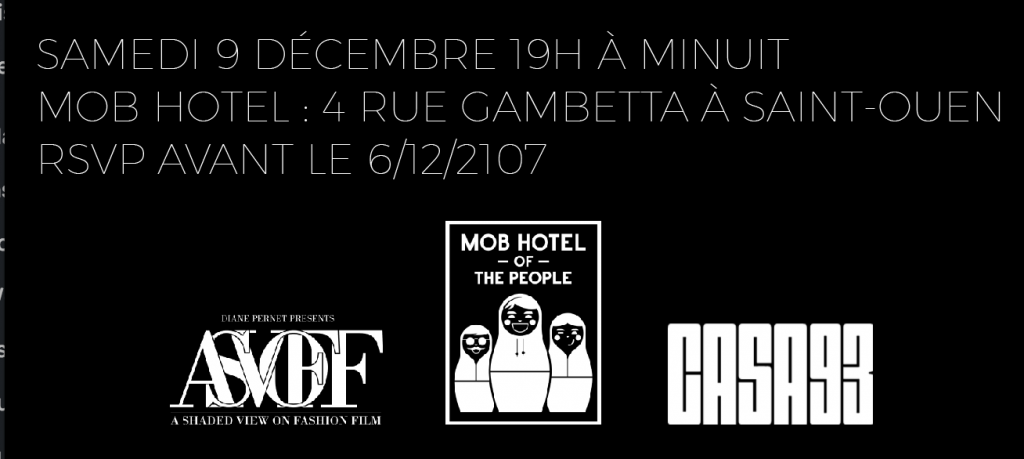 CASA93, MOB HOTEL & ASVOFF
You are invited to the first  "BAUHAUS93 #1",
EXTRAMORPHOSIA
A creative experience with yours truly and the young talents at the MOB HOTEL
Dear Shaded Viewers,
If you would like to join me and the fashion students at Casa93 and the film students at Ecole de la Cite, please make sure you confirm your presence:
RSVP: hello.modafusion@gmail.com
ASVOFF 10 is collaborating with the fashion students at Casa 93 and the film students at Ecole de la Cité . Nadine Gonzalez is the co-founder of Casa93 which offers free fashion education to a small group of motivated students. There are no specific qualifications to get in other than a great desire to learn and take full advantage of the opportunity. Casa93 is housed in the MOB Hotel in Saint Ouen which is outside the limits of Paris hence the ASVOFF Award 'kids of the banlieue". Special thanks to Aline Afanoukoé for facilitating the MOB Hotel as the home for Casa93. Aurelie Gibaru proposed the Casa93 collaboration to ASVOFF and we both went to Ecole de la Cité last week to present the project to the film students and were thrilled with the enthusiastic reception. Next step comes December 9th at the MOB Hotel where fashion students will meet the film students and all under the atmosphere of a  Bauhaus themed party. I will post the invite when I have it and you are welcome to come and see what Casa93 is up too.
Ecole de la Cite is a film school founded by the director Luc Besson located outside of Paris in Saint-Denis. Like Casa93 the principal criteria for admission is creativity and motivation. Two courses are offered screenwriting and directing. Internships and group work are a regular feature of the courses.   In both Casa93 and Ecole de la Cité the courses are free of charge. At both schools no academic qualifications are necessary for admission. Both Casa93 and Ecole de la Cité are committed to giving talents from all horizons a chance to express themselves and build their future.
http://www.casa93.fr/ #EcoledelaCite |