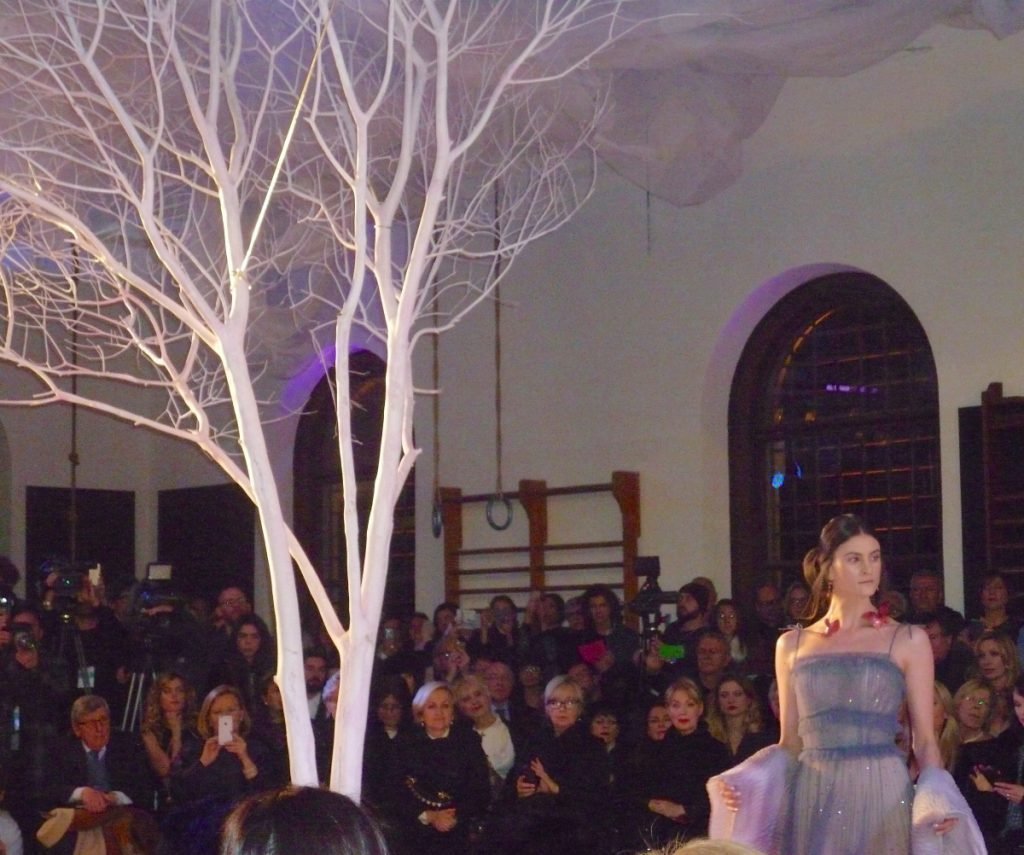 Dear Shaded Viewers,
Winter in Rome, during AltaRoma, means that one moment you're enjoying a post-catwalk lunch of tagliolini with artichoke sauce so delicious it should be illegal, at a restaurant nicknamed "Pasolini 2" by our press gang. (Shorthand explanation: This AltaRoma's venue in the Guido Reni District is the ugly stepsister of last season's Ex Dogana in San Lorenzo, the district on the diagonally opposite side of Rome where Pier Paolo Pasolini purportedly had his last meal at a joint called Pommidoro. Journalists in our group mistakenly thought we were back at Ex Dogana.)
And then later that evening, you're being ferried from Monti in a black BMW, whizzing past a blur that is the Piazza del Popolo and through the darkened Villa Borghese gardens and then deposited in an even darker garden of a former palace in god-knows-where. (In fact, the 16th-century dwelling of Pope St. Pius V, and now Link Campus University.) There you are greeted by a baleful angel and a young hostess whose chirpy demeanor has unsettling Stepford Wife overtones. She steers you away from the angel, informs you of an impending fashion show, points in the vague direction of a mulled-wine bar (somehow I missed it) and is oddly oblivious to the demented and frenzied tableau vivant that is in action among the garden's trees and bushes.
A troupe of pajama-clad somnambulists dance, sway and somersault over their hospital beds, grinning maniacally amidst a storm of goose feathers and random flood lights. It rather resembled The Persecution and Assassination of Jean-Paul Marat as Performed by the Inmates of the Asylum of Charenton Under the Direction of the Marquis de Sade and I thought it was marvelous. It was a fitting allegory for the troubled times we are currently marooned in: Who can sleep properly when there are madmen at the helm, steering the planet?

The baleful angel.
I've heard of insomnia, but this is ridiculous.
A school gymnasium festooned in tulle? To quote Emory in The Boys in the Band: "Oh mary, it takes a fairy to make something pretty." (The Boys in the Band is not a musical—and Bruce LaBruce and I regard it as a sacred text.)
The House of Gattinoni had its heyday in the 1950s and '60s when it dressed the likes of Audrey Hepburn and Ingrid Bergman. Today, the brand's creative director is Guillermo Mariotto and this Spring/Summer 2017 collection re-imagines Shakespeare's A Midsummer Night's Dream. Mariotto transformed classic striped pajamas into silk organza couture pieces featuring 4,800 matelassé smock stitches.
Hand-painted charmeuse caftans, powder-blue dresses resembling dressing gowns, illuminated with crystals and mother-of-pearl, and waffled peignoirs rounded out the collection. Our press gang was divided over the merits of the clothes, but as I am a great fan of sleeping (and holy-basil-induced dreaming), I rather enjoyed it. (Even if I prefer to sleep—in answer to Rex Reed's famous interview question—in the nude.)
"If a little dreaming is dangerous, the cure for it is not to dream less, but to dream more, to dream all the time." —Marcel Proust
Thanks for reading.
Pleasant dreams,
Glenn Belverio