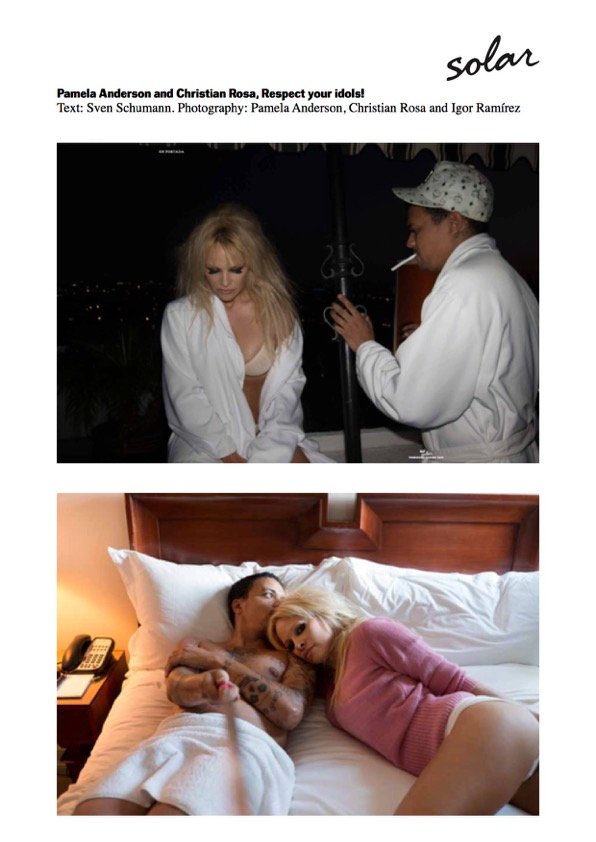 Dear Shaded Viewers,
Solar is the bi-annual Pan-Hispanic fashion and culture magazine. 
The new issue features two different covers: a genuine 'selfie' of actress and activist Pamela Anderson and celebrated contemporary artist Christian Rosa. Anderson and Rosa checked into the penthouse suite of Chateau Marmont and photographed themselves throughout the day. The Solar shoot developed into an intimate celebration of friendship, captured in a series of beautiful, unguarded images. The interview, conducted by The Talks founder Sven Schumann, uncovers the incalculable importance Rosa attributes to his own idols, which include Helmut Lang, Raymond Pettibon, and, of course, his blonde bombshell partner-in-crime: Pamela Anderson.
The second cover is a limited edition featuring the unmistakable beauty of Rossy de Palma, shot by Brigitte Niedermair. The accompanying article includes exclusive contributions from Pedro Almodóvar, Jean Paul Gaultier, Christian Louboutin and Blanca Li, in an anthology of personal anecdotes, messages, images and a handwritten note. A total of 500 copies will be available, each one individually numbered. 
Spanish is spoken in over 20 countries in some of the most dynamic economies in the world; with over 40 million people in US speaking it as a primary language! Solar caters to a transnational audience, to Spanish and non-Spanish speakers alike, thanks to English translations at the back of each issue.