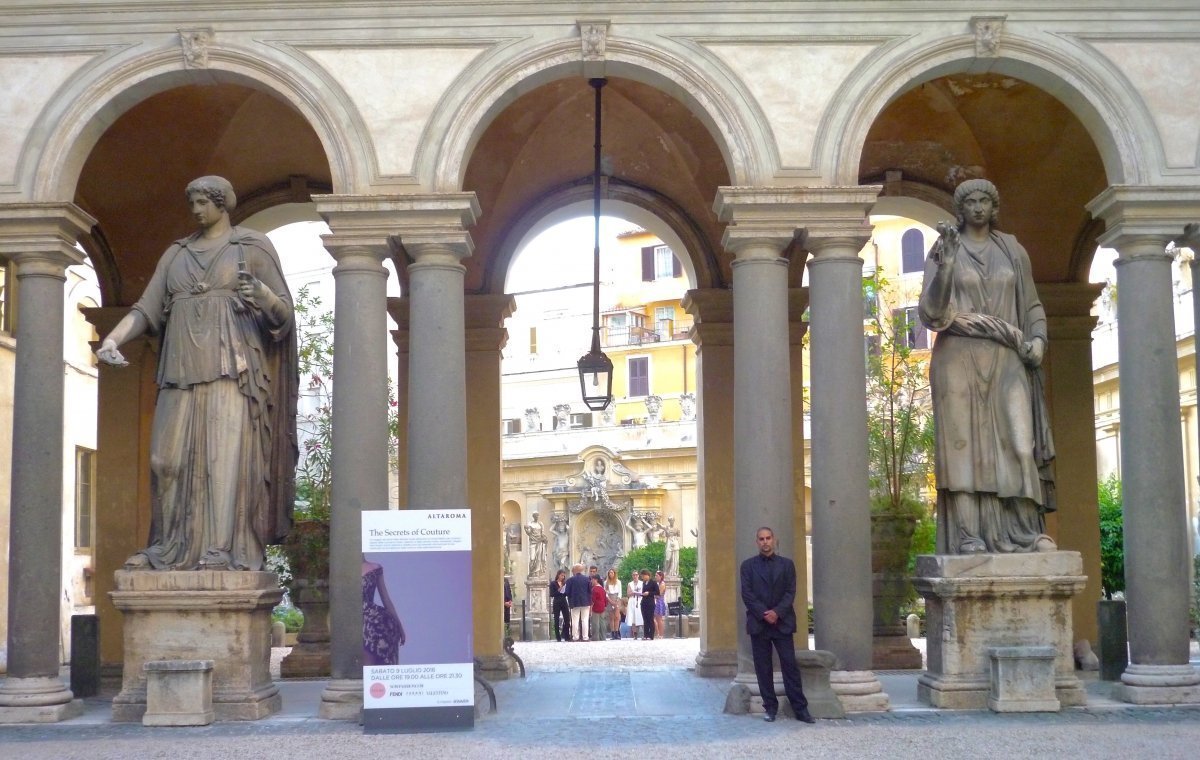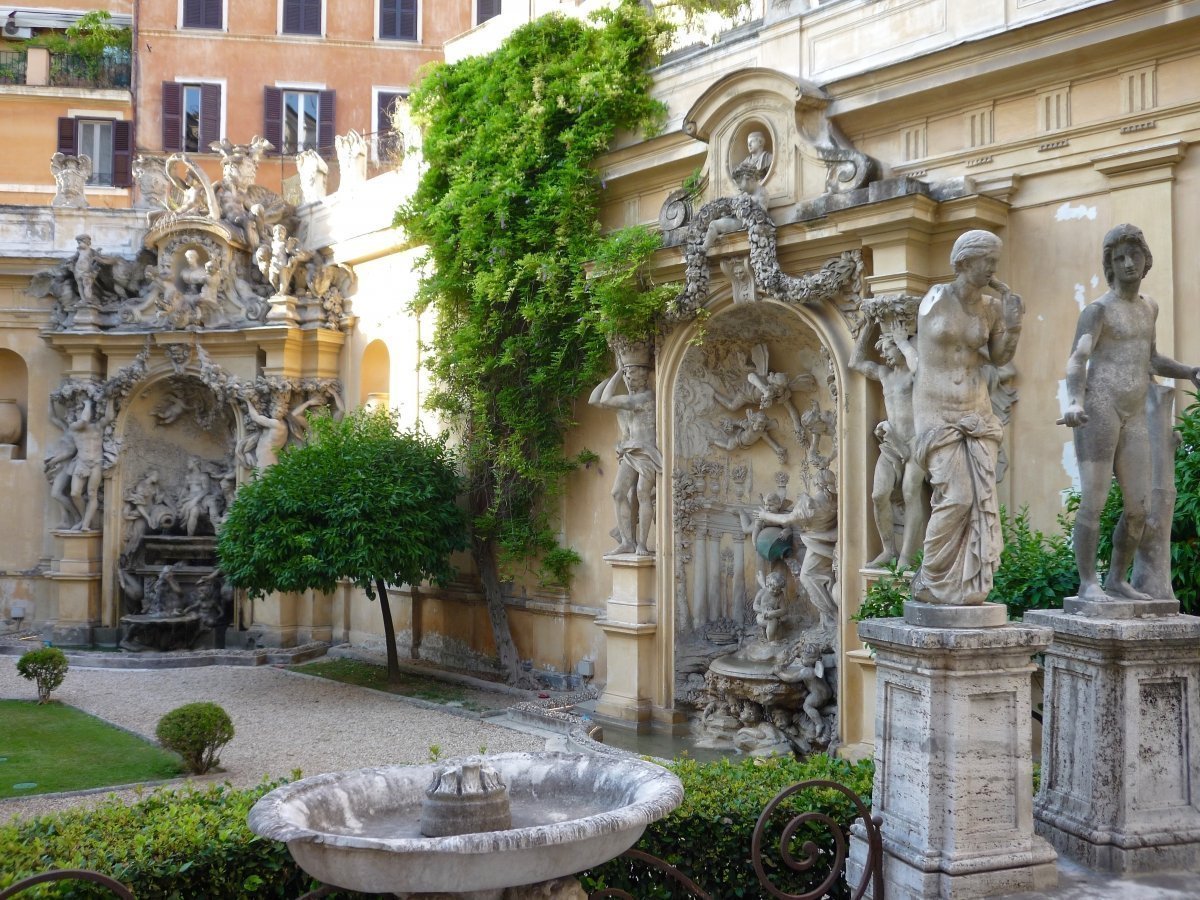 Dear Shaded Viewers,
Summer in Rome, during Alta Roma, means that one minute you're indulging in toothsome canapes in the lush, verdant garden of the Dutch ambassador to Italy before being shuttled to the other side of the city by your driver and deposited before the gates of an imposing palace which is heavily guarded by swarthy hunks brandishing big guns. And for a moment, you fear—to paraphrase Ronnie "Z-Man" Barzell—that the portcullis will bar your entrance to Elsinore.
But no, you've only arrived too early. The party hasn't begun yet. After an investigative stroll around the Palazzo Fendi, we returned to the scruffy men with the big guns and jaunty berets and were granted entrance to the secret garden of the Palazzo Borghese—the main seat of the Borghese family, beginning in the 16th century.
The occasion? The Secrets of Couture, a project based on an idea by Silvia Venturini Fendi and developed by Alta Roma. "In the absence of a system of direct communication with next-generation designers, the secrets of the trade are at a risk of becoming a forgotten heritage," proclaims the exhibit's mission statement. "Alta Roma has already developed a research project targeted at the transmission of these skills, based on direct experimentation in each field."
The installation inside the palazzo's Galleria del Cembalo featured creations from four emerging designers on the international couture scene, from Lebanon to Qatar to Italy.
A stunningly beautiful garden, check. Well-built, handsome waiters, check. Excellent and endless French Champagne (Nicolas Feuillatte) instead of prosecco, check. The perfect recipe for an early evening soiree in Rome.
A fairytale-like confection from the Beirut-based brand Ashi Studio. Ashi, whose work has been praised by Vogue Italia Editor-in-Chief Franca Sozzani, attended the Esmod School of Fashion in Paris.
Voluptuous curves and rich embroidery from Ashi Studio.
What a delight to see some new work from Rome-based couturier Sylvio Giardina. I met Sylvio at my first Alta Roma, in the summer of 2009, and was a big supporter of the collection he showed that season. Sylvio has made the important decision of returning to haute couture, instead of selling out to the booming business of fast fashion. And we're so glad he did. His new designs are absolutely enchanting, combining old-world techniques with a modern attitude.
Sylvio Giardina
Sylvio Giardina
Sylvio Giardina
Sylvio Giardina
Maria Luisa Frisa, Alessio de' Navasques (a curator of this exhibit) and Sylvio Giardina
A galaxy of glamour: this starry sensation was designed by Wadha Al Hajiri of Qatar. Wadha, who once collaborated with Valentino, launched her brand in 2010 and is known for experimenting with ornamentation, including handmade geometric embroidery and artisanal lattice work inspired by Islamic art and architecture. She is constantly traveling the world, collaborating with brands in Damascus, Cairo and Amman.
Wadha
Wadha
Future shock: Clara Tosi Pamphili takes the new virtual reality hardware for a test drive.
If you think I am looking for Pokémon Go creatures in the ceiling frescoes, you are sadly mistaken. I am peering, dizzily, into the ateliers of Valentino and Sartoria Farani. Unfortunately, when I was about to take a virtual trip to Fendi's new headquarters in EUR, the headset started overheating and shut down. Luckily, I had time to visit Fendi HQ in the real world the following day. (Stay tuned for my report on their fascinating fur exhibit.)
Champagne and style in the palazzo's garden.
Thank you for reading.
Baci, baci,
Glenn Belverio