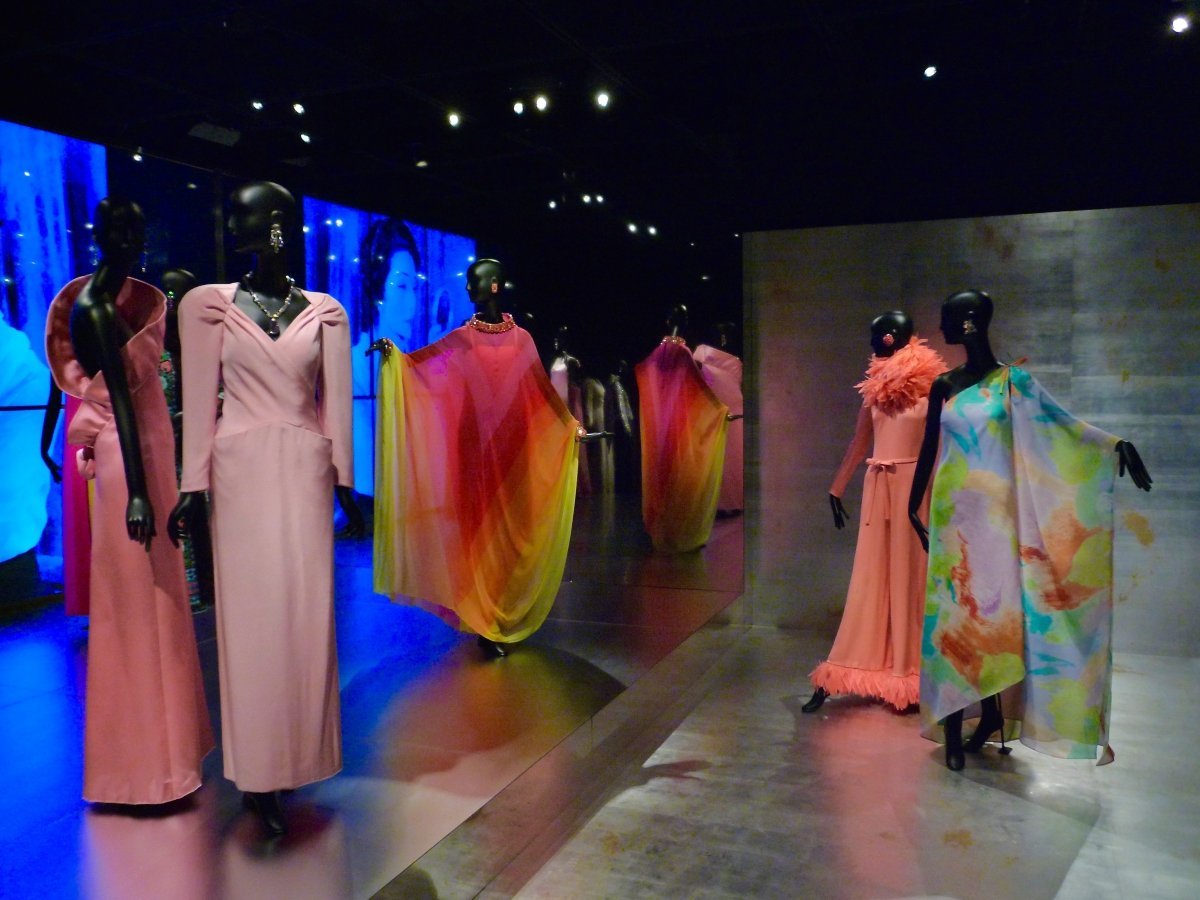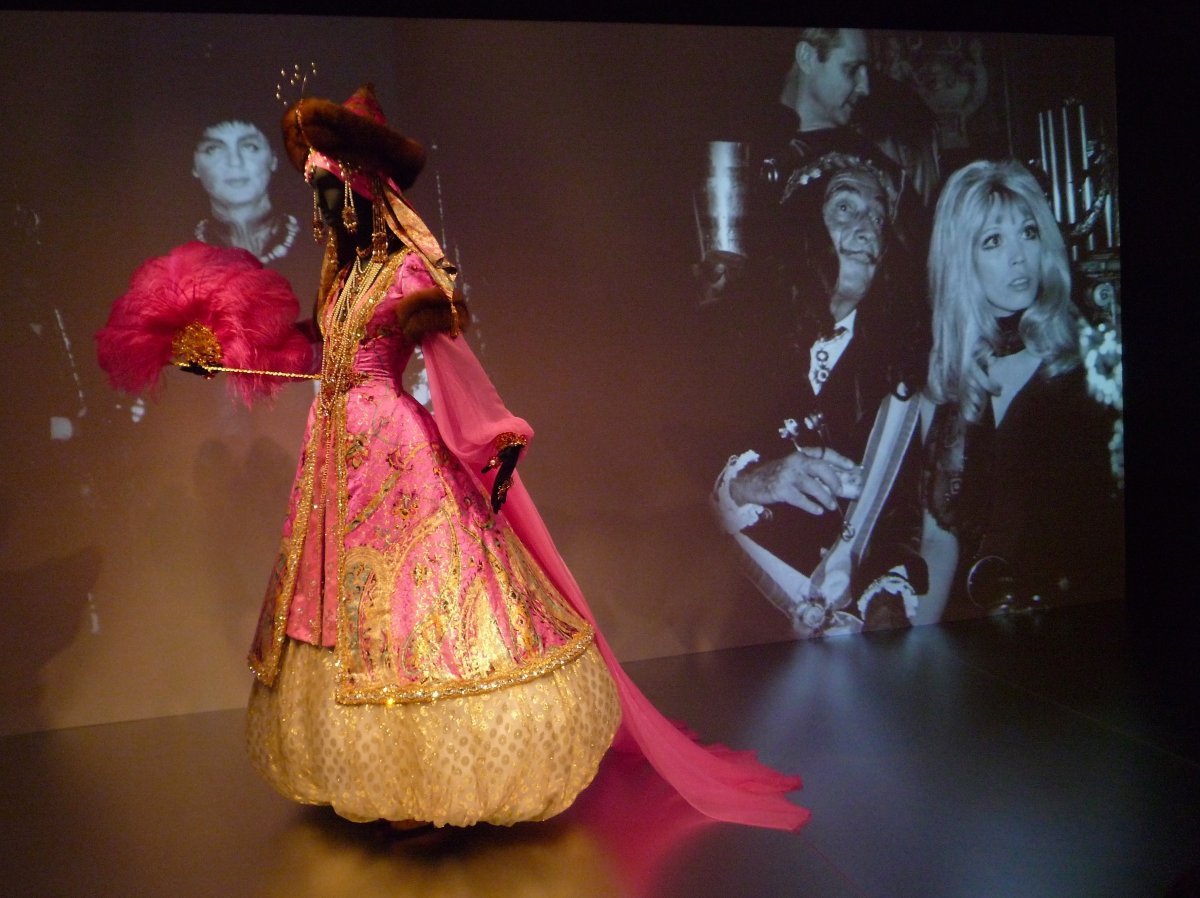 Dear Shaded Viewers,
On Tuesday evening we celebrated the opening of an exhibition devoted to fashion icon Countess Jacqueline de Ribes at the Metropolitan Museum of Art. "A close study of de Ribes's life of creative expression yields illuminating insights into her strategies of style," said Harold Koda, Curator in Charge of The Costume Institute, who organized the exhibition. "Her approach to dress as a statement of individuality can be seen as a kind of performance art. When she established her own fashion house, her friend Yves Saint Laurent gave his blessing to the venture as a welcome projection of her elegance."
After perusing the exhibit of 60 ensembles that the Countess has either worn or designed herself, we congregated in the Temple of Dendur for champagne and effervescent chitter-chatter—a welcome relief after processing and reflecting on the recent tragic events in Paris. The Countess was meant to attend the opening but chose to stay in Paris to mourn with the victims' families.
This was definitely my kind of party, like the ones I used to attend in the '90s and early '00s. There were no tiresome celebrities in attendance—only fashion insiders, including Suzy Menkes, Valerie Steele, Patrick McDonald (my friend and date for the evening), Ike Ude and Amy Fine Collins.
A technicolor miracle of chiffon by Marc Bohan for Dior, 1967. Only four women are known to have ordered this dress: the Countess de Ribes, H.S.H. Princess Grace of Monaco, the Mexican actress María Félix and the philanthropist Joanne Toor Cummings.
You say tomato, I say tomate: Madame Grés and Valentino. Very early on, the Countess de Ribes gave young Valentino some valuable advice. I like the way Amy Fine Collins wrote about it for the August 2010 issue of Vanity Fair:
'On a trip to New York in 1955, during which time she attended the Knickerbocker Ball (in a Dessès gown), she caught the attention of Oleg Cassini, who found her "elegant to the point of distraction." Recalls Jacqueline, "Oleg said, 'I feel you are a frustrated designer. Would you do things for me?' I came back to Paris, to the attic of my house, and cut dress patterns on the floor. To help me out, I booked the première [head of studio] from Patou, and a worker from Balenciaga. I made the dresses only in toiles [muslins], as I couldn't afford silk. Then I packed the toiles in boxes to send to Oleg in New York. But first I needed to glue onto each box a nice croquis [fashion sketch] of the contents inside. I couldn't draw, so Jean Dessès proposed I hire a young Italian in his studio. It was Valentino! He came to my house once or twice a week for about a year. He drew my croquis, but always wanted to add an extra bow, frill, or flower. Valentino would complain—'I have no money. I live in an attic, with a toilet on the other end. I am going back to Rome.' I told him he could not leave. To be a couturier, I advised him, he had to stay in Paris. Besides, I did not want to lose my dessinateur! Three years later, Valentino opened his own couture house. I was green with jealousy. In the meantime I had closed my attic. So I went to Rome and bought clothes from him."'
What a delight it was to see Mary McFadden again after all these years. Her entrance caused quite a sensation and she became the star of the party. So chic. It brought back memories of when I used to cover the New York shows for the fashion editor of the New York Post when I was fresh out of high school, back in the '90s.
Me and Patrick McDonald arriving at the cocktail reception in the Temple of Dendur. Patrick is wearing a vintage Moschino suit.
As Patrick tries to work out the new technology, Ike Ude is amused and Carolina Herrera looks impatient.
When the Countess wanted the House of Dior to replicate one of her favorite designs from the '50s the curator, Harold Koda, demurred. He had never seen a truly accurate reedition. Ateliers change, the period eye evolves, etc. But the Countess wouldn't take no for an answer. Because of her photographic memory and ability to recollect the smallest detail of the gown she loved, the reproduction, pictured here, is a masterpiece of deception.
I absolutely adored this Balmain ensemble (herringbone tweed with a lynx-fur trimmed cape) because it channels Marlene Dietrich. And indeed, it was conceived during a time when Hollywood glamour was influencing Parisian style, the 1960s.
The fabulous Valerie Steele, whom I often interviewed back when I was writing for DUTCH magazine. I had lunch with my close friend Professor Camille Paglia the day after this party, and she spoke warmly of the way Professor Steele has successfully elevated discussions of fashion in academia.
Carolina Herrera and Amy Fine Collins.
Yves Saint Laurent 2002 and a dress from Jacqueline de Ribes own fashion collection, fall/winter 1983-4. The Count tried to talk the Countess out of starting a fashion line because it was considered unseemly for an aristocrat to be involved in commerce. Finally, he gave his blessing but told her she had to raise her own money. So, she flew to New York and did just that.
More pieces from Jacqueline de Ribes fashion collections in the '80s.
Before the closing of Yves Saint Laurent's haute couture business, Pierre Bergé encouraged the Countess to place one last order. She requested reeditions of one of her favorite designs from twenty years prior. "Elegance is never out of date," she proclaimed. So she ordered one design in three colors. "In this instance, the confidence to wear the same design in a range of colors trumps the impulse to acquire a clutch of novel but less useful pieces." —Harold Koda
An exquisite gown by Jean Paul Gaultier


More Jacqueline de Ribes originals. Absolutely enchanting.
"Balls were not for one's amusement, they were for being ravishing," the Countess has noted. "The three masked ball costumes in this exhibit are composed of cannibalized couture gowns, inexpensive fabrics from a textile jobber and embroideries of both the finest and the most prosaic quality. Like her fashion collages, her masquerade costumes are a conflation of high and low." —Harold Koda
Jacqueline de Ribes
Yves Saint Laurent 1968 and Jacqueline de Ribes 1986.
Avedon photos from a 1959 Harper's Bazaar, the Countess on the left. Looking at her impossibly long neck, you can see why Truman Capote anointed her as one of his "swans."
From Amy Fine Collins' VF article: 'Her curiosity piqued, Diana Vreeland, then fashion editor of Harper's Bazaar, came over from a nearby table to greet her friend and meet his sphinx-like companion. "She said, 'We'd like Avedon to take your photo tomorrow.' The next day I went to the hairdresser. I got false eyelashes, curled my hair. When I showed up at the studio, Diana said, 'I want you to be how you were yesterday! She peeled off the eyelashes, combed out my hair. And she made me a braid! Diana Vreeland helped me be authentic. She taught me confidence. And the picture became famous."'
A Jacqueline de Ribes original. Divine.


Illustration of the Countess attending Alexis de Rédé's Bal Oriental at the Hôtel Lambert in Paris, 1969.
Amanda Lear, Salvador Dali and one of "the twins" at the Bal Oriental. As you may know, one of my favorite books of all time is My Life With Dali by Amanda Lear and of course she writes about this ball. Amanda's costume of a red leotard, tights and one exposed breast, conceived by Dali, was meant to be "an opium poppy." Amanda writes:
"This was the event of the Parisian season and Dali mockingly explained that those who weren't invited made it known that they would be out of Paris, either skiing or traveling.
'Is it absolutely essential to go to this ball, then?' I asked.
'Absolutely!" Dali replied. 'But only in order to admire the Tiepolo ceiling. The ball itself will be of no interest whatsoever.'
Amongst the turbans and the odalisques, the Chinese emperors and the Scheherazades, jostled in every direction, we quickly lost sight of the twins. Brigitte Bardot was there, also wearing tights and a leotard, and so was Elizabeth Taylor, in a richly embroidered caftan. The fact that I was supposed to represent an opium poppy was of no interest to anybody, whereas my bare breast attracted a lot of attention. The whole party in fact was nothing more than a reunion of rich hippies. Dali was thoroughly vexed at not being the centre of attention, while any attention I received was focused entirely on my breast."
Marilyn Kurshner, Yeohlee Teng and Patrick.
Legends walk among us: Mary and Patrick.
Thanks for reading.
Love,
Glenn Belverio