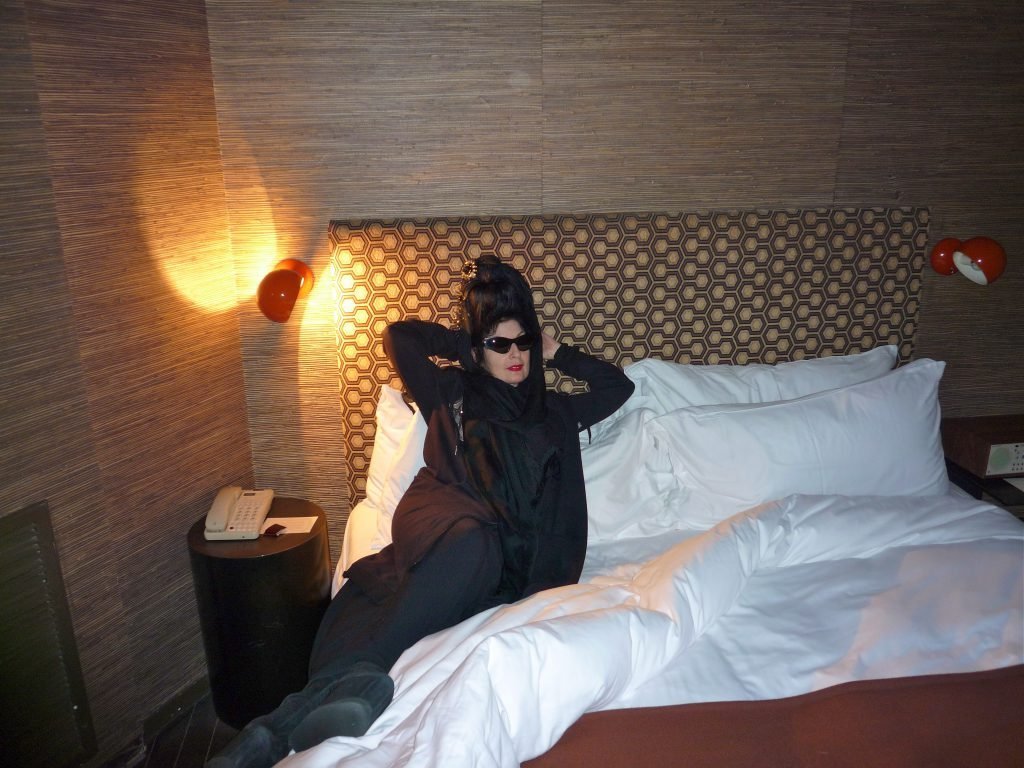 Dear Shaded Viewers,
Last month Diane was in New York for some ASVOFF meetings at Lincoln Center and before she arrived she asked me, "Where do you think I should stay?" I whipped out my short list of favorite NYC hotels and we decided the Tribeca Grand would be the best place for her to rest her mantilla-draped head after a long day in stressful Gotham. First of all: location, location, location. Far from the type-A workaholics of midtown, the ersatz Carrie Bradshaws of the West Village or the puking NYU students of the East Village, the Tribeca Grand is situated in a quiet, discreet triangle at the genesis of 6th Avenue.
The dimly lit lounge is welcoming and relaxing. The playful 1970s-inspired décor in the rooms–brown whispers and orange exclamations–seems to invoke an imaginary encounter between Laura Mars and Greg Brady. Bed and bath linen are by Frette and toiletries by New York's Malin and Goetz.
Adding to the list of amenities offered, guests of the Tribeca Grand have access to the latest from Apple's stylish line of digital lifestyle products; from iPads and iPods to a selection of rooms outfitted with fully loaded iMacs. The Hotel continues its pioneering vision with its private screening room and carefully curated film series, extending the neighborhoods leadership in film and emphasis on offering visitors a true slice of the TriBeCa lifestyle.
Hi-lo form and function.
The bathroom has a spaceship feel. One half expects to run into Robby the Robot and Dr. Smith in the shower.
One evening, we met Diane and Katie Longmyer of Good Peoples for a delightful champagne-soaked dinner. Katie is regarded as the Queen Bee of interconnected people–introudcing corporate types to cool artists. You can read last year's New York Times profile about her here.
The Boys in the Boîte: Filmmaker Vincent Gagliostro, artist and jewely designer Miguel Villalobos and the one and only moi.
After dinner and some bubbly imbibing and madcap conversations in Diane's suite, Ms. Pernet bid us buona notte a la that scene in Fellini's ROMA when Anna Magnani closes her door on the director.
Thanks for reading.
Love,
Glenn Belverio