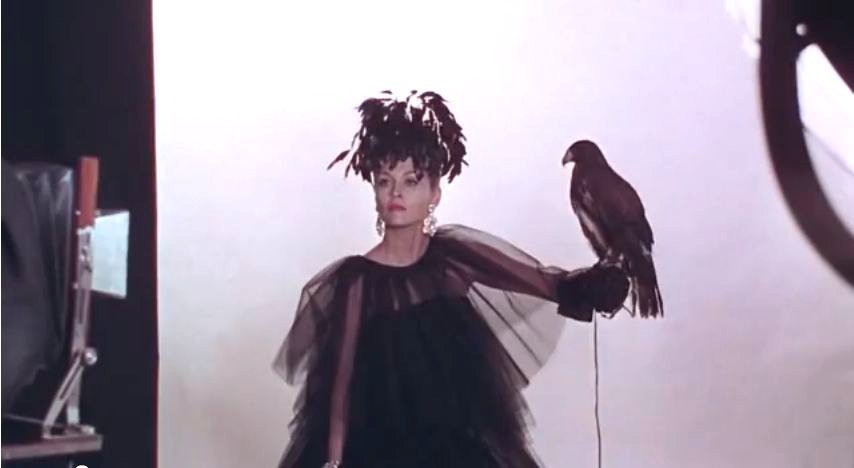 Dear Shaded Viewers,
On Saturday, March 15, there will be a tribute to director Jerry Schatzberg at the French Institute in New York. ASVOFF will present a special screening of his debut masterpiece Puzzle of a Downfall Child with a Q&A afterwards.
I interviewed Mr. Schatzberg and wrote a feature about his work for the September 2000 issue of DUTCH magazine and am posting it here in honor of the upcoming screening.
Jerry Schatzberg is talking about the time he was blacklisted–not by Senator McCarthy, but by Faye Dunaway. "We had a fight because she arrived late on the set. She put my name on the list and I just left it there," he recalls. Schatzberg is referring to the filming of his obscure masterpiece,

Puzzle of a Downfall Child 

(1970), the story of a fashion model who has a mental breakdown. The film's protagonist, Lou Andreas Sand, played by Dunaway, has compiled an ever-growing list of photographers she refuses to work with. In a life-imitates-art moment, Dunaway added Schatzberg, who was once a fashion photographer and Dunaway's lover, to Lou's list. Luckily they reconciled and were able to finish this quirky gem of a film.
Based on the real-life story of model Anne St. Marie,

Puzzle

documents the rise and fall of a top model whose distortion of reality shapes the film's surreal narrative. "Anne had her own sense of humor," says Schatzberg, who fell in love with her when he shot her for Vogue in the late '50s. "The stress of this business led to her breakdown." The film is a bit like a Nostradamus prophecy of the tribulations suffered by contemporary models such as Kate Moss. Eerily, Dunaway's visage seems to channel the waif supermodel in the film. But 

Puzzle

can be any girl's story. "Anne was not unique," Schatzberg remembers. "There were models who would walk into the studio and just break down crying because some editor told them that one shoulder was higher than the other."
Schatzberg tape-recorded St. Marie during her downward spiral, which was abated by booze and pills, and later played the tapes for Carole Eastman, who wrote the screenplay for 

Puzzle. 

"Faye also listened to the tapes and got to know Anne that way," says Schatzberg. Eastman combined her own odd sense of humor with Anne's recorded persona, and Lou Andreas Sand was born. "When Carole initially listened to the tapes, she was so intrigued she left a friend with a toothache waiting in her car for three hours," recalls Schatzberg.
Above: Faye's fractured image in

Puzzle
"There were models who would walk into the studio and just break down crying because some editor told them that one shoulder was higher than the other."
The film's title is derived from the story of a woman Schatzberg knew, who would wake up in the middle of the night, rush to the window and try to catch a "falling child." Schatzberg originally envisioned a film that was about an abortion, but as the story developed it became more about St. Marie and her downfall. 

Puzzle 

takes the viewer through Lou's fractured mind which imagines events such as an art director gunning her down while she is being photographed on a beach, and her bridal gown (which resembles a nun's habit and was inspired by the designs of Geoffrey Beene) changing from white to black as she flees the wedding altar. 
Puzzle 

is so obscure that the only copy Schatzberg has of his own film is the one designer Anna Sui taped when it was aired at an ungodly hour on a forgotten TV channel. It's the kind of film you hear fashion film freaks talk about in the same breath as that other classic

Who Are You, Polly Maggoo?

directed by another photographer/director William Klein. "We knew each other in the '60s," says Schatzberg. "I shot him working backstage at the Paris collections for Esquire."
Fashion photo by Jerry Schatzberg
Schatzberg, a native of Forest Hills, Queens, NY, got his start in photography in 1954 when he assisted fashion photographer Bill Helburn. In 1956, he moved to Manhattan and started shooting his own editorial for Glamour and Vogue. In addition to his fashion work, he was also involved with the '60s rock scene in swinging London. There, photographer David Bailey introduced him to Mick Jagger before most people had heard of the Rolling Stones. "Here was this guy with a ripped sweater and dirty fingernails, and all the girls were screaming and pulling at him when we got out of my car at one of their gigs," says Schatzberg, who later photographed the Stones in drag for the cover of their single "Can't You See Your Mother Standing in the Shadows?" Later, he was a financial backer for two seminal New York clubs, Ondine and Salvation, where Jimmy Hendrix (then Jimmy James) played his first gig. Most of all, Schatzberg wanted to make films and leave fashion photography. His debut 

Puzzle 

functions as a neat exit from his former profession. 
 Edie Sedgwick photographed by Jerry Schatzberg
Most of Schatzberg's films have garnered more enthusiasm abroad, mainly due to his European cinema sensibility: minimalist story lines, languid pacing, painterly-like vistas. "When I go to Paris, I'm treated like Spielberg. It's so good for my ego," laughs the director who still spends most of his time in New York, where he resides on Central Park West. After 

Puzzle, 

Schatzberg immediately began working on a new project, a film that he is perhaps most famous for:

The Panic in Needle Park

(1971), starring Kitty Winn and Al Pacino as heroin addicts who hang out in the park at the intersection of 72nd Street and Broadway.
It soon becomes clear, however, that "Needle Park" is more than a row of grimy park benches; it is the mental landscape, or existential prison, that heroin addicts inhabit. The script was written by Joan Didion and her husband, John Gregory Dunne, who it is rumored spent just a couple of days researching the topic of junkies. However, before shooting, Schatzberg, Pacino and Winn hit the streets for six weeks to build on the script. "We hung out with junkies at Blimpie's and went to seminars for addicts at Roosevelt Hospital," says Schatzberg. 
"What do you mean I can't get a prescription for heroin?" Kitty Winn in

The Panic in Needle Park
"I think we're all looking for our fathers, even if we have a father, we're always trying to please him. We do everything we can to make him like us."
The resulting film is pure cinema verite, partly because real ex-junkies were cast as denizens of Needle Park. A scene depicting the cutting and packaging of heroin by dealers is so realistic that one waits for a documentary-style voiceover to accompany the action. The authenticity is helped again by the casting, this time of actual heroin cutters. In many of Schatzberg's films, particularly 

Panic, Scarecrow

(1973) and

Honeysuckle Rose

(1980), the action is so natural that one almost suspects a candid camera technique, as if the actors were unaware of being filmed. "I think in some ways it's what I did in fashion photography. When I brought people into the studio, I still wanted them to be honest and real. For the collection I shot for Vogue in 1960, I just had people walking across the set in a very natural way, with their skirts poofing up and so on." 
Schatzberg continued to make films throughout the '70s and '80s, winning the Palm d'Or at Cannes in 1973 for 

Scarecrow, but was relatively quiet during the '90s. "I worked on six films where either the script didn't work out or the money didn't come through. But I'm not very prolific anyhow," he shrugs. Happily for Schatzberg fans, the director has both a new film release and a retrospective scheduled for the fall. His latest,

The Day the Ponies Came Back

, is about a Frenchman (Guilaume Canet of

The Beach

) who goes to New York to track down his father and through him, to find himself. The story is inspired by Schatzberg's ex-wife who embarked on the same quest. With Schatzberg's help, she found her father. "I think we're all looking for our fathers, even if we have a father, we're always trying to please him. We do everything we can to make him like us."
The film, shot in the Bronx, promises to have the same gritty appeal as earlier works. His next project,

Boomer

, will be another collaboration with Puzzle scripter, Carole Eastman, who Schatzberg hasn't worked with for twenty-five years. It's based on the memoirs of an English professor overcome with ennui. "She experiments with drugs and homosexuality because she is tired of her life," he explains. "Then she sees an ad for a railway worker position and she takes it. She still works there today."
Schatzberg has been credited with being one of the few directors to craft a new style of drama, an American genre that surfaced after the dust of the tumultuous '60s cleared. "The absence of schmaltz and sentimentality in many '70s dramas had a lot to do with the reality of the '60s," he says. "That decade brought us a lot, but also took away a lot."
One device Schatzberg often likes to employ is the anti-climactic/non-resolution ending (a style pioneered by Michelangelo Antonioni). 
Lou walking away from her beach house still trying to piece together the jumbled episodes of her life in 

Puzzle.

 Helen silently following Bobby after he is released from jail in

Panic

. Max the drifter banging his shoe on the ticket counter at the train station after leaving his catatonic companion behind in the hospital in

Scarecrow

. The characters stay with you after the film is over, you worry about them as if you knew them. "You hope that maybe something nice will happen to them," says Schatzberg. "I loved Anne and I wanted her to come out of it the whole time I was photographing her during her breakdown. Those endings leave a little hope, a little optimism."