Welcome to the Jungle: Survivalist chic makes its mark in Rio at Redley.
Dear Shaded Viewers,
I had always heard from my other jet-setting journo friends about how magical Fashion Rio is–so I was very excited when Diane dispatched me there to cover the shows which took place January 11 (my birthday) through the 16th. It turned out to be one of the most extravagant (and fun) fashion weeks I've ever attended. I had been to Rio last September (after attending Capital Fashion Week in Brasilia) and was blown away by the beautiful beaches, mountains, architecture and people. I've been to a lot of places and I find Rio de Janeiro to be one of the most stunning places on earth.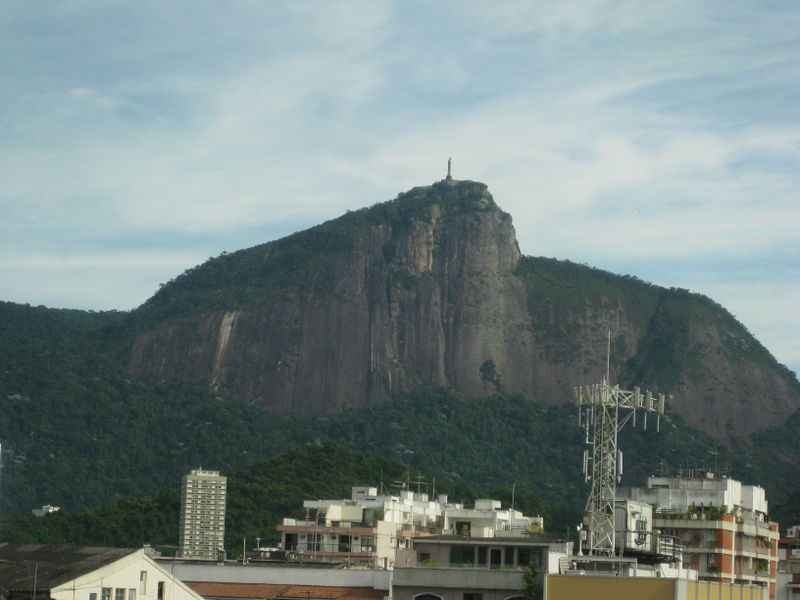 Above: I had a spectacular view of Corcovado (home of Christ the Redeemer) from my room at the Ipanema Plaza Hotel.

Above: Almost all of the shows were staged in a tented fashion-and-champagne mini-city at the Marina da Gloria, where we were treated to a lovely view of Pão de Açúcar (Sugarloaf Mountain).
This season's edition of Fashion Rio took its inspiration from Rio's multi-ethnic, bohemian neighborhood of Lapa. The 'hood's most distinctive characteristic are the Arches of Lapa, or Carioca Aqueduct, which was built in the 1750s by the Portuguese conquerors. 200 years later, Lapa became an enclave for Brazilian artists and intellectuals (the same time the Beat movement was thriving in New York). For the backdrop at the Marina, film director Ricardo Nauenberg created an artist's rendition of the Arches for the canvased exteriors of the tents.

Above: Outside the ABIT (Brazilian Textile and Apparel Industry Association) Lounge in the VIP tent. Apparently a lot of editors and journos spent quite a bit of time in there swilling complimentary champagne, but I wouldn't know–I was too busy reviewing my copious notes from the shows and attending Catholic services in the fashion chapel.

The always fabulous Lala Guimarães, publicist and Fashion Rio queenpin, at the tents.
CAVENDISH The chrome-capped, uprooted tree in the middle of this 12-yr old brand's runway was one of the many examples of unique sets that defined Fashion Rio. The luminous log complemented the clothes, which featured metallic embroidery and bird-shaped brooches (which may or may not have been fashioned after the prehistoric-looking birds I saw circling ominously over Christ the Redeemer and the gay beach in Ipanema all week. An apocalyptic frisson ran through me every time I saw them).

Above: Editors & photographers wait in the rainforest for the Redley show to start. Thankfully, no one was swallowed whole by a boa constrictor. That would have been a fashion downer.
REDLEY When it came to show locations, Fashion Rio was no slouch. The morning after my arrival in Rio, we were all taken on an hour-long drive up a mountain, past scenic waterfalls and deep into the middle of a gorgeous rainforest (Tijuca National Park to be exact. But it felt like the middle of nowhere–in a good way). Redley designer Jurgen Oeltjenbruns chose this location to complement his collection's "responsible, sustainable" theme. Sustainable clothing is, of course, all the rage these days, especially in Brazil, and J.O.'s women and menswear is just the thing to wear to that next survivalist shindig. Here were abstract camouflage prints, foliage-motif jacquards and leaf-shaped appliques. The color palette blended just a little too nicely with the surrounding scenery for my taste–too sublte, too literal. However, my inner art director perked up with the occasional flash of burnt orange or a shock of cobalt.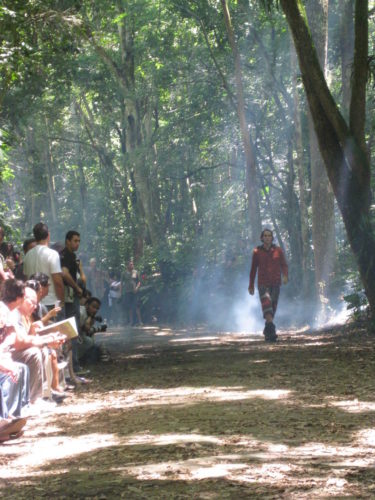 Me in the jungle

Pia Catton of hintmag.com and a mossy tree

One of the girls from ABIT

Is that Tarzan of the Jungle? No, it's handsome American Vogue stylist Alvaro Salazar working his Suzy-Menkes-back-in-the-90's gimp look. Poor Alvaro injured his Achilles tendon but managed to make it to every show. What a fashion trooper!
COVEN caused quite a stir at the beginning of the week as front-row fashion editors whispered about the collection's similiarties to past creations by Herve Leger, Balenciaga and Sonia Rykiel. But many agreed that the clothes' Brazilian color palette and Latin flamboyancy brought a fresh feel to a few borrowed ideas.

Behold, the international fashion press! Sameer Reddy of Style.com, Pia Catton of Hintmag.com, Jason Campbell of JC Report and Alvaro Salazar of American Vogue in their front-row roost.
Meanwhile, over in the CHIC Lounge….

Me enjoying a refreshing glass of carbonated grape juice after the Coven show.

Elle & Interview photog Peter Miszuk. He and I spent between-show downtime bouncing back-n-forth from the ABIT and CHIC lounges, enjoying Carioca canapes and wicked gossip.
PRINTING One of my favorite collections of the week–and a Fashion Rio first–was shown in a dramatic warehouse in downtown Rio. Designers Daniel Rodrigues and Julia Valle mixed Art Deco affectations with menswear sobriety for looks that were as original as they were glamorous. The show's stylist gets high marks for perfectly coordinating the jumbo resin and murano crystal necklaces, layered brooches, and chic leather bags with the show-stopping looks.
Thanks for reading, much more coverage to come….
Besos,
Glenn Belverio