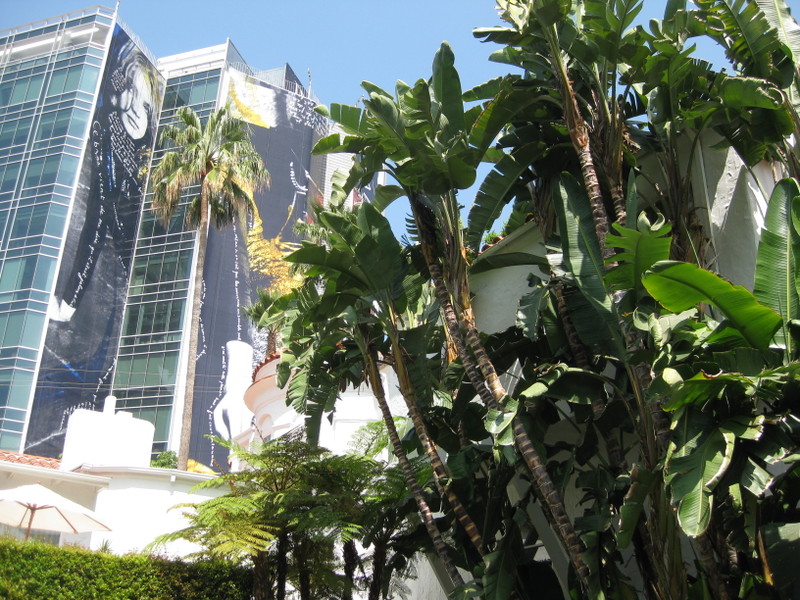 Above: How can it hurt you when it looks so good?
"Welcome to Hollywood, doll," my friend Alan Purcell, an LA-based photographer, had written inside a card to me. "We hope you enjoy the show. No refunds."
As it turned out, the show had already begun before I even landed in Hollywoodland for my brief visit…
July 29, 3pm EST, JetBlue flight NYC to Burbank I'm indulging in the guilty pleasure of Christopher Ciccone's suspiciously bland and annoyingly non-introspective memoir, "Life with my Sister Madonna" when the man sitting next to me announces, "There's just been a 5.8 magnitude earthquake in LA!"
Me: What?!?!? I haven't been to LA in 16 YEARS and this has to happen on the day I finally come back?!
[CNN footage of Angelenos in a state of semi-panic. Even though the CNN newsmen report the incident with a series of histrionic bleats–"Biggest quake in 15 years!" "Maybe we can expect some tsunamis!"–the only damage shown consists of spilled paint cans in a hardware store and a barely perceptible swaying chandelier in some Hollywood mall. But this is CNN and they know how to keep the levels of terror at a persistent high. "There have been 68 AFTERSHOCKS in the past 4 minutes!"
3:15pm Me: Stewardess! Can I have a bloody Mary ASAP?!
[Footage on CNN of a quake-enhanced pothole and a spilled milkshake at McDonald's. "We expect many aftershocks to rock LA over the next few days!"]
3:17pm Me: Stewardess, another bloody Mary!!
I'm a wreck because I can't stop thinking about that surely forgotten 1974 disaster film "Earthquake" starring Ava Gardner and Charlton Heston, presented in the miracle of "Sensurround!" when it played in theaters. One upsetting scene features a plane landing right as an earthquake is hitting–and the plane attempts to take off again (I can't remember, but I think it crashes and everyone dies). Before the second bloody Mary kicks in, I worry that we will land in the middle of an aftershock and I'll die and miss Michael Schmidt's birthday party in West Hollywood.
6pm PST: I arrive at my chic and beautiful suite at the Sunset Marquis Hotel and Villas. I crack open the mini bar and mix myself a little welcome vod and ton. My attitude toward the aftershocks has gone from fear to excitement. Wait'll my friends back home hear all my glamorous aftershock stories! But nada, no dice, nary a rumble for the entire time I'm in LA. CNN lied to us again. Welcome to Hollywood, doll. We hope you enjoy the show. No refunds.

Above: The Ramones outside the Sunset Marquis, circa 1977. Cool, yes?
6:30pm: My doorbell rings. Visitors? In LA? But everyone has to drive miles and miles and miles to get to anywhere. I thought no one ever saw each other? I open the door and am delighted to see my friend Lilly McElroy, editor-in-chief of the international style bible PREEN Magazine. We met last March in Barcelona during 080 Fashion Barcelona and became fast friends. She is with her charming husband Joe who works for the skater clothing label HURLEY. (Truth be told, they are at my hotel because they thought the Gibson party was happening that night. They were a day early). Lilly tells me a scary earthquake story about how she was worried her kids would be swept up in a tsunami (they were surfing in Malibu) and I don't feel so bad for being a basket case on the plane. After a few minutes my doorbell rings again–more guests?!–and it's Alan Purcell, whom I have never met in person but know through the magic of the internets. He comes bearing gifts.
"These are the handicrafts of my people," he explains. He begins pulling goodies out of a bag and the first is an issue of GAI PIED which contains a tribute to the beefcake photos of Bob Mizer. Next is another magazine, from the '70s, called "The Wonderful World of Boy's and Men's Asses" (all models 18 years and older) since, "In Hollywood, you have to lick a lot of ass to get ahead in show biz. Since most of the asses won't be very nice, you can fantasize about the ones in this magazine while you're doing it." Handy!
"Welcome to Hollywood, doll. We hope you enjoy the show. No refunds."

Above: To conserve water, I always like to shower with one of the hotel's bellhops.
Next gift was a copy of a 1950s gay pulp novel, "to be read only by the pool," called "Gay Boy" which promises, "A long look at what makes men love men, what strange and anguished desires can drive man down the road to homosexual experience to be known as a…GAY BOY!" Somehow, I think a new Marc Jacobs handbag idea is going to come out of this. Next thing out of the gift bag was a donation to my notorious Mao Zedong Memorial Library in my East Village apartment: a Cultural Revolution marching song record, with a glorious color illustration of Chairman Mao on the cover, that Alan bought in Beijing back in the '80s. (It is now proudly displayed in my Mao Room along with other recent donations: a porcelain Mao portrait with a porcelain statue of a nude Chinese woman, a Soviet Red Army opera/cabaret 45rpm and Soviet toothpaste, and a Jean-Michel Basquiat print of his piece "Obnoxious Liberals" given to me on my birthday by Crazy Legs of Rock Steady Crew). The last thing in Alan's gift bag, the piece de resistance, is a cream denim crew jacket embroidered in red with "Dario Argento's TRAUMA." I'm a huge Argento fan, so am ecstatic. "I loved your interview with Dario Argento," Alan tells me. "So I knew you would love this." The doorbell rings again and a complimentary cheese plate arrives. Lilly and I pig out before we leave to join Kelly Cutrone, that high priestess of PR, her business partner Robyn Berkley and her boyfriend Jimmy Boyle at a patio table outside by the pool. We order cocktails and enjoy the lovely LA weather as Kelly launches into a roller coaster-esque tale involving a former beau and their tumultuous relationship. Lilly and Joe are on the edge of their seats, drop-jawed. Kelly then announces that she's taking us all to dinner at The Ivy. Welcome to Hollywood, doll.

Above: Kelly Cutrone holds court at The Ivy in West Hollywood.
9:10pm, Dinner at The Ivy: I have never been to The Ivy but I had imagined it would some glitzy, chi-chi kind of place out of a Rita Hayworth film. Art Deco interior, tuxedo-ed waiters, starlets in glittery Jean Louis gowns, sterling silver champagne buckets beside every white-linened table, jazz musicians serenading the high-cheek-boned diners. (Too many Joan Crawford, Bette Davis and early Kate Hepburn films for me, I know, I know). But The Ivy is nothing like this. Dinner at The Ivy is like eating in your fantasy grandma's wonderfully cozy kitchen in Santa Fe or Napa Valley. There are rustic touches everywhere and the food is unfussy and, of course, besides the point. Celebrities dine here pretending they are at some low-key, off-the-beaten-track kind of place when actually they are expecting to be photographed as they exit the restaurant. Because Lilly and Joe had driven an hour from Huntington to mistakenly arrive at the Gibson party a day early, I am determined to show them a good time. They are thrilled to be at The Ivy, hanging on Kelly's every word. (She is a highly entertaining story teller).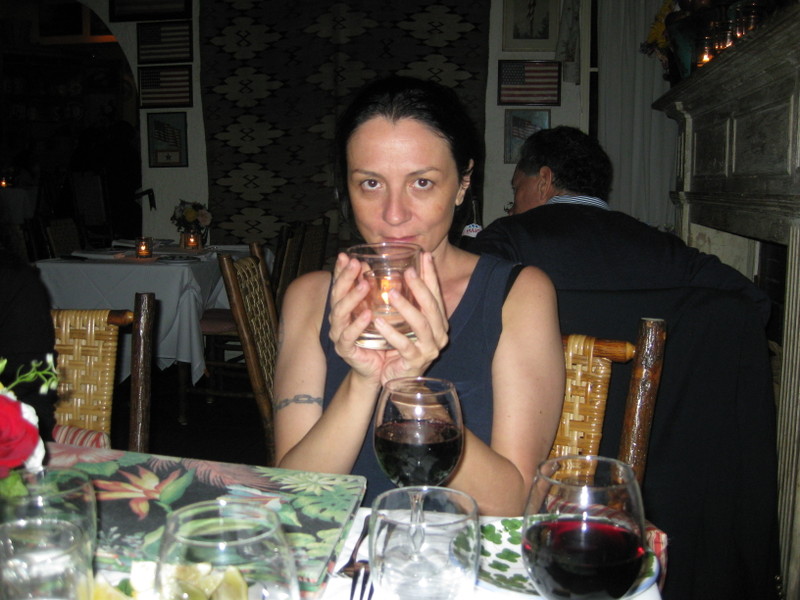 Halfway through dinner (pasta alla checca, crab cakes, onion rings, warm molasses bread), Kelly starts telling ghost stories. She begins with a list of the ghosts who haunt the Sunset Marquis ("One of them is this really mean guy ghost who sits on top of you while you're trying to sleep" she says. "Sounds like too many of my past tricks," I reply) and I complain that I haven't been booked into a haunted room at the hotel. Kelly then moves on to a story about the time she visited a house in Virginia and a lady ghost inside a painting started talking to her, telling her something about one of Kelly's past lives. I think Kelly may have even lived in the house in another incarnation, if I remember the story correctly. Kelly gets goosebumps as she tells the story and we all get scared, like we're sitting around a camp fire in the middle of the woods, far from Hollywood. But Robyn snaps us back into reality. "OMG, Bill Murray is eating dinner right outside!!" All of our heads snap around and we see Murray sitting at a round table with a large group of men. There are no paparazzi harassing him, but I guess that's what happens when you're not a vapid 22-yr old actress. Maybe if he had been wearing a swimsuit he would have had a chance to appear in In Touch's "Beach Don'ts" issue or something. "I LOVE Bill Murray!!" Lilly screams and I'm relieved that even the LA people are excited about a celebrity sighting. Kelly then buys a piece of luscious Ivy cheese cake so we can bring it to Michael Schmidt for his birthday party.

Above: Michael Schmidt, another year older and hopefully another year wiser.
11pm, Michael Schmidt's birthday party, St. Felix on Santa Monica Blvd: Michael Schmidt is one of my dearest friends, known him since we met at Squeezebox in 1994, so I am excited to be at his birthday bash in LA. I give him a book called "Punk Pioneers," featuring Debbie Harry at CBGBs in the late-70s on the cover, as a gift. When I walk in the door, I run into TC Conroy–the life coach who was married to Dave Gahan of Depeche Mode and who is featured in the final chapter of my book Confessions from the Velvet Ropes, and promoter Bryan Rabin. TC introduces me to a woman named Carole and I immediatly recognize her as lesbian rock icon, Carole Pope. "You were at my birthday dinner in New York in 2002," I tell her. "Patty Powers brought you."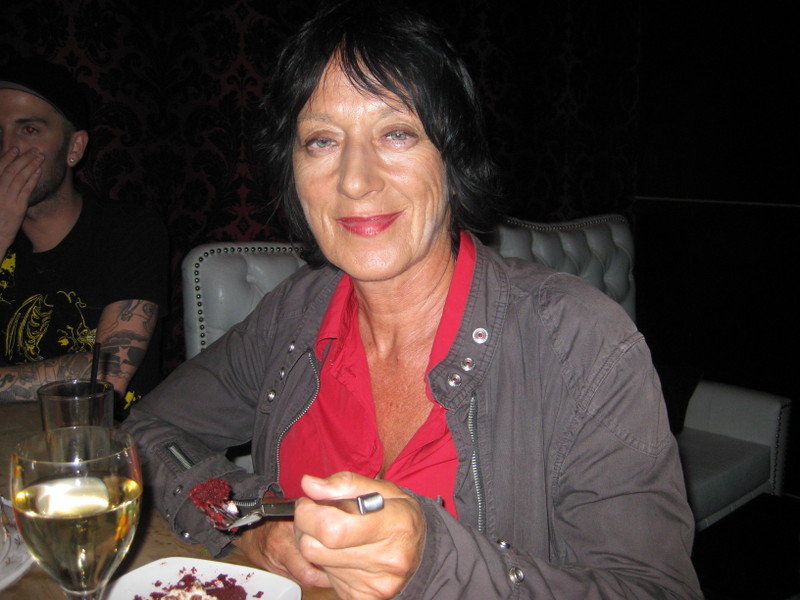 Above: Red velvet cake confidential–Carole Pope chillin' in WeHo.
For those who don't know, a quick lesson: Carole Pope was born in Manchester, England but grew up in Toronto and was the front-woman for proto-punk band Rough Trade in the mid-70s. The band flirted with a lot of sado-masochist and bondage-and-discipline imagery, with overt lesbian lyrics. In the early-80s, Carole lived with and had a notorious lesbian affair with none other than Dusty Springfield. This and many other juicy tidbits are in her memoir, Anti Diva, published in 2000. Check out the video for Rough Trade's "High School Confidential":

Above: More cake, but still not nearly enough candles, for the birthday brat

Michael and me

Above: Bryan Rabin and friend
Midnight, somewhere on Santa Monica Blvd
Kelly: Wanna get a psychic reading?
Me (rolling eyes): I don't really believe in that…
Kelly: But it's Drew Barrymore's psychic.
Me: What? Reallly?! Wow! Maybe…
Kelly: And she brought Cameron Diaz there last week. It was in US Weekly.
Me: Coooool! Let's go, let's go!
We arrive at the psychic's shop but it appears to be closed.
Jimmy Boyle: Kelly, it's closed. It's midnight. Let's go back to the hotel.
Kelly: This psychic is never closed, okay? They're fucking gypsies! See that curtain? She's sleeping right behind it. She'll wake up as soon as she realizes we're here. They work 24 hours. We're going to get a reading, trust me.
Me: I sure hope so!

Above: Anyone home? Inside the celebrity psychic mecca.
Kelly (punching in number on shop's sign): I'm going to call her cell phone number. She will get up for us.It's only fucking midnight!

Above: In a desperate attempt to rouse the psychic from her slumber, Robyn Berkley of People's Revolution tries to penetrate the inner sanctum with her astral projection.

Above: The psychic craftily shape-shifts into a dog so she doesn't have to deal with us.

Above: After ringing the doorbell for several minutes, Kelly finally admits defeat.
Welcome to Hollywood, doll. No refunds.

Above: Nevermind the earthquake, the only thing moving and shaking LA is Kelly Cutrone.
July 30, 11am, Sunset Marquis Pool Patio I join Kelly outside for breakfast and, since this is California, I order freshly-squeezed Tibetan wheat-grass juice, blessed by the Dalai Lama, and some mashed yeast. Kelly and Robyn are in the middle of an Edina Monsoon-style PR monsoon, brandishing their Blackberrys like multi-armed Indian goddesses.
1:30pm, Villa Pool I decide to soak up some sun by the more-private pool and call my friends in NY and brag about being by a pool in Hollywood while they are at their office jobs. Then I read some more of C. Ciccone's book and become depressed when I read that a guy I used to trick with 3 years ago, who dated Ciccone, is now dead from cancer. Julie Earl-Ives from New York Magazine and the NY Times turns up at the pool and we order guacamole and pineapple juice and gossip about other journalists and my recent flight to the Life Ball in Vienna. This makes me feel much better, especially since the guacamole is very good.
4pm Kelly books me a Swedish massage and a beautiful brunette woman shows up at my suite. She tells me some scary earthquake stories from 1994, the year my friend Vaginal Davis had to move out of her Los Feliz building because the quake put a giant crack in it.

Above: Schmidt and Lilly from PREEN Magazine at the "Gibson Through the Lens" party
7pm I leave my room and wander out onto the patio in search of champagne. I discover that all my LA friends–Lilly, Joe, Carole, Alan and Michael–are out there waiting for me. The photo exhibit features 70 rare and vintage images of rock stars shot by Mick Rock, Bob Gruen, Annie Leibowitz, Jim Marshall and others. Before being exhibited in LA, the show was up in London and Berlin. I think all of the photos are really super, really sexy. It is a well-curated collection.

Carole Pope poses next to Mick Rock's photo of Ziggy Stardust.

Michael and Carole; Joe and Lilly

We loved this woman's guitar bag
9pm Word spreads through the party that Stevie Wonder is not performing. "Haven't you heard? Stevie Wonder pulled out." Needing a break from the crowd, Michael and Carole go to my suite with me so we can use the bathroom without braving long lines. Carole and I trade notes on our upcoming journalistic travel itineraries: She to Reykjavik to cover gay pride; me to Barcelona and Thessaloniki for fashion shows. Carole says funny things like, "Madonna stole her crotch grab move from me. I did it at Danceteria when I performed there in 1981 and Jim Fouratt said she was in the audience." I have absolutely no reason to doubt this. Reminds me of the time Madonna came to Jackie 60 in '92ish to sap some ideas for her derivative "Erotica" video. Instead of comping her, blase door woman Kitty Boots offered her the C-list entry fee discount. "Five dollars, pay inside."
After about 30 minutes of us shooting the shit, the door to my suite bursts open and Lilly and Joe rush in, singin a Stevie Wonder song. "Where were you?!" they shout in unison. "You MISSED Stevie Wonder perform!" We are flabbergasted, especially after we'd been told a dozen times that he would be a no-show. We wander back out into the party to see if anyone new has turned up.

Above: This is the story of two simple boys from Kansas City, Missouri. Jeremy Scott and Schmidt vamp for readers of A Shaded View.

Above: I asked Lilly to take this photo of Zakk Wylde, legendary guitarist for Ozzy Osbourne's band and a slew of others, because Michael thought he would "beat me up for being a fag." Of course he said yes to Lilly and even greeted her with the vagina "V" lewd hand sign. When I told Michael about it he cracked, "That probably works about 80% of the time, too." That Zakk is quiiiite a charmer.

I was the only one at the party who IDed Jimmy Boyle's Public Image LTD t-shirt from their "Album"/"CD" project.
11pm I may have missed Stevie Wonder's stage show, but….
Kelly beckoned me over to the VIP area by the pool and lo and behold, there was Stevie Wonder relaxing after his show. I was treated to an intimate, impromptu performance as he sipped red wine, did that signature Stevie Wonder head sway, and crooned "We Are Family" over and over. It was divine.

Stevie's blonde friend fed him chocolate pudding and whispered sweet somethings into his ear.
Welcome to Hollywood, doll. We hope you enjoy the show. I certainly did.
Thanks for reading.
Love,
Glenn Belverio