Celebration of new 7 Boutique at Frederick's – June 10, 2005
Dear Shady Shaded voyeurs,
Last night I went to a private dinner and dance party to celebrate the upcoming opening of the new 7 boutique on Mercer Street. The party was at Frederick's, near the Plaza Hotel and it was a reunion-of-sorts…every avant-garde fashion whore who was worth her or his Belgian designer salt was there, mainlining champagne and international gossip. Here are some photos of the event taken by Joseph Quartana of 7 and his gorgeous girlfriend Sophie.
Love,
Glenn
Oh wow, it's Jeremy Scott, Joane Blades and Joseph Quartana! Jeremy is wearing a football jersey cut in the shape of a kimono from his Iron Butterfly collection which I still maintain was influenced by Diana Ross' costumes for the film Mahogany. Joanne is a good friend of mine and we met when we were both editors at Dutch magazine, when I interviewed Veruschka and Joanne styled her. I told Joanne last night that she looked like Joanne Woodward in the film Rachel, Rachel. We had a long chat, catching up on this and that, and there was a great fashion moment when I mentioned how much I loved her alien creature pictorial in the last issue of Zoo. "Aliens? They were supposed to be birds! You didn't get it!" Looking like neither an alien nor a bird was Joseph, who was resplendent in angelic white. Earth angel, earth angel, oh whoa oh ooh…
Here is a lovely table setting which included a black rose and a black plastic card for each guest which entitles us to "25% off at Seven for life". Get out of my way and let me at that Xavier Delcour! Dinner was tailored to the spartan dietary needs of the average fashion person: a few delicious and demure pieces of sushi and one small piece of perfectly baked cod. A very Karl L. kind of meal. However, things got a bit hedonistic when an assortment of mini-beignets were served for dessert. A certain attractive editor — who shall remain nameless — who was seated across from me and with whom I was exchanging mutually lusty glances with during dinner (I blame the NY humidity and the champagne) popped one of the potent pastries into his mouth and locked eyes with me for several long minutes before saying, "That was a big load to swallow." Oh, you dirty boy!
Is that Rasputin the Mad Monk attempting to lure Sophie and Kelly Cutrone into his diabolical clutches?! Kelly is one of my favorite people in the whole wide world. A fellow Italian-American, Kelly keeps asking me when I'm going to marry her, much to the delight of my father. I think I'm going to have to mud-wrestle Anthony Haden-Guest for her hand in marriage though, since he's been in line for awhile now. Kelly did the PR for the 7 party and is also doing PR for Frederick's. She always throws the best fashion parties because she has a very Studio 54-like sensibitlity: she invites a wide cross-section of fascinating people, from the Lizas and Halstons to the poor artists and outer borough eye candy. There's always a Truman Captote or two in the mix as well.
Here is Jermey with Lee Carter, the editor-in-chief of Hintmag.com, the coolest fashion site on the web. Lee looks like he might be possessed by the spirit of the Lola Schnabel painting that was hanging in the center of the back of the room. It reminded me of something from the set of the Dark Shadows TV series.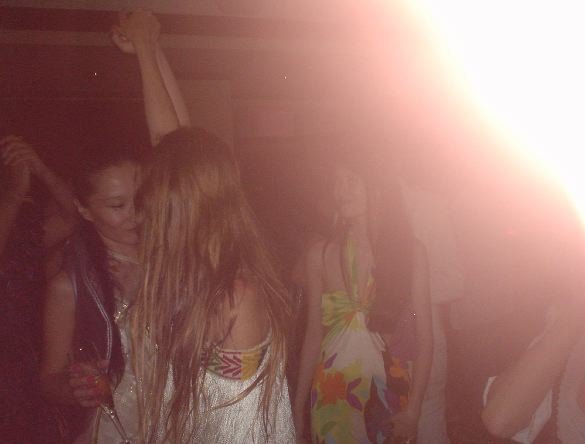 There was lots of lesbiana action on the sweaty dancefloor as fashionable vamps, tramps, aliens and birds danced late into the night to the groovy grooves spun by Jeremy Scott. So chic, it hurt!