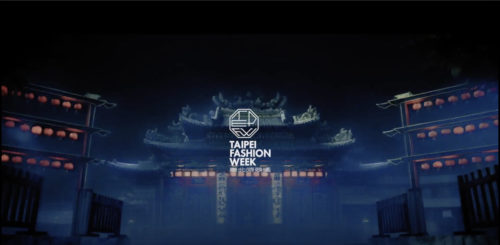 In the abundance of worldwide Fashion Weeks, the question of the sense and benefit of additional locations quickly arises in the fashion industry. In the specific case of Taipei Fashion Week, the trade public may additionally wonder why the Taipei Fashion Week Opening Show was held in Tainan.
Certainly, there is an undeniable economic benefit of regional structures through the creation of new jobs, which are necessary to maintain a Fashion Week, or through additional income from gastronomy and hotels. Of course, designers also want to show what they have and can do!
As an invited visitor from outside, however, there is a very strong argument for making the journey, which may be a long one for some: a never-ending hospitality! There may still be slight language barriers in some places, if only to be able to register for a show. Once these small obstacles are overcome, however, you experience a warm welcome that is rare at other Fashion Weeks.
The Taipei Fashion Week, which started only 6 years ago, has set itself the task of creating a dialogue between traditional performance, craftsmanship and fashion. According to those responsible, people have been coming to the Nankunshen Daitian Temple for the past 360 years to express their wishes, and Tainan is also known for its traditional craft heritage. Therefore, it was clear that the opening show should take place at the other side of the island in Tainan. About two thirds of the guests, who travelled from Taipei, followed this wish. This was somewhat reminiscent of the Hyères Festival, when the fashion world makes a special pilgrimage to the south of France.
The opening show, which was held for the first time at the Nankunshen Daitian Temple in Tainan on March 22nd, is seen as a complement to the shows at the main venue, the Songshan Culture and Creative Park in Taipei.
This season, Taipei Fashion Week AW23 features a sustainable fashion show, 12 brand shows (including a New Breed show featuring three young talented designers) and three inter-school shows for students from 7 fashion design schools.
According to the initiators of this big fashion event, the main themes include above all sustainability, functionality and diversity. The aim is to bring traditional Taiwanese craftsmanship to the forefront and bring it closer to its goal of becoming the 4th most important Fashion Week in the Asian region. The chances look good, at least, and the feedback from the attending trade guests proves this to be true. Another concern of the Taipei Fashion Week organisers is to bring their textile industry together with local fashionable designers, to, as they say, move away from enchanted functional clothing to fashionable clothing.
On the evening of the opening show, it became clear that this plan was working. Craftsmanship passed down from generation to generation and contemporary fashion elements came together to create unique collections. The staging of the shows incorporated elements of traditional art performances, crafts and fashion. Thus, classical music, traditional opera or shadow theatre appeared while 7 labels (TANGTSUNGCHIEN, JUST IN XX, BOB JIAN, C JEAN, GIOA PAN, WEI TZU-YUAN and YENLINE) presented 70 looks.
Apart from fireworks, the fashion film and AW23 promotional video by master photographer Yingting He and director Zhun Zhang was projected onto the temple to kick off the evening. It is their first attempt to combine traditional cultural video and artificial intelligence (Deforum Stable Diffusion) to create an image texture like an abstract painting and complement the fine movements of professional artists, adding a higher level to the overall visual image. In their own words, they followed Joanne Chih-chiao Tseng from a third-person perspective of shift, integration and connection, combining cultural memory and modern fashion to create a whole new look.
In addition, to help labels expand their domestic and international markets, the "Taipei Fashion Week Shop" was set up in the Far Eastern SOGO Department Store Fuxin Branch this season, selling over 40 Taiwanese designer brands from different fields.
The Taipei Fashion Week is scheduled to take place from March 22nd to April 9th, with the main activities taking place from March 24th to 29th at the Songshan Cultural and Creative Park.
All Taipei Fashion Week shows can be followed here.
Official website: www.tpefw.com