Dear Shaded Viewers,

It was in a transparent cloud built by the architect Smiljan Radic on the roof of Tobacco Docks Yellow Park, in the sky of London, that took place the Alexander Mcqueen Spring Summer 2022 womenswear show, the first since the pandemic.

Opened by a woman tattooed to the neck highlighting the garment she wears, a double-breasted tailored coat in black wool with a cloud bustle and sleeves in black poly faille, this show takes us into the airy universe that Sarah Burton has imagined for this collection.
The artistic director of the house since 2010 has always drawn her inspiration from nature and England. For this new story, she was inspired by what we all see every day and which sometimes determines our day, the sky and its weather. Questioning the environment in which she evolves, in her London city where the Thames River is located, the city of Alexander Mcqueen, a mixture of urbanism and a set of things that surpass the human, she chose as a motif the universality of the sky, its beauty, its colors, its changing emotions. "To be one with a world bigger and more powerful than us" she says. It is then that solar, stormy women… parade in dresses in day cloud print, sky blue clouds, stormy sky clouds, with sleeves and skirts in the shape of a parachute, or suits pierced by zippers as if touched by lightning. Like this dress with a deep V-neckline and gathered channel and ribbon detailing in engineered blue sky cloud print poly taffeta, this trench coat with parachute sleeves and a rolled parachute hem, or this double-breasted tailored jacket and high-waisted peg trousers with spliced zip detailing in Prince of Wales check wool.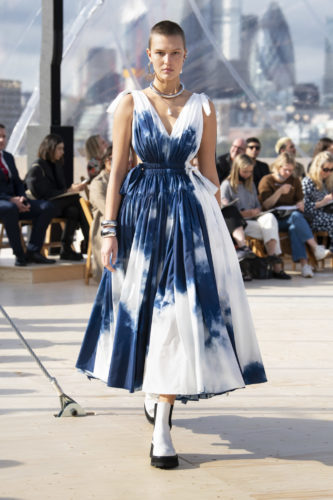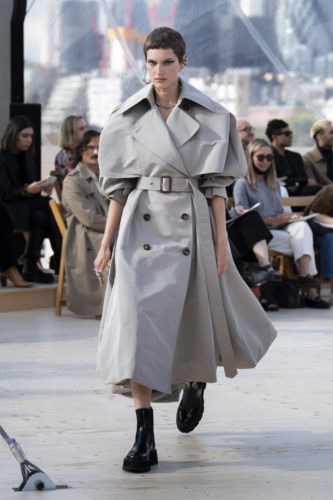 The illustrations for the prints in this collection were taken from the rooftops of the studio where Sarah Burton and her team work, lucky enough to have unobstructed views of the city, from St. Paul's Cathedral to the London Eye the DA says "We were observing the weather and capturing the formation and coloring of clouds from sunrise to sunset and documenting the changing patterns, from clear blue skies to more turbulent skies." It was these sky paintings that initiated the image of the woman the designer wanted to propose. A storm chaser. The purpose of this profession is to track down a storm in order to photograph it. Here Sarah Burton found these storms and applied them to her fabrics to make fashion creations, following a sound installation by John Gosling with Safe From Harm by Massive Attack and Yesterday Faded by Daniel Avery and sounds of thunder, birds, water. This is followed by suits and dresses with crystal ornaments as if raindrops fell from the sky and lodged against the fabric like this trompe l'oeil dress with dégradé blue sky crystal and sequin shard rain embroidery in white cotton jersey, this off-the-shoulder skeletal corset dress with gathered channel and ribbon detailing, crystal raindrop and shredded tulle cloud embroidery in dusk pink silk, mesh and Paris net, or this cropped single-breasted tailored jacket with crystal raindrop embroidery and a strapless skeletal corset dress with an asymmetric skirt and dégradé shredded tulle storm cloud embroidery in black silk, mesh and Paris net, worn by Naomi Campbell and which closes the show.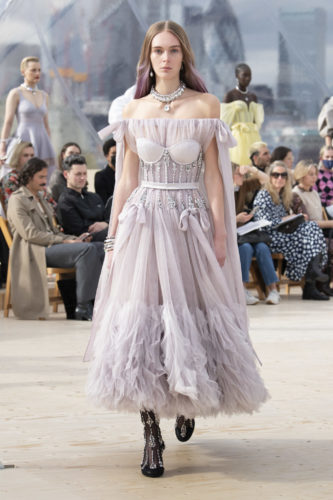 When it's not the tattoos or the pink gradient hair dye accessorizing the outfit, it's those remarkable jewelry pieces, those sculptural polished silver metal earrings with multi-faceted crystals and rain pearls, those tubular chokers or handcrafted charms featuring oversized multi-faceted crystals, rain pearls and hanging talismans.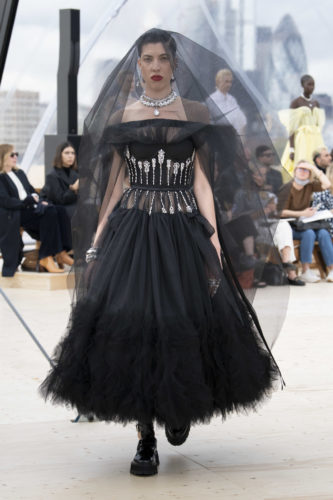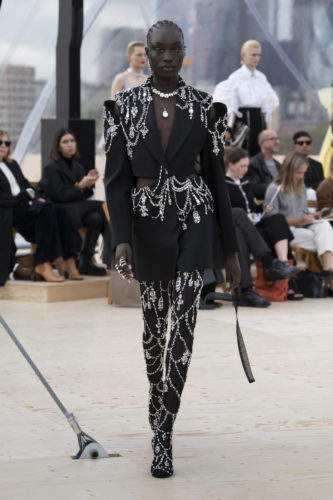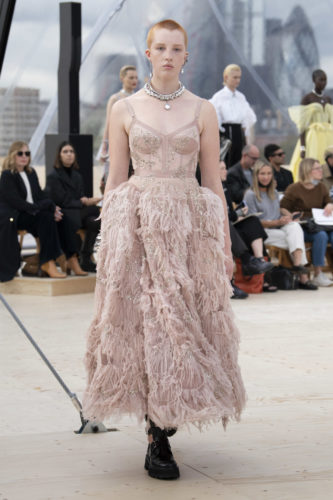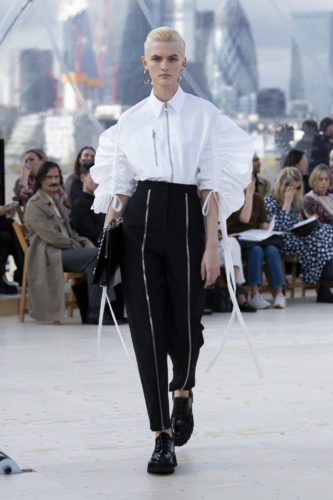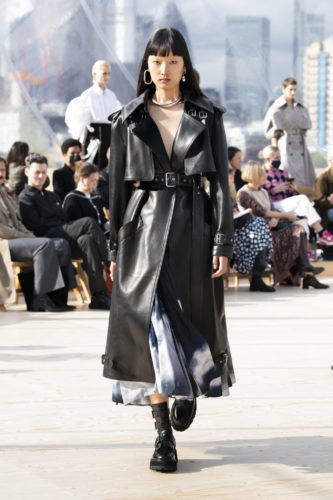 This aerial show reminds us how Alexander Mcqueen shows are living spectacles and reminds us of previous shows that took place in a nature-like setting such as fall 2003 ready-to-wear where the models paraded on a snow-covered wasteland or the masterful spring 2010 ready-to-wear, with women transformed into aquatic creatures. Sarah Burton with this collection places fashion in direct contact with the unpredictable, the weather, and nature a way to see and feel it in all its intensity.
Fall 2003 ready-to-wearby Marcio Madeira – Spring 2010 ready-to-wear by Marcio Madeira