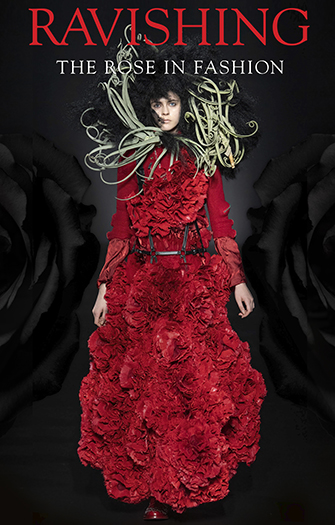 Dear Shaded Viewers,
This is my first post on A Shaded View on Fashion, and it is surprisingly about roses, my
favorite flowers of all time. It is a review of the virtual seminar "Ravishing: The Rose in
Fashion: Objects, Narratives, and the Making of an Exhibition"  for The Museum at FIT's 24th
academic symposium Ravishing: The Rose in Fashion on April 30, 2021, which is now available
on Youtube at this link. This virtual event explores how the beauty, mythology, and symbolism
of the rose have long influenced fashionable dress. It is dissected into three parts: rose as a
flower, a color, and a scent. I will focus on several points in the presentations of Amy De La
Haye and Jonathan Fiers, as they are the most interesting in my opinions and they open a gate to
new visions as I ponder over not only roses but any other kinds of flowers from now on.
Amy De La Haye opens the symposium by emphasizing and reflecting on the importance of
roses, as she extols:" The rose, the most ravishingly beautiful and fragrant of flowers, is
inextricably entwined with fashion and dressed appearances. Roses, like fashion, are a luxury
and they're both ephemeral." The power of roses is once again repeated, as they provide an
infertile inspiration towards the illusions to love, beauty, sex, sexuality, sin, gendered identities,
rites of passage, transgression, degradation, and death. With such a tremendous impact of roses
upon the cultural exploration and identity, designers from different eras have all, at least once,
grasped at the ideas of celebrating the beauty of roses and transforming their language into
tangible creations. From Charles James "Les Corselette", Halston to a more modernistic, twisting
approach of Comme des Garcons, whose roses are the absence of extravagant decorations but
more as the elements of clustering and twisting the fabric itself, and the eulogized Alexander
McQueen whose roses are elevated to a spiritually scintillating level. Harry Gordon with black
roses, as a way to imagination, and another example of Nihl collection F/W 19 where roses are
hailed as a symbol of virility and strength.
After all the references that La Hayne discusses, there is one thing that sticks to my mind, as she shows three portraits of four different individuals, and she exclaims the fact that they are from fairly average background, contradictory to the richly crafted patterns from roses and the Charles James dresses that she talks about earlier (as a matter-of-fact Charles James dress were extremely pricey). However, what I truly find empowering is how roses can transform and transcend the spirit of the wearers, despite any class or background:roses act as a refreshing, rather quintessential foil for true beauty itself.
Following closely after De La Hayne introduction to roses, Jonathan Faiers continues to
emphasize the importance of roses throughout the course of history, ranging from human identity
to political emblems. He starts by explaining the title of his presentation "Ordeal of Roses",
which is derived from a series of photographs of the respected writer Yukio Mishima, taken by
the celebrated Eikoh Hosoe entitled Ba ra kei (1961). Roses under the lens of Eikoh and the
controversial Mishima, intertwined as the depiction of seduction and decay, with a twist of
untamed innocence, to rise above everything to bloom at its fullest. The roses hide a vehement
desire underneath bloody red petal. It is indeed a burning desire, wanting to get rid of reality, of
mediocrity in the most reactionary manner, reigning like Mishima himself. Resistance parallels
embracement, both accepting secularity and human decadence by asserting its place, no matter
how much fragility held within. By the middle ages, roses are encouraged as a sign of discretion,
and especially white roses as a symbol of secrecy, embraced as a Jacobite fashion statement.
White roses go on to become a symbol of Nazi resistance group (White Rose, Munich 1942),
coded for the oppressed, silenced and marginalized.
Interestingly enough, a breed of flower can represent all things majestic, erotic but also
mischievous and cruel in the sweetest sense possible, like a kind of obsession, prediction of
death, mourning or punishment. The beauty of roses is unlimited, and the power they hold is
unimaginable. An eternal damnation or endless inspiration, it is in the eyes of the beholders. But
there is one thing I am sure, is the quote of George Eliot: "It will never rain roses. When we want
to have more roses, we must plant more trees."; We are late and we need to hurry up before it is
all gone!
Thank you.