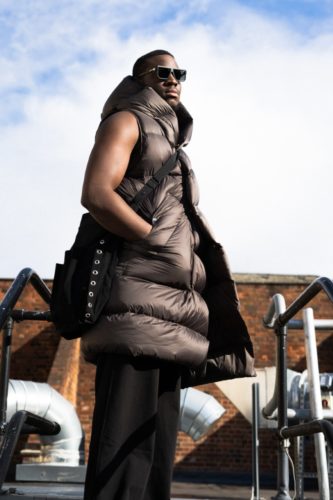 Dear Shaded Viewers,
YouTube has shined a light on a few fashion journalists that I particularly enjoy for their point of view. The three that I watch are The Fashion Archive, Bliss Foster and Haute LeMode. All three are quite different but what they have in common is the desire to educate the viewer. Haute LeMode is very camp and quite amusing, while Bliss and The Fashion Archive are more a deep dive into their subject manner. They are my three favourites but The Fashion Archive is number one for me. I took the opportunity to get in touch with Ayo Ojo because I was super curious how a fashion student could be as knowledgable as he is. So here it is…
DP Did you grow up in London and then spend a few years in Nigeria or where did you live during the most defining part of your youth? 
AO: I was born and raised in London. I moved to Nigeria at the age of 9 for extremely complicated reasons and was there till I was 15 (during this time I would travel back to London every Easter, Summer and Christmas to see my family). As my formative years were in Nigeria I would say living there was the most defining part of my youth. During my first two years in Nigeria I lived with my grandparents in my native village, Ondo Town. This was an extreme culture shock coming from London to a place with no internet, inconsistent electricity (there were literally times we had no electricity for months) limited water and extremely hot temperatures. I went from using a washing machine in London to learning to use my hand to wash clothes. I think my resilience and strong mental health comes from my time in the village. I lived with and around people who were experiencing the most extreme type of poverty so coming back to London I didn't think my issues or anyone else's were even remotely comparable to what those people face on a daily basis having to eat flies to survive. This is why I'm a huge optimist and love to see the good things rather than the bad. After the two years in the village I spent the rest of my time in Nigeria in Lagos for a few years and I was in Abuja  for my last year in Nigeria before returning to London. The city life in Nigeria (Lagos & Abuja) is very interesting. There is a huge divide between social class and there is a very small middle class. In a general sense, It's either people are living in poverty or people have extreme wealth. I would say I grew up middle class but because of my British accent I was kind of taken in by the super rich kids in Nigeria and saw a side of life I'd never seen growing up in London. We would have yacht parties, pool parties and do other crazy things. I think the variety of all the different places I've lived in is a huge reason why I am so adaptable and I don't mind being in any situation. I lived with the poor, middle class and rich.
DP: At what point did your interest in fashion ignite? 
AO: I would say my interest in fashion definitely started in Nigeria. How you dress is extremely important in Nigeria. People genuinely think bad of you if you go somewhere looking scruffy or without ironed clothes which is not something I feel people care much about back in London. In Nigeria there isn't really a culture like in the West for going to stores and buying ready to wear clothes. Everyone goes to a tailor to get things made and if they can't afford it they thrift second hand garments. This obsession with tailoring and how things fit really ignited my interest in fashion. The secondary school I went to in Nigeria was also quite elitist. I remember you were seen as "uncool" if you didn't wear very specific things. It was studded belts and shutter shades then it was skinny jeans and high top sneakers then it was vans and hollister t-shirts. Bare in mind these are all things that couldn't be accessed in Nigeria so it was only the kids that traveled frequently to western countries or had family members that did that could have access to these things. Very very snobbish when I think about it. However, in a general sense this very strong focus on clothing in Nigeria as a whole definitely sparked my interest in fashion.
DP: I know you are currently a Fashion Communication and Journalism student at Central Saint Martins, is it your last year? You must be getting the highest grades because your research is intense. While you are at school, I take you have done internships, who did you work for? 
AO: After I ended my first degree which was in Chemical Engineering I took a year out to get more fashion industry experience before applying to CSM. I actually just recently joined Central Saint Martins and I am still in first year. As far as my course goes you'd be surprised that I think there are many people on my course that I feel are far more advanced in fashion knowledge than I am. Sometimes these things can be deceptive because I'm in the public eye. That being said all my grades have been very good. When I was studying Chemical Engineering I was using the holidays to gain experience. I worked for Deploy London, a high end sustainable womenswear brand for two summers in a row. The summer after that I worked for Stella McCartney. During this whole time I was also doing other things like helping my friend Iolo with High Fashion Talk, running my fashion YouTube channel and many other fashion jobs on a freelance basis. In the year I took out before going to CSM I worked at a company called Carmel Global which is one of the biggest clothing suppliers in Europe.
DP: I was listening to one of your videos where you said that you thought that you were an extremely boring person, you make me laugh because that is so far from the truth that I was a bit stunned to hear you say that whatever would make you feel that? 
AO: I think it's the way I present information in YouTube videos. I watch other Youtubers and they come across as high energy and very enthusiastic. I can't be like that because my personality isn't like that and I didn't want to create a fake character of myself online. I am generally an extremely serious person and it's something my friends tease me about all the time. I speak very slowly in a monotonous tone, sometimes I'm surprised that people sit and watch my videos. I don't feel bad about the way I am, I was just making a critical observation of myself.
DP: Your knowledge and  enthusiasm in fashion is refreshing and your ability to analyse the market . Where does that ability come from? 
AO: I think it's a mixture of research and experience. Despite my age I have almost 3 years of industry experience because of how much work experience I did during my first degree. I worked in a huge variety of times at different companies like design roles, content creation, marketing, product testing and more. This has given me knowledge of how things actually function in the industry as well as a realistic view of how garments are made and what a good quality fabric actually is. The first two brands I worked for (Deploy London & Stella McCartney) were sustainable brands so I learnt a lot about sustainability through that. Outside of this I tend to be very possessive and passionate about my interests. This is why I'm always reading books and articles about fashion and always trying to learn more. My desire to study fashion journalism at CSM came from this same mentality of wanting to learn more and maximise my potential.
DP: What is the difference between Fashion Roadman and The Fashion Archive?  
AO: The Fashion Archive is a media platform and a registered business. It includes the YouTube channel, merch line and a print publication. On the flip side, Fashion Roadman is my wacky social media personality. The whole reason why I came up with the name was I felt at the time that I'm not the typical archetype of a "fashion person." They usually are very snobbish, probably middle to upper class, have had opportunities handed to them their whole life and have dreamed of working in fashion their whole life. I lived in a village for years without electricity and internet. I stumbled across fashion and grew a love for it later on in life. The word "roadman" is a word that has connotations with gangsters, lower class etc. I thought the fusion of roadman and fashion were perfect to signify how I view myself. An outsider not of the typical social class of a fashionista who still shares the same interest.
 DP: Your point was well taken about prejudice and classism and how journalists take to bashing people from working class backgrounds as if they could not understand luxury. Do you want to talk more about the need for diversity among fashion journalists? 
AO: The issue with journalism in general is that everyone has their own subconscious biases no matter how much people think they're objective. I have come to the realisation that I have certain biases which is why I love my YouTube channel. Everybody gives their opinion in the comment section and I get to constantly see differing perspectives to my own and learn from some of them. The issue with the lack of diversity in fashion journalism is that most journalists in fashion think the same, are from similar backgrounds and similar economic classes. This leads to an echo chamber of opinions that are never challenged and therefore baseless biased opinions are written as facts.
Diversity is not even about putting different coloured faces in positions. It's about the diversity of thought and opinion. People can always learn from each other when they're coming from such different points of view which is bound to happen in a diverse team due to the differences in culture, experience, upbringing and more. This will improve fashion journalism as a whole as work of designers from all across the world is written about and it's always going to be a better article coming from someone who has personally experienced things that influence designers vs people that read inaccurate books about them. I see very respected fashion journalists (not mentioning any names) completely misrepresent references of designers that are inspired by my home country Nigeria and just pass off the clothes as "bad" without caring to understand what is trying to be presented.
DP: Also, about journalists and equally designers that take inspiration from Africa but in the end misrepresent the culture and also don't show the fashion on models from the countries that influenced them. You have something more to say about that?
AO: The issue with a lot of current fashion designers is they don't give credit to where they take inspiration from. I can mention tonnes of European based designers who out right copy work of african artists. They get away with it because the western audience is not well educated on African art and fashion. Why I find it so annoying is because black designers are critiqued so strongly with collections very rich in influence from Africa that is misunderstood by fashion journalists and their opinions end up influencing the general public. It was recently that Walter Van Beirendonck called out Virgil Abloh publicly for copying him yet I haven't seen anyone talk about how Walter Van Beirendonck for example steals ideas from artists of the Bozo tribe in Mali and misrepresents the meaning behind what he takes in the process. He is earning money using ideas of struggling artists in Africa. He has never even been to Africa so that adds to the problem. Maria Grazia Chiuri is another good example. She recently showed a film called "Le Mythe Dior" (watch the show for FW20 Couture) with all white models and when questioned about it she said that the inspiration was European so she wanted it to be artistically accurate by using white models. The CEO of Dior "Pieteo Beccari" then came to her defence saying that diversity has always been and remains important to Maria and the house. Sometimes it's like these people don't think before they talk. If this was actually how she designed collections I wouldn't even have an issue with it but then I remembered her Resort 2020 collection that featured mainly west African prints and was shown in Morocco. All of a sudden this time artistic accuracy was not important when majority of the collection was inspired by Africa and that's where the hypocrisy lies. I do actually believe artists and designers should be allowed to do whatever they want to present their art. What I don't like is hypocrisy and inconsistency which is rife in the fashion industry.
DP: Which designers through the years do you feel have made the biggest impact in fashion across the globe? And which designers currently interest you the most?
AO: I think the most impactful designers are the ones that have left the biggest mark. My favourite designer of all time is Alexander McQueen but if we are talking about designers still living names like Martin Margiela, Rei Kawakubo, Ozwald Boateng, Yohji Yamamoto and Issey Miyake come to mind. As far as currently, I'm very excited about what designers are doing in a global sense. From Thebe Magugu from South Africa to Kunihiko Morinaga from Japan. I am also a fan of a few budding London talents like Bianca Saunders, Grace Wales Bonner, Priya Ahluwalia and Maximilian.
DP: What was it about the book "The Work of Art in the Age of Mechanical Reproduction" by Walter Benjamin effected the way you see things? 
AO: This book mainly talks about the cognitive dissonance between people thinking they know a lot about things and the reality being that they don't know much about it. This has humbled me in a way, I never think I know everything and I am constantly willing to learn. I think everyone's opinion is valid and there's always something I can learn from other people. This is not a common mentality in fashion with people that carry themselves like they're fashion encyclopaedias. That just isn't my style and this book partially informed the way I view and learn about fashion.
It was a real pleasure for me to speak with Ayo Ojo and to hear his viewpoint on how the fashion industry implodes upon itself at times.
Later,
Diane