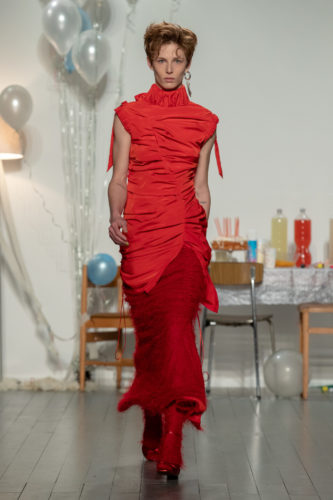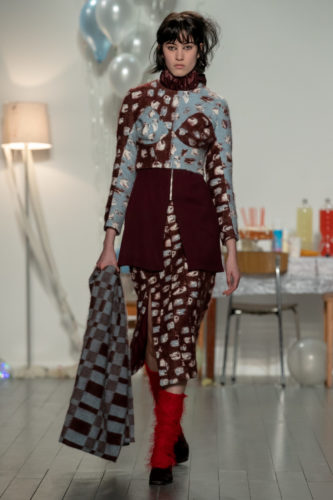 Dear Diane and Shaded Viewers,
While Richard Malone's move from 'one-to-watch' to London Fashion Week must-see is long made, a question he's asked since his debut persists: What is good taste and who makes it? Freebie-draped online influencers? Celine-loving editors? This morning's show warmly embraced 'cute,' 'cuddly' and other adjectives that could be applied to family birthday-party clothes. The set (usually illustrative of where the Wexford native is at) effected a simple living-room bash with balloons, basic furniture and a colourful junk-food spread.
Upcycling and waste-minimising are forever his style. Festive paper-plates inspired the prints on his recycled, organic cotton jersey. He repurposed dog-bedding for the faux-fur striped stoles. The cotton-twill of school uniforms became frock coats. His techniques also helped offset production's environmental impact, with dresses cut from precisely one metre of woven fabric and shaped through hand-contouring. The Lady and the Little Fox Fur, Violette Leduc's animist fiction about an impoverished Parisienne who invents voices and personalities for discarded objects, has been on the designer's mind for six months. Waste not, want not.
In keeping with the democratic vibe, much of the colour palette is inspired by the earthy browns of "bad 'mum' lipstick" and the bold brights of street-party flags. Seriously labour-intensive design and craft lies behind these clothes, but Malone also explores techniques he feels speak to the confident self-expression of a child — "kind of the real meaning of punk, that sense of not giving a shit who's looking at you," he explains. He laddered knits, frayed silks and playfully hand-painted mohair before weaving it. Hand-woven fringed skirts, his signature ruched dresses and the brushed Scottish wools are definitely for grown-ups, "though perhaps those who have to take their kids to school with a raging hangover."
The party continues with bra cups deliberately sat away from the body, as though displaced by dancing. Gala Colivet Dennison, whose organic, McQueen-like pieces win you over on Instagram before they've even left her Walthamstow studio, provided dramatic silver earrings. Australian shoe brand by Far supplied the grey suede boots and low-heeled silk mules. The latter should be worn with fuzzy red knee-socks, at least if you are dancing chez Malone.
Kisses,
Rachel Marie
With thanks to Chris Yates for imagery