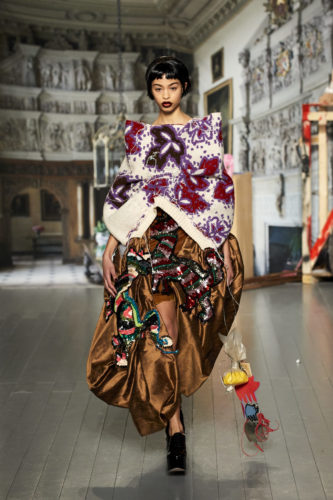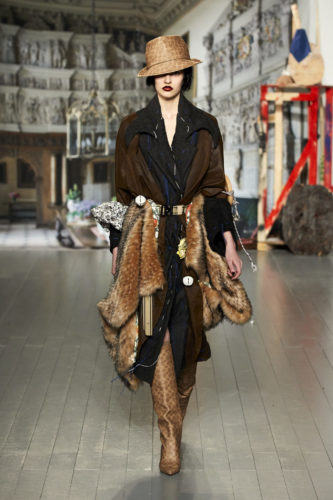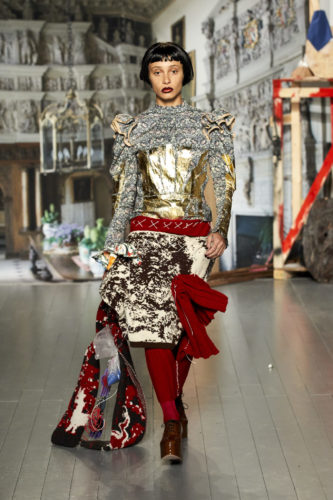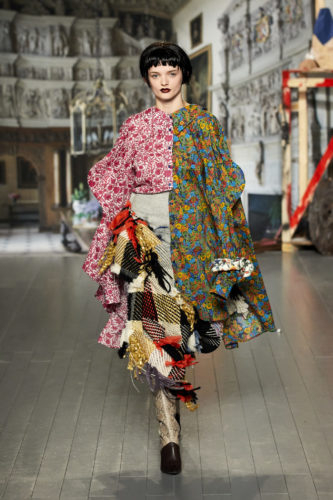 Dear Diane and Shaded Viewers,
Was London Fashion Week's most exciting collection made in York? After Day 1 the Bovan Buzz is loud.
The BFC Show Space was more crowded that I've yet seen, the show notes and credits some of the longest I've read. Matty Bovan flew down the catwalk afterwards in a Barbie t-shirt, a pagan staff (with Liberty-print scrunchie attached) in hand, to cheers and delighted applause. People are thrilled with this young man. Collaborators on this very English collection included Gina shoes (made in Tottenham), milliner Stephen Jones OBE, creative director Katie Grand, accessories designer Katie Hillier and Liberty London. The show happened with a backdrop fashioned from impressions of the Yorkshire stately home Burton Agnes Hall, created by artist Rory Mullen.
Bovan's strong relationship with US leather brand Coach and especially Creative Director Stuart Vevers, the man behind original 'it' bags like Mulberry's 'Roxanne' and 'Bayswater,' may further mitigate potential business distress as Brexit progresses. His work with them so far has been disruptive in the best way. Those designs currently available look, well, like a rambunctious boy got his hands on a preppy girl's bag.
"In Uncertain Times, This is a Sure Thing," read the invitation to this season's event on The Strand. This is quote from a commercial letter sent to his grandmother posthumously last year, attempting to sell her stability in the form of wood furniture-suites. The designer thought the slogan "creepy," but borrowed it anyway. The collection research he was doing at the time was already quite creepy: the Pendle Witch Trials of 1612, a Lancastrian massacre of mystic women, inform prim blouses turned wild with armour-like gold foil overlays, sequins and floral prints. His knitwear, luxurious and vibrantly patterned as ever, revealed rebellious flashes of shoulders and midriffs.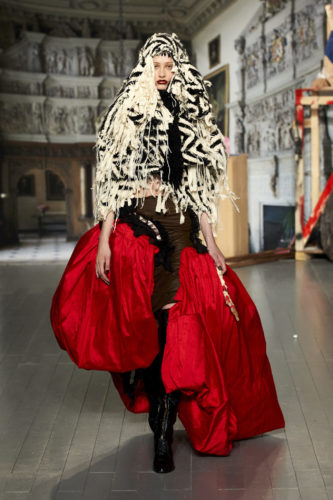 Stephen Jones, who has a wonderful exhibition happening in Brighton right now, took Matty's idea for "hats throughout the ages" to some really fun places. In his hands Coach's signature fabric became a turban, a fedora, an Oliver Twist top-hat and much more. GINA for Matty Bovan footwear included more of the US fabric, as well as patent leather thigh boots, triple-buckled gold Mary Janes and sky-high stacked platforms just made for Ms Pernet. There were also seven real furs in the mix, as well as oversized keyrings and Liberty-print soft hair accessories by Ms Hillier.
It is all interesting but I am so impressed by the dresses I only half-absorbed the rest of the collection at first instance. The designer visited the Liberty archive (at the brand's invitation, thank you, following his last show), selected a 'Tana Lawn' cotton and then blew up the prints, making a wealth of familiar florals to patchwork and layer into the present. Many of the full skirts have polymorphous shapes, their volume broken by sections cut into the hip or leg, all bolstered with tulle and foam padding. Waxed fabric inserts bear random impressions etched with nails. They're all so wildly pretty yet accessible you wonder why noone's done anything like this before? Which I suppose is the feeling you get when presented with something you never knew you always wanted.
Kisses,
Rachel Marie