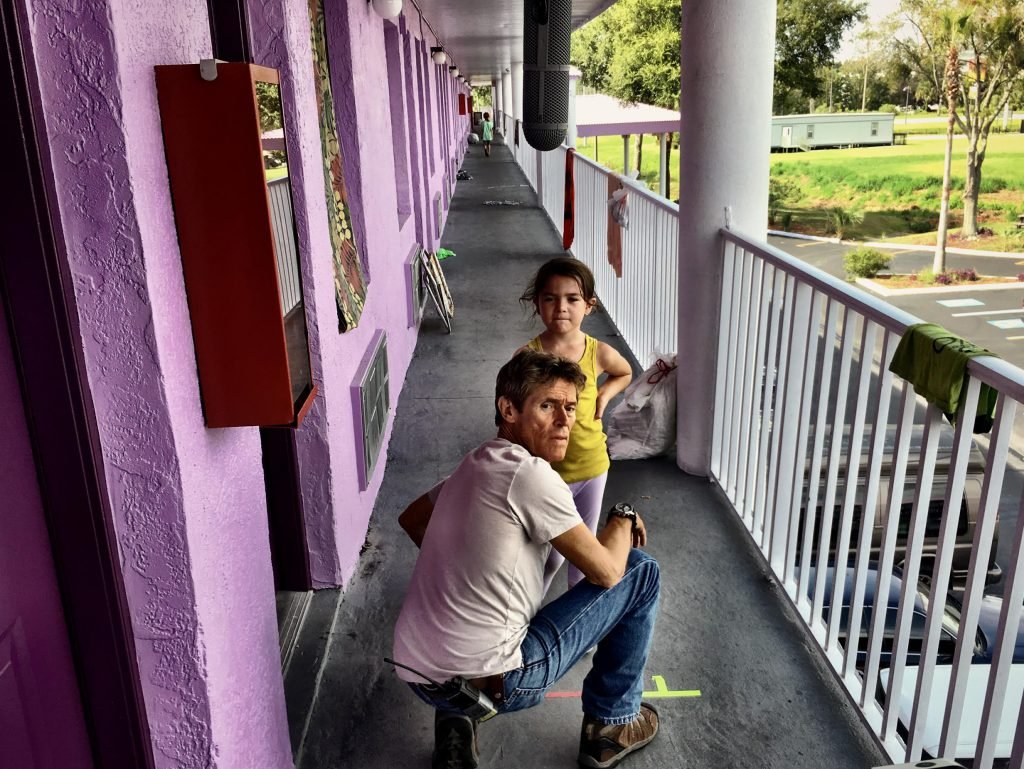 –
A week ago, American director Sean Baker was awarded ASVOFF 9's Grand Prize for Snowbird, a short film commissioned by Kenzo. On Thursday night, the Champs Élysées festival opened with a preview of his new feature film.
Baker's sixth feature film and follow-up to the much-acclaimed visceral revenge hit Tangerine, the Florida Project unfolds near the bleak outskirts of Orlando's Disney World.
Here, behind the sickening purple façade of so-called Magic Kingdom housing estate, swift-witted tiny terror Mooney roams free – and mostly bored. Assisted by her sidekicks Scooty and Jancey, her time is spent scavenging for food and pestering pretty much anyone who cross their path for the sake of entertainment.
On the grown-ups' side, manager Bobby – played by genius Willem Dafoe – ceaselessly attempts to limit the daily dose of chaos that threatens the residents' general apathy. Meanwhile, Mooney's aimless mother, Halley, half-heartedly copes with her growing lack of purpose and resources.
Here and there, in the damp haze of the summer, distasteful storefronts and uninspired street names ("Seven Dwarves lane") stand as reminders of the resort complex that lays beyond their reach and promises no fantasies.
The plunge is a vivid as ever and through a loose, slightly contemplative plot, Baker succeeds – once again – in picturing a reality that is as enticing as it is dreary.
His set of outcast characters prove perfectly plausible, never bordering on caricature, and the acting is particularly on point, with seamless performances that breathe life into these artificial settings.
Hadn't it been for Andrea Arnold's American Honey, released earlier this year, Baker's take would perhaps have felt a tad fresher, as the two seem to uncannily share the same microcosm. The suffocating ambient emptiness oozing from the Florida Project is also somehow reminiscent of Arnold's Fish Tank.
"Do you know why it's my favourite tree ? Because it tipped over but it's still growing…" Mooney