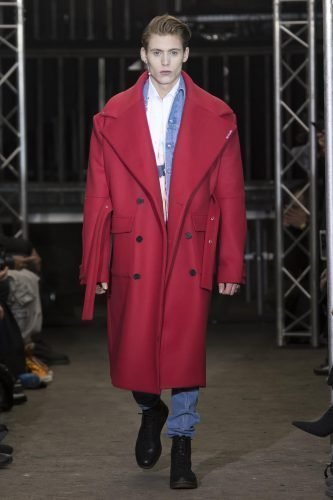 Dear Diane and  Shaded viewers,
Freshly created fashion house ICOSAE revealed on Wednesday its Fall/Winter 17 collection during Paris Menswear Fashion Week. The two young brothers brought up an ode to the Parisian underground youth. Reglossing classical pieces rendered iconic by the previous masters of the Parisian couture. Trench coats are made out of tweed covered with liquid metal, classy suit jackets sewed with apparent stitches, "Color my life with the chaos of trouble" stamped over fancy pieces.
A certain violence goes by, yet softened by the refinement brought to every detail of their work. The outfits reflect the soul of the young ones, bold, looking for power, claiming their existence. The rebel spirit animating young dreamers is ubiquitous throughout the creations. Strict uniforms and street-wear come together, ICOSAE dares and puts freedom to the front. The promising duo is clearly in line with its predecessors and it seems that this young brand still has much to offer.
A bientôt,
Antoine