Dear Shaded Viewers & Diane,
With Paris having just finished its S/S17 international fashion marathon, and all orders placed, there is no better time to shift our focus further north towards our Dutch design masters!
Dutch designers seem to have finally achieved a thematic consistency – la création créative – where we can now speak more confidently of a "Dutch Fashion Design" front (yes, we do have a front now!). Our southern neighbor Belgium has been successful worldwide for more than two decades, and there is still a lot to envy and learn from Antwerp's ateliers – but the current crop of Dutch designers are now making an impact!
However, despite the improvements we have seen on the design front, there are structural areas, which are limiting the scene at this moment. For example, The Netherlands lacks a good relationship with Italian manufactures (Le Fabbriche Riunite, Onward Luxury Group, Staff International, etc.) that could take the tailoring to the next level. I did always imagine during Iris van Herpen's r-t-w collections that we might see a black suit embellished with 3D trimmings on the left shoulder . . . this sleek obsession will remain a fantasy for me, as the designer has frozen her r-t-w line, now focusing exclusively on her spectacular couture.
Additionally, there are scarcely any high-end Italian investor-manufacturer active in the Dutch market. Dutch designers could benefit from the top quality production machinery, or established distribution networks that these suppliers could bring, ultimately extending their international reach. As we all know today, Instagram does not build up your future, it only maquillages the present; it's only a showroom with racks and commercial targets that will guarantee the long-term existence of a company. Nothing else.
Outside of Italy, there are also a myriad of production companies and ateliers from around the EU, and even Africa, capable of delivering the high quality work we see from Belgian designers. Producers in Portugal, Poland, Romania and even Tunisia are showing an excellent balance between fabrics and confection (next time you buy a "Belgian" piece, check out label for proof!) and are well worth a collective approach from our Dutch designers.
We are not there yet, but safely moving towards a cooperative feeling and a cleaner group of designers who have left behind the word "concept" in favour of dynamism and noise. Noise that now needs to be expressed in commercial terms, rather than simply aesthetic.
So, who are these designers of the new "Dutch front"? Here's our representative dozen ("The Twelve from Amsterdam", "The Dutch Dozen", or maybe "The Twelve from ArtEZ"?) and an appendix of few a special mentions to keep an eye on.
GLOBAL FLIRTERS: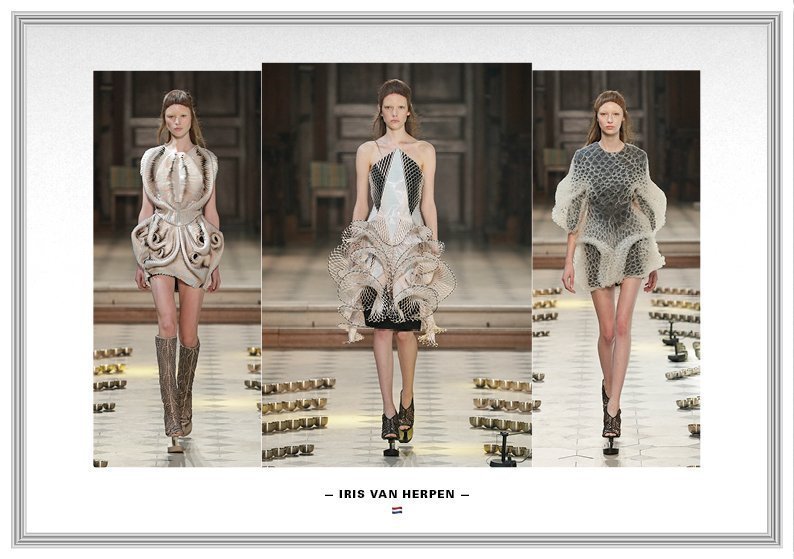 IRIS VAN HERPEN : Her native country might not be fully aware on their meticulous fashion master Iris van Herpen, but she already has a big profile abroad. She is the only Dutch fashion designer to make it into the #BOF500 (Business of Fashion) list of people shaping the global fashion industry. Her innovation surpasses any industrial definition on constructing couture – adorning women's bodies with extravagant ergonomic 3D seductions. To experience one of her garments is to dance in a perfect future. To wear today what future generations will not only respect, but also take as a reference. Her sublime designs will be endlessly remade and will define what is to come. France has Alaïa, and we do have Iris. Vive La Monarchie!
Design by: Iris van Herpen – Arnhem Fashion Design (ArtEZ)
Nationality: NL
Location: Amsterdam (NL)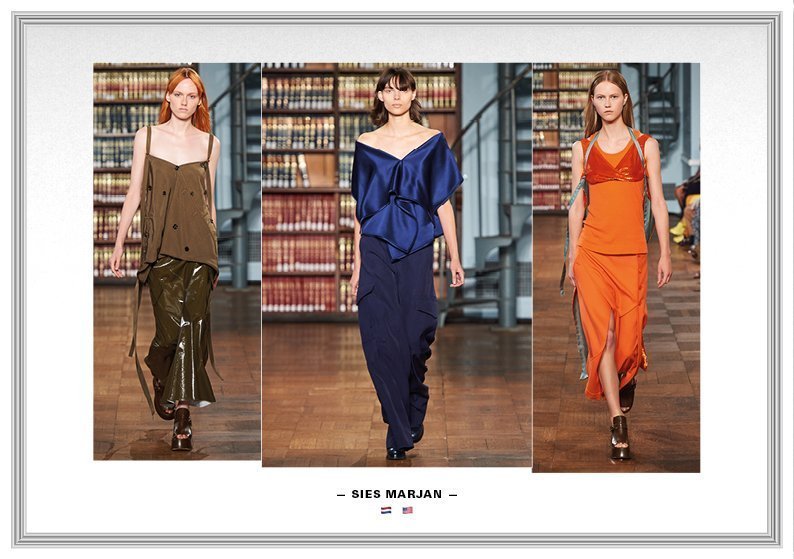 SIES MARJAN: Sander Lak develops his new label SIES MARJAN from NYC, pushing outward to international markets with great success. With strong backing in the form of Oaktree Capital Management, Lak now has the opportunity to build on his previous working experiences, and build a brand in his own image.  Four years at Dries van Noten might have been enough to impassion Lak to create the ideal female wardrobe for tomorrow: colors around the body, absence of black, and fluidity of light and heavy materials. It is this delicate combination, which make SIES MARJAN the perfect cocktail – a European vision, a Big American approach, and distribution that has already landed in the best-selling points worldwide.
Design by: Sander Lak – Arnhem Fashion Design (ArtEZ)
Nationality: NL
Location: NYC (USA)
LISELORE FROWIJN: It's hard to start a fashion career and not fall into simply pleasing the moribund desires of the local market.  This is especially so for a highly qualified designer based in Amsterdam.  Liselore Frowijn however seems to have struck a balance between satisfying the local market, while feeding the international markets with confidence.  Her collections are a galaxy of satellite projects, collaborations (Mantero Seta S.p.A. Vlisco Netherland, etc) and statement presentations. Her latest S/S17 show in Paris, replete with prints and treated fabrics, proved the designer could create pieces for sensitive yet rough women while retaining a commercial viability.  Premium retailers Kiki Niesten, and the recently upgraded Bijenkorf department store, carry her line as a national pride: a fine example of business and design in harmony.
Design by: Liselore Frowijn – Arnhem Fashion Design (ArtEZ)
Nationality: NL
Location: Amsterdam (NL)
CHARMING NICHERS: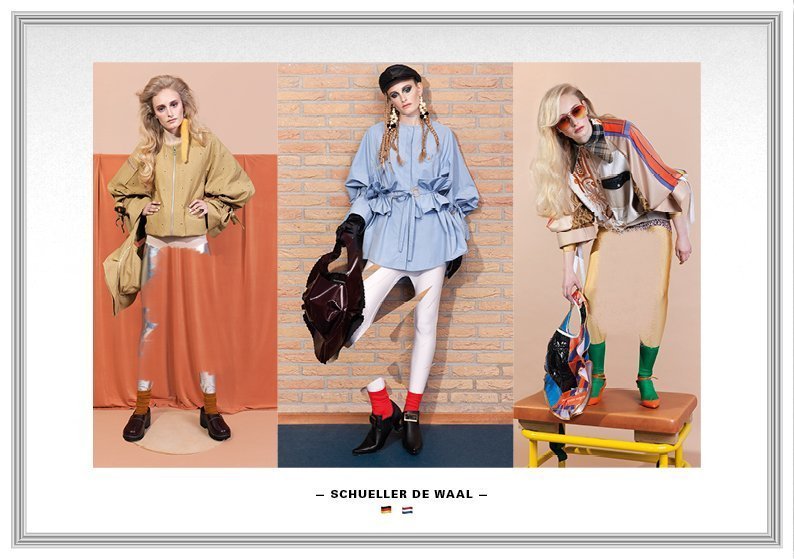 SCHUELLER DE WAAL: The duo behind SCHELLER DE WAAL – Philipp Schueller and Rens de Waal – is two males with an incredible skill for adorning female bodies.  Although they are new to the industry, the rapid climb of these "fashion story tellers" shows that they are experienced enough to make a lasting impression. The local crowd may have initially struggled to understand the written paragraphs in their presentations – which were often pleasantly violent – however they quickly came to love the meticulous garment constructions and bold statements on display. Within only a few seasons their presentations have shifted from "surprisingly awkward" to "delicious experiences". Surely the next few seasons will provide even more evolution and surprises.
Design by: Philipp Schueller & Rens de Waal – Royal College of Art (UK) & Academie of Fine Arts (Maastricht)
Nationality: DE & NL.
Location: Amsterdam (NL)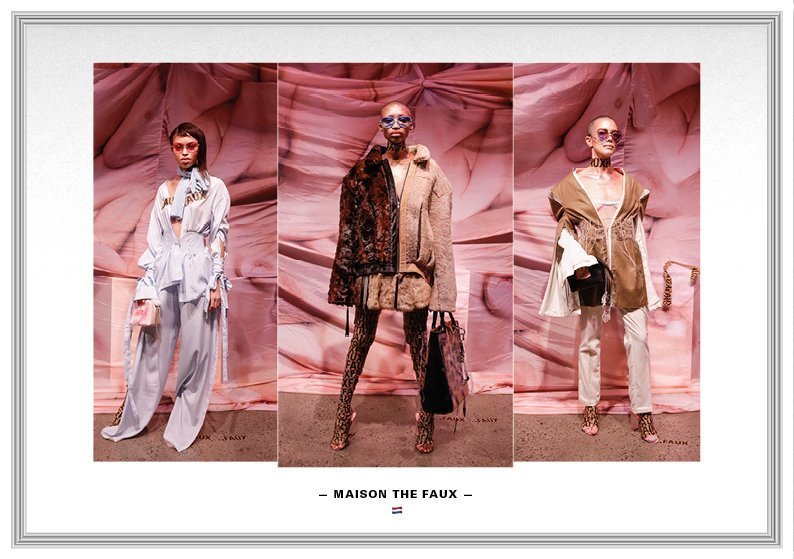 MAISON THE FAUX: In pushing androgynous boundaries, MAISON THE FAUX manages to deliver the best-disordered male and female silhouettes.Working together with a network of progressive creatives, stylists, photographers (Lara Verheijden), and make-up artists, they work non-stop to reach that final image: the soft nonchalant barroques that the street demands today. By combining this with high levels of detail, as well as a softer playful side, they are pushing into becoming MAISON THE FUN! Although their offices are based in Arnhem, they have bridged the Atlantic gap by presenting in NYC. Their S/S17 show took place at the last fashion week in Brooklyn as part of the MADE platform, where their entire team and models travelled in order to insure the final product was looking its best: Dutch anarchy and deconstructed chic.
Design by: Joris Suk & Tessa de Boer – Arnhem Fashion Design (ArtEZ)
Nationality: NL
Location: Arnhem (NL)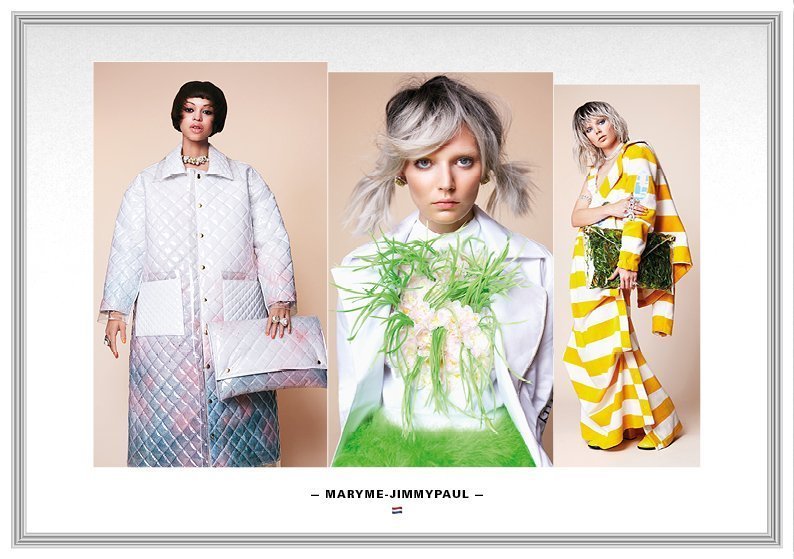 MARYME-JIMMYPAUL: MARYME-JIMMYPAUL revels in contradiction. They produce collections imbued with the plastic whimsy of manga, and then suddenly and inexplicably present them in full Technicolor brutalism. By transcending normal style standards they have benefited from huge press coverage, with their garments constantly sending the message that fashion ought to not simply follow trends. Paving their own path, they are now being noticed – with their fluffy decorative style catching the eye of Robyn "Rihanna" Fenty, who purchased one of their multicolor fur coats from the duo during Paris Fashion Week.  No matter the direction that future fashion trends follow, you can be sure that MARYME-JIMMY PAUL will always be worth watching.
Design by: Marie Burlot & Jimmy van Rinsum – Gerrit Rietveld Academie.
Nationality: NL
Location: Amsterdam (NL)
HARDEMAN: Sophie Hardeman is a real merchant. Her impeccable graduation collection show from a year ago –from which a new label (HARDEMAN) was immediately born – is still strong in my memory. She has already expanded abroad, and can now be found in prestigious selling points such as Colette, H.Lorenzo, and VFiles worldwide. Her collections are shaped by the unfriendly Amsterdam climate, with sturdy fabrics, which are capable of handling inclement weather (and occasional bicycle falls!) woven into her garments. If The Netherlands is a country where jeans are maybe too normal, HARDEMAN's manipulation of denim and other fabrics are offering a much-needed injection of style into the field. Her garments, which are both hard and extremely contemporary, are accompanied by her exceptional collaborative footwear range – designed with Rotterdam based Peterson Stoop Studio. Nothing beats those cowgirl boots!
Design by: Sophie Hardeman – Gerrit Rietveld Academie.
Nationality: NL
Location: Amsterdam (NL)
EXPERIENCED & ESTABLISHED: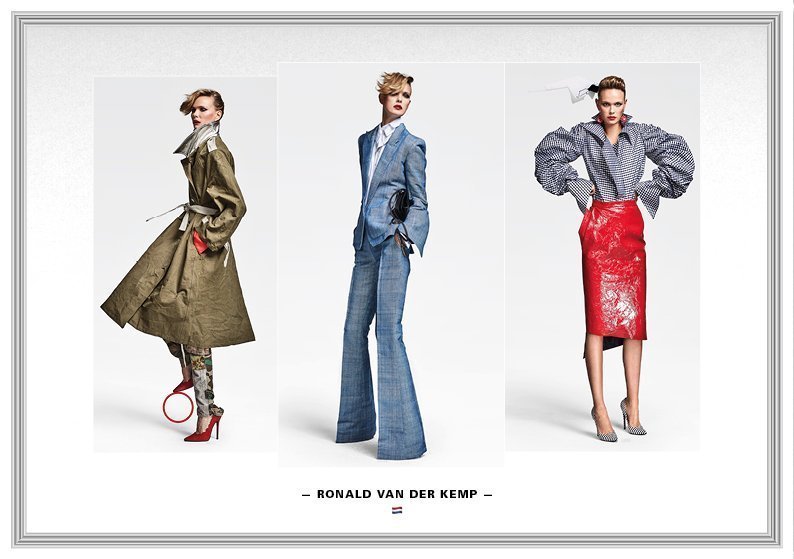 RONALD VAN DER KEMP: As we know, high-end fashion in the Netherlands starts abroad. Ronald van der Kemp has worked as a designer for important houses outside the Netherlands, but since 2015 the designer has chosen to work under his own name, from his own country.  By importing his talent and experience, he has created a fully international aesthetic – the eclectic husky women, moving in between dinners and perfume presentations, with almost no time for domestics. Brilliant! RVDK's work has been baptized as "Demi-Couture" since it is made to order from his atelier, and worn by exclusive icons of the industry. However, turning RVDK into a real r-t-w might be the biggest challenge. I believe it can happen, and hope to see his work hanging in global retailers next to Balmain and YSL, finally giving international representation to the sexuality of Amsterdam's timeless she-woman, rewritten with full sophistication.
Design by: Ronald van der Kemp – Gerrit Rietveld Academie.
Nationality: NL
Location: Amsterdam (NL)
SPIJKERS & SPIJKERS (SIS): For many years SPIJKERS & SPIJKERS have focused on London to achieve the international exposure Dutch designers crave, with their efforts bringing a loyal following and distribution in Italy, Japan and Dubai.  It has been a long road for SPIJKERS & SPIJKERS, but their continuity and persistence have paid off – seducing working city women with their passion for color, graphic designs and art-deco influences. Since 2013, the two twin-sisters from The Netherlands have consolidated their first and second lines under the new SIS label, and turned their Arnhem based studio into a locally based, internationally focused working hub. Name them around any fashion event and you will always hear something positive about the duo!
Design by: Truus Spijkers & Riet Spijkers- Arnhem Fashion Design (ArtEZ)
Nationality: NL
Location: Arnhem (NL)
READY FOR TAKE-OFF: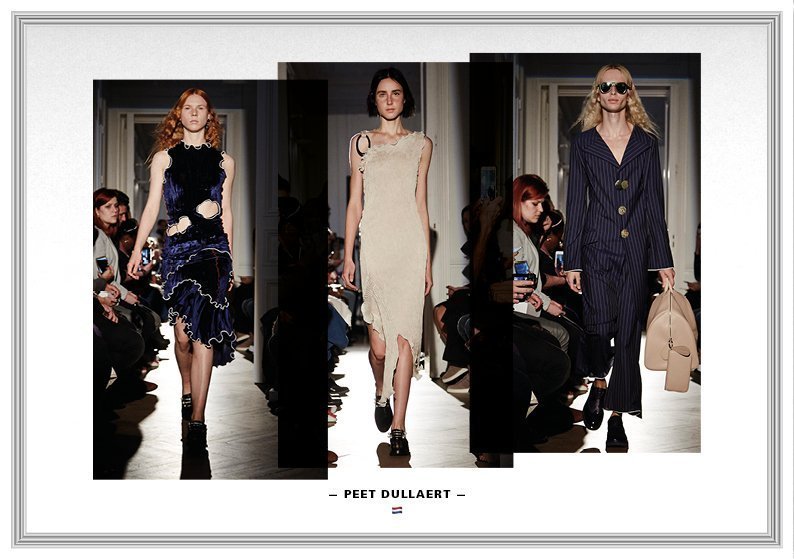 PEET DULLAERT: Being successful in fashion can mean having to be bold. While some of the others in the "Dutch Dozen" are taking unconventional approaches to design, PEET DULLAERT is reorganizing the way in which his garments are bought, sold and distributed with his ambitious "online only" sales catalogue. His entire S/S17 can be purchased online – far away from the tangible try-before-you-buy, mirror-loving offline shopping experience that we usually associate with high-end fashion design. There is obvious risk involved in taking a fully online approach, as the tangible benefits of being seen in high-end retail stores are lost, along with that exclusive clientele. His garments do exude romance, with their curvy lines asking to be touched, felt and worn . . . Time will tell whether his turbo-ambitious online approach will pay off, and whether his customers will still choose the "buy now" option. I hope to see his strong signature represented in quality retail stores again soon!
Design by: Peet Dullaert – Arnhem Fashion Design (ArtEZ)
Nationality: NL
Location: Zutphen (NL)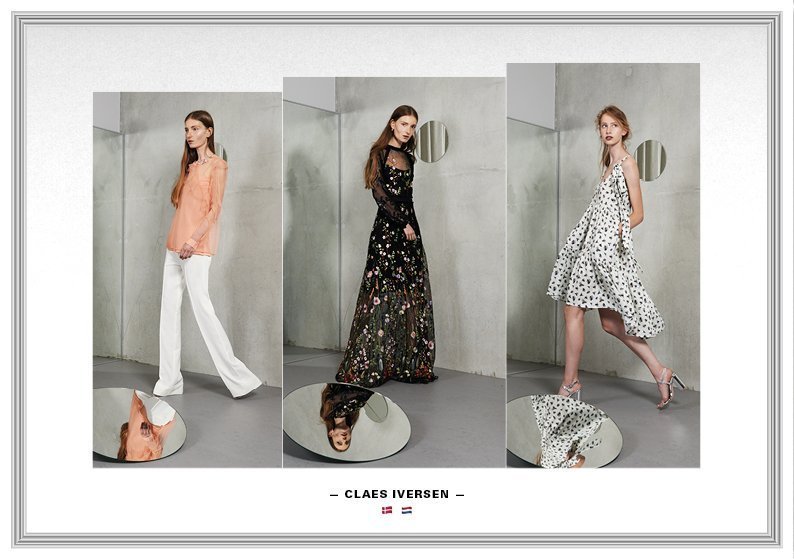 CLAES IVERSEN: The Danish born, Amsterdam based designer Claes Iversen, has found total comfort in The Netherlands – carving out a niche with actresses, celebrities and royalty. This year his flowing gowns have already graced multiple red carpets, and he has personally crafted an elegant two-piece ensemble for Queen Máxima of the Netherlands for Little Prince's Day. But the real discourse is on Iversen's r-t-w launched in 2014, which is slowly moving away from the elegance of his couture, and taking on a more edgy spirit. The "soft lady" of his couture is now being seen in public with her harder edged, street-savvy sister!
Design by: Claes Iversen – Arnhem Fashion Masters (ArtEZ)
Nationality: DK
Location: Amsterdam (NL)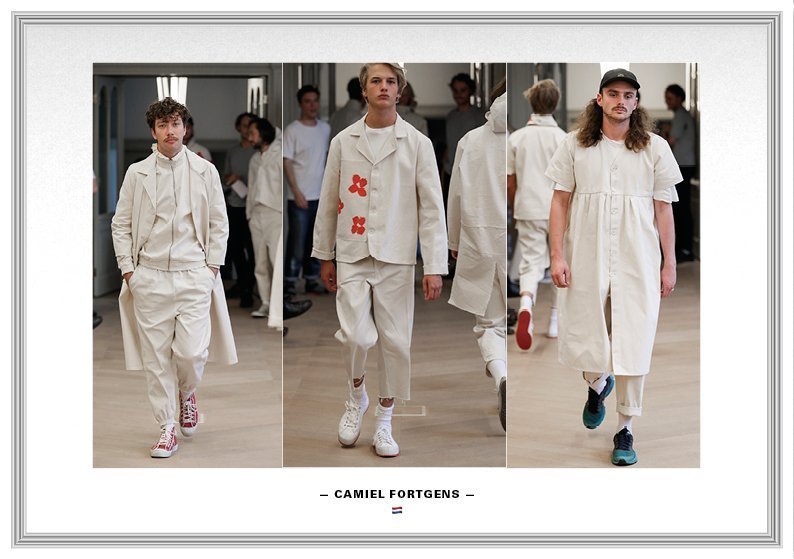 CAMIEL FORTGENS: Camiel Fortgens is showing us that menswear can be brave – producing playful and borderline unisex collections with a strong penchant for theatrics. The designer presented his S/S17 collection to a selected fashion crowd in early September as one of the "SYSTEM CHANGERS", using off-white gabardine (just a few hints of black), and giving us the chance to dream of a hypothetical color palette. I immediately thought about washed marines, grey and even light blue. I totally fell in love with the Victorian details; and I must confess, I want to wear that dress!
Design by: Camiel Fortgens – Design Academy Eindhoven
Nationality: NL
Location:  Amsterdam (NL)
SPECIAL MENTION UPCOMINGS: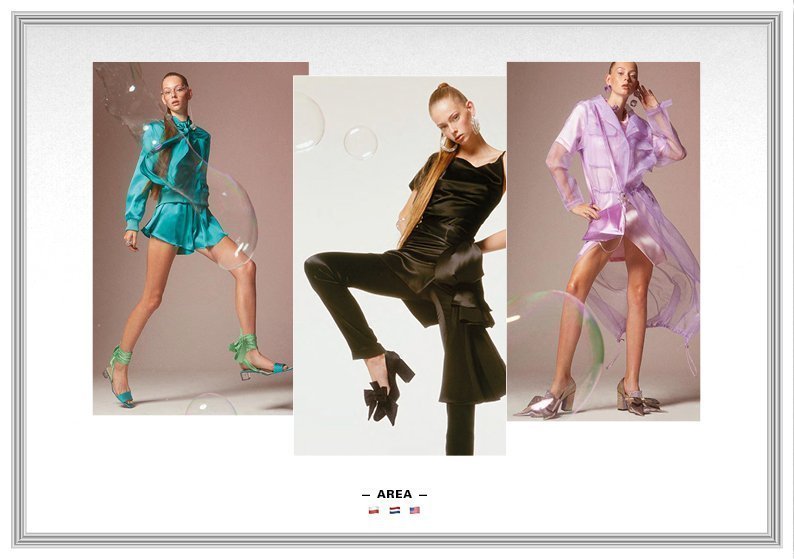 AREA NYC:
Design by: Piotrek Panszczyk & Beckett Fogg – Arnhem Fashion Design (ArtEZ) & The University of Virginia (USA)
Nationality: PL & US
Location: NYC (USA)
XUAN:
Design by: Xuan-Thu Nguyen – Amsterdam Fashion Institute (AMFI)
Nationality: VN – NL
Location: Paris (FR)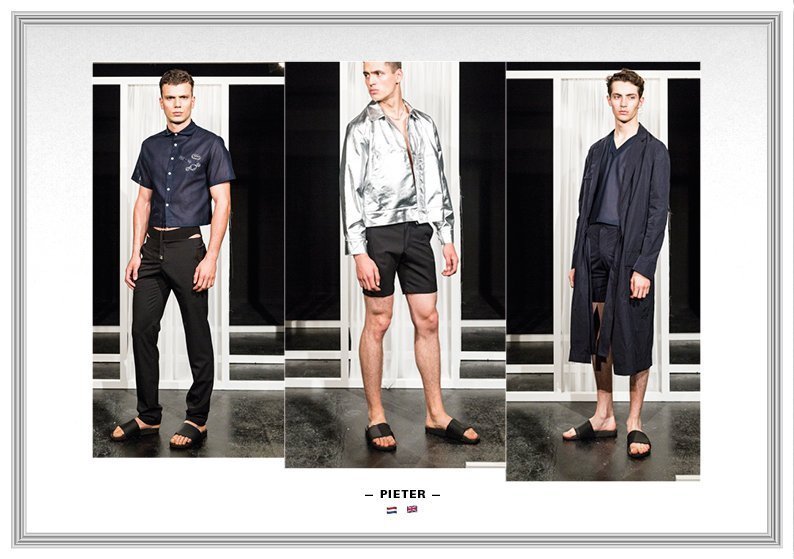 PIETER:
Design by: Sebastiaan Pieter Groenen – London College of Fashion (UK)
Nationality: NL
Location: London (UK)
For all of this excellent talent in the Netherlands, there are still additional hurdles within the Dutch fashion industry.
Models being casted are still far too skinny to be relevant to the Dutch market, while Amsterdam Fashion Week suffers from a notorious absence of menswear. Furthermore, no organizations care to invest budgets on sales, and instead opt for entertaining runway shows.
There is also a glut of sophisticated chic red-carpet style attire – a symbol of PR sponsorship for some designers – that is completely out of sync with the Dutch market. We prefer it rougher here!
That's an Amsterdam folk, dress it properly, or leave it!
Best,
MHM.
Runway photos: Courtesy of the designers.
Artworks: Ulises Chamorro for Proxi.me.