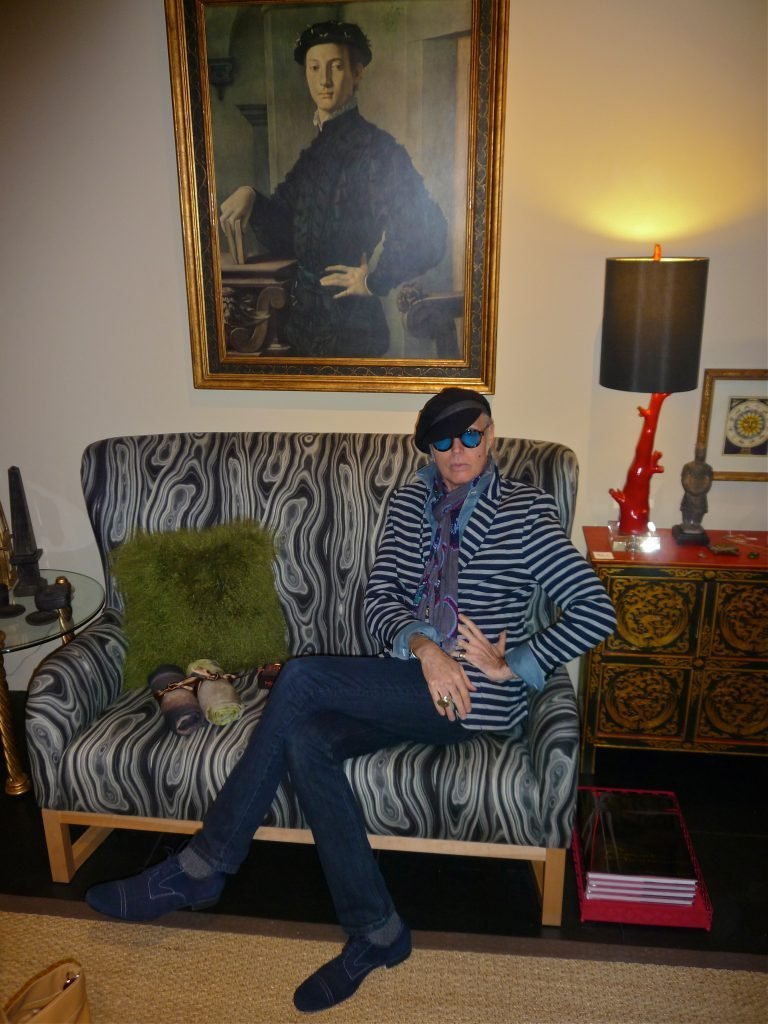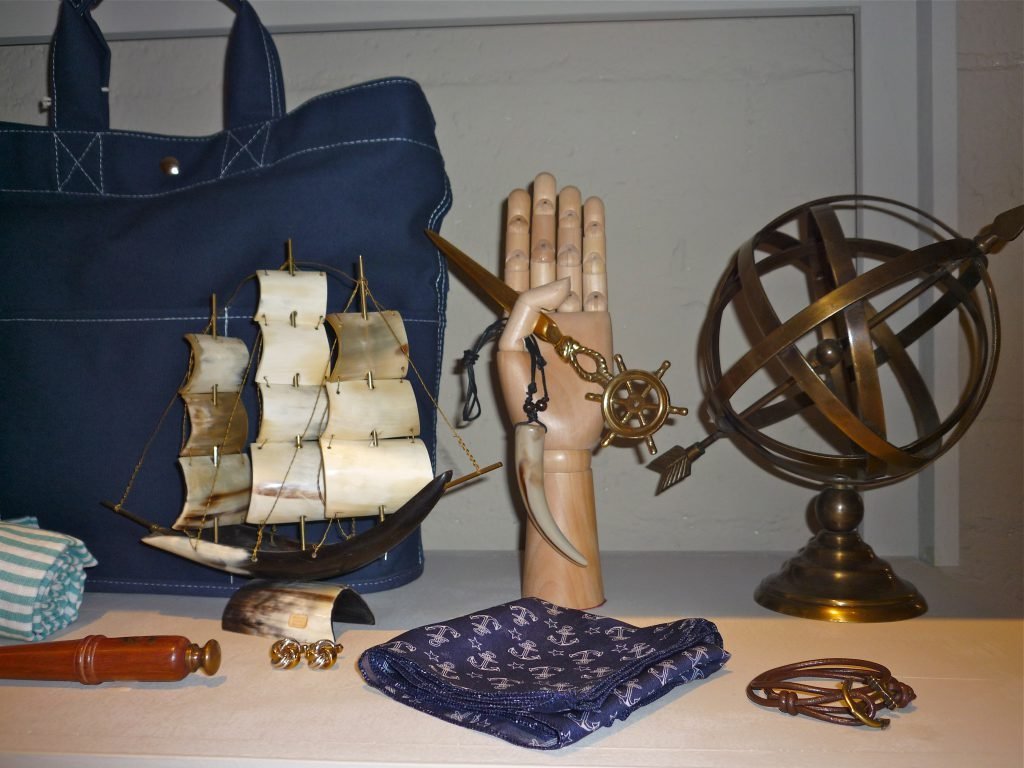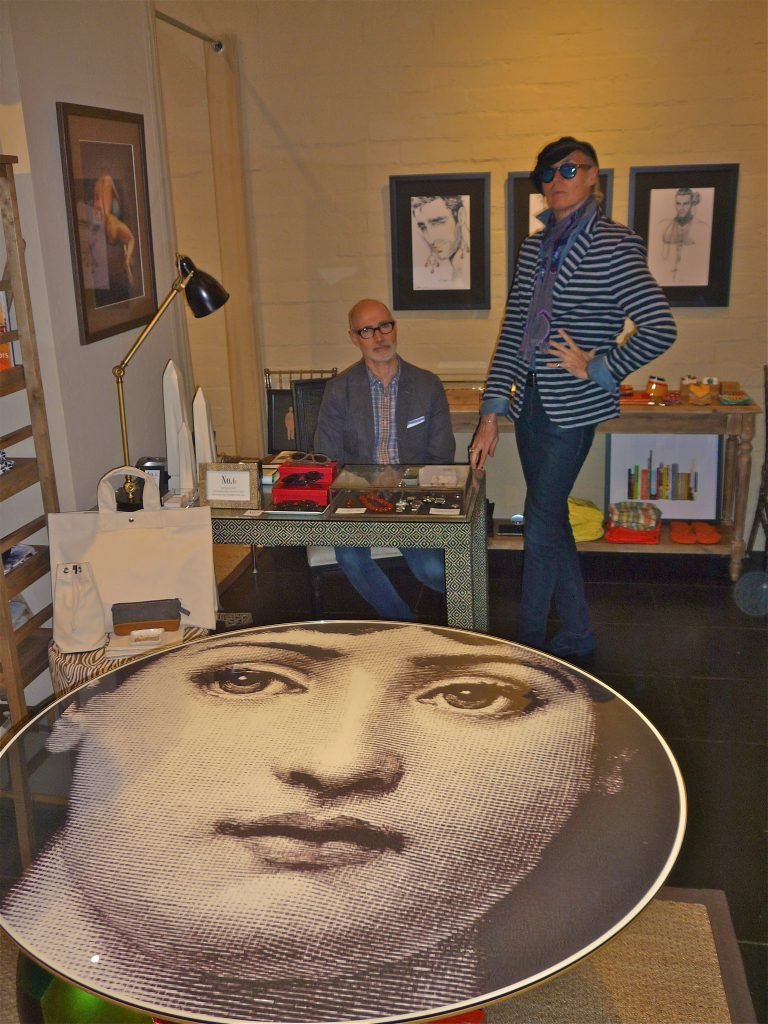 Dear Shaded Viewers,
If you're heading down to Palm Springs for Modernism Week (it starts on Thursday) you'll of course be doing some shopping. After you're done perusing the atomic-age ashtrays and vintage Trader Vic's mugs, you'll be ready to take things up a notch at No. 6 Palm Springs. (Update: Now known as No. 10 Palm Springs.) Located in the Palm Canyon Galleria at 457 North Palm Canyon Drive #2 (it's in the city's chic design district) this charming shop caters to discerning collectors and those in need of their Santa Maria Novella fix. (It's the only shop in Palm Springs that carries the coveted Florentine bath and body products.)
The shop has many fans who possess a keen eye and feel for exquisite things. On a recent visit, the one-and-only Diane Keaton exclaimed, "You have the best shop I've seen here in the Galleria!" Her gal pal snatched up some vintage Vuitton. Score!
The shop is curated and managed by the twin-brother team of Michael and Patrick McDonald (Patrick, the former New York Dandy, now the Desert Dandy, needs no introduction) and they will dispense all kinds of arcane anecdotes about the shop's wonderful and hard-to-find objets. Opened in September 2013, the store takes its name from the number assigned to it in the Galleria–but two months later Michael moved into a bigger space on the opposite side and the name stuck.
After spending some time in Palm Springs in February 2014, Patrick, who grew up visiting the city with his parents, decided to re-locate there in September. "You can't have a shop like this in New York's East Village anymore," Patrick laments. "You should be able to have a little hole-in-the-wall store, but things are so astronomically expensive now, it's just not possible." He quickly adjusted to life in laid-back Palm Springs. "No more polar vortex, no more hurricanes. The pace is slower and saner. We finish work at 5 and go out for an early dinner. I walk to work every morning and enjoy the gorgeous vistas of palm trees and the mountains. There's a big flea market across the street every Sunday and once in a while we find something that fits with the aesthetic of our store. Deep down I'll always be a New Yorker, but the New York I loved simply doesn't exist anymore."
I'm absolutely mad for that lamp. But I would need a new apartment to go around it.
Oh, shrine of vintage Hermes, how we worship thee!
I believe this chair is from the 1950s. Isn't it divine? Things go fast at No. 6 Palm Springs, but if you fall in love with something you see here, I'm sure you can give them a call before you land there.
Florentine style that was popular in the '50s. "Our mother had a lot of this through the '60s," Michael tells me, "so I remember it from my childhood."
Et voila! Patrick's capsule collection for Selima Optique. "Selima Optique for the Dandy" was launched at the end of 2014 and is only available at Selima boutiques and No. 6 Palm Springs. The style is called "Patrick" and comes in 3 colors: grey flannel, navy blue and tobacco.
This pillow made me nostalgic for the wallpaper at the now-defunct Upper East Side restaurant Gino of Capri. (Everything old and wonderful in NYC is either on the verge of closing or is gone forever. But maybe you can find some purple zebra-print plastic makeup bags at Duane Reade. There are at least three DRs on every block in New York.)
Some sexy illustrations by Robert Richards. He gives some great sounds bites in that documentary about Peter Berlin.
Moi, plus le Dandy du Désert est égal magnifique.
Of all the shops in Palm Springs, No. 6 definitely has the most European flair. This card reminds me of the time Diane saw Dita Von Teese at the Casino de Paris. The famous bakelite staircase that Josephine Baker descended during her act is still there.
A gift of Fornasetti is a wonderful gift, indeed. No. 6 Palm Springs is the only shop in Palm Springs that carries the new pieces (they also have some vintage), which is designed by Piero Fornasetti's son.
Pucci! No. 6 had a collection of Pucci dishes but they went rather quickly. "The concept of the store is things we grew up around," says Patrick. "In 1967, my mother took me to the Palazzo Pucci in Florence. I was, of course, only a baby. But I do remember that it was absolutely mesmerizing."
These are rather special: a collection of prints of the illustrations Salvador Dalí did in the '60s for an edition of Alice in Wonderland. It's being sold as a set. I think there are 9 or 12 illustrations total.
This one is my favorite, when Alice eats the steroidal growth cake.
So, true story: Michael and Patrick share their birthday with Dalí. And it gets better: When the twins turned one-year-old, they were on a glamorous cruise aboard the SS United States which had shoved off from Hamburg (the McDonalds were born in Heidelberg, Germany) and sailed to New York. And who else was aboard this 6-day cruise also celebrating his birthday? Why, Dalí, of course! Patrick and Michael's mother was asked to dance by the Italian actor Rossano Brazzi, Katherine Hepburn's co-star in Summertime. Legendary!
Some vintage Fornasetti.
Chinoiserie galore!
I'm over the moon for this footstool. Absolutely divine.
You too can have the accoutrements of Auntie Mame's India excursion.
The store also features mementos from the brothers' lives that are not for sale, like a party invite signed by Andy Warhol and this passenger list from the SS France circa 1970. "It was a Caribbean and transatlantic cruise," recalls Patrick. "We wore tuxedos to dinner."
Patrick is always en pointe and ready to greet customers.
Thanks for reading.
xxx
Glenn Belverio